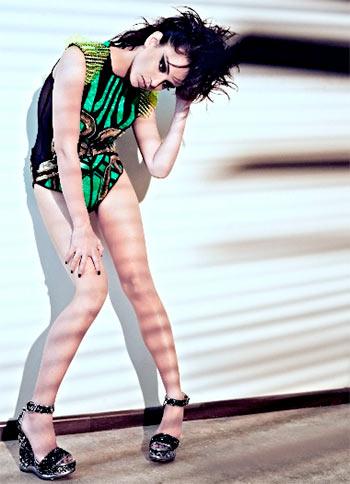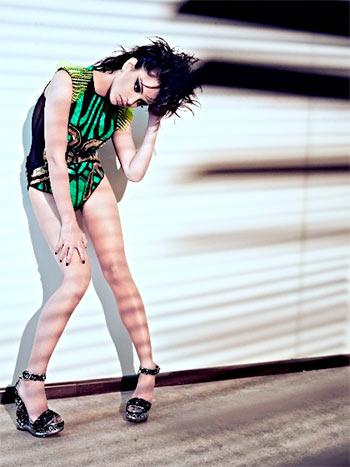 'I wouldn't say Queen is a benchmark. For a 17-year-old to perform in Gangster, Fashion, Life… In A Metro, Once Upon A Time in Mumbaai is remarkable.'
'I am a very bad girlfriend apparently. This is the feedback I have been getting from the time I started dating.'
Kangana Ranaut, pictured left, speaks out. Photograph courtesy: Kangana's official website.
From being noticed with her debut movie Gangster at 17 to turning into a self-assured reigning queen of Bollywood at 28, Kangana Ranaut's journey strikes as a coming-of-age story that we've promptly lapped up, even drawn inspiration from.
With two back-to-back hits -- Queen and Tanu Weds Manu Returns -- behind her, the actress is now gearing up for the release of her new film, Nikhil Advani-directed Katti Batti costarring Imran Khan.

Set to hit theatres on September 18, the film comes at a point in Kangana's life when she is decidedly more sure-footed in her professional life, as we have all witnessed over the last two years, and in her personal life, as she tells us in this interview with Rediff.com contributor Rajul Hegde.
You've given back-to-back hits with Queen and Tanu Weds Manu Returns. You must be in a happy space now.
It's overwhelming and sometimes intoxicating too, especially when you have struggled for a very long time.
I am very happy that it has come at this time.

At 28, one is very balanced, and that affects your perspective. Had the success come eight or nine years ago, I would have probably ended up like my character in Fashion (Kangana played a supermodel in the film whose fall is as fast as her rise to fame).
Do you think there is pressure to perform even better now?
I want that pressure. I want people to expect from me.
Growing up, I was a needy child. I would do a hundred things to get my parents' attention.
I am still very needy.
When I started out with Gangster, I felt invisible. I was there but still not there.
I wouldn't say Queen is a benchmark. For a 17-year-old to perform in Gangster, Fashion, Life... In A Metro, Once Upon A Time in Mumbaai is remarkable.
Today, at 28, I am in awe of that teenager who pulled off such performances.
But I have been invisible for the longest time and feel really bad about it.
Now, I like the fact that so much is riding on me. I want to deliver. I want to know that people have hopes with me.
I need to cement my position and feel secure as a working woman. I have been struggling for 10 years. There is no option of an alternate career, so I need to secure my future and build my career.
What is Katti Batti all about?
It comes across as a superficial, popcorn kind of love story but it's not.
The film is funny in parts. It opens like a thriller, and is quite intense.
Apparently, Aamir Khan has given his inputs for the film.
Nikhil sir (Advani, director) went to Aamir Khan with the script two or three years ago.

He read the script and gave his feedback about the last 20 minutes of the film. Nikhil sir incorporated the changes. When Aamir watched the film, he said the feedback made it way better.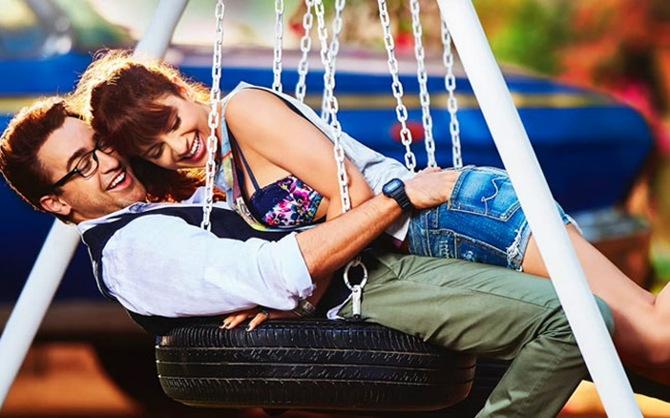 Image: Kangana Ranaut with Imran Khan in Katti Batti
The film made Aamir cry.
Why wouldn't he cry? I cried so much and I hate crying during movies.
My character in the film is so intense.
I did not eat or drink water on the sets because the role demanded a certain kind of look. I became so fragile that I couldn't walk 10 steps. That how intense the role was. It's my toughest role.
You tend to get stuck with these kinds of roles.
Yes, all the time!
I got so deeply involved with Payal, my character in Katti Batti. This is the most tragic character I have played so far.
I was so affected, crying all the time, that I would lose my appetite.
When my mother visited me, I would break down about anything. She asked me not to do these characters at such a young age as I would end up being a complete mess.
Most actors end up being messed up because you play with your mind.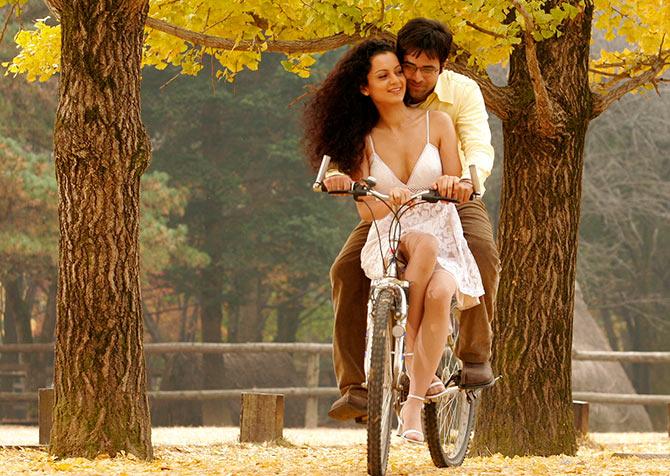 Image: Kangana Ranaut with Emran Hashmi in her Anurag Basu-directed debut film Gangster
Do you have the Katti Batti kind of relationship with anyone in the industry?
Yes, with my mentor Anurag Basu.
He is a very special person in my life. He saw my potential and launched me. He taught me acting.
Would you like a nerdy person like Imran Khan's Katti Batti character in your life?
Yes, a little like him but not completely.
In a relationship, one is an angel and the other is a devil. Imran is a sweet guy and (his wife) Avantika is a bad ass. I know that for a fact. They actually share a Katti Batti relationship.
To compliment me, I would need a guy who is sweet because I am a bad ass (laughs).

I am a very bad girlfriend apparently. This is the feedback I have been getting from the time I started dating.
How was it working with Imran Khan?
He has a good reputation and I thought he would turn out to be Mr Goody Two Shoes, and he was just that so there were no surprises for me.

He is predictable to the extent that it can be boring too.
He talks about superficial things, no intense conversation.
But what I found interesting about him is he has a very sleek sense of style. That's quite rare for men.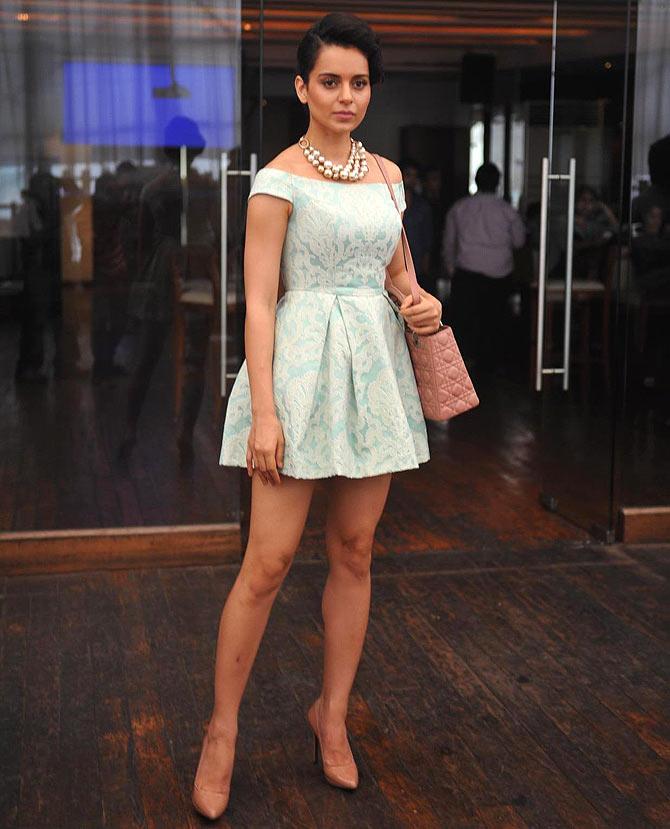 Image: Kangana Ranaut. Photograph: Rediff Archives
Your character is in live-in relationship. What is your take on that?
I will get in trouble if I say anything!
I think live-in relationships are overrated. You should be allowed your space.
Marriages are crumbling down these days, so I don't have anything great to say about that. I would like to settle down sometime; I'm looking forward to motherhood.

My mum keeps asking me to get married. It will happen but at the right time.
Are you dating anyone right now?
No, I am not open to dating. I am single.
I see my life in a certain way and am very committed to my roles. Relationships need a lot of work. I don't want to be unfair to someone and take up something that simply dies its death.
Are you open to working in multi-starrer films?
Sure, why not? I remember I was so reluctant to listen to the Katti Batti narration that Salman Khan called and told me to listen to it as the role was good.
I felt why should I do a film where I would have to share screen space with another actor?

When I heard the narration, I thought how could I be so stuck up and limit myself to female-centric films? The script was brilliant and people would do anything to be part of such a film.
You are working with Vishal Bhardwaj in his next film Rangoon, with Saif Ali Khan and Shahid Kapoor.
Yes, I have been looking forward to working with Vishalji for the longest times.

Sometimes you get good directors but not good scripts. Here, both are the best.
We will start with our workshop soon.
Rangoon will have a vintage feel. My style will be similar to Marilyn Monroe's, with wavy hair and deep-necked outfits. It will be a very glamorous look.
What else are you working on?
There's Ketan Mehta's film on Rani Lakshmibai and Hansal Mehta's Simran. I am also in talks with Nikhil Advani for another film.