Kamal Haasan appeared in his real avatar with the posters of his 10 screen avatars from Dasavathaaram forming the backdrop for Tuesday evening's tete-a-tete with the media in Hyderabad. Kamal spent more than an hour, with director K S Ravikumar, answering a volley of questions interspersed with some witty aces.
The occasion was to celebrate the success of the Telugu version of his magnum opus Dasavathaaram, which is on its way to becoming a superhit and breaking all records of Kamal's previous movies in Andhra Pradesh like Maro Charitra and Sagara Sangamam.
"Dasavathaaram is Kamalji and Kamalji is Dasavathaaram," Ravikumar aptly said.
The director started the proceedings by stating that although he had directed three movies in Telugu, he cannot speak the language well. "When I heard [he was actually shooting in Hyderabad then] about the 10 roles Kamalji was to play in a movie, which was to be produced and directed by somebody else, I immediately knew this movie would be good. I am happy Kamalji took me along with him."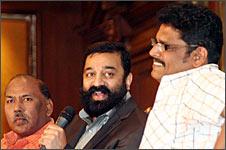 A dapper Kamal in a suit and sporting a beard -- a look for his new film, Marmayogi -- was elated as his hard work coupled with Ravikumar's effort and Ravichandran's money paid off. "We are speechless," the actor said. "Everybody says that they are going to see the movie again. The press has also been supportive. We are here to thank you.
"An actor has always been a bahuroopi since the times of the Mahabharata. I am just continuing what the actors have done before. I have done nothing new, I just approached it differently. And we have done it to the best of our ability," Kamal added.
Kamal also reminisced about his stint as a choreographer. "I first came to Hyderabad as a dance assistant and choreographed the song Entho Chinnadi Jeevitham, in Sreemanthudu, for Nageswara Rao garu," he said.
The initial queries revolved around the film -- whether there was any link between the episodes/characters -- to which Kamal replied, "Is there any relation between Alluri Seetaramaraju, Kakatiyas and you? People ask if there is a relation with Mahatma Gandhi today and I say, yes, there is. The simplest character was Govind but playing it was the most difficult, as it required a lot of physical activity."
Kamal said the movie was about history and how it repeats itself. Quite a few of the historical incidents seem embedded in his consciousness, which found an outlet in the tale of the 10 avatars.  
The success of the film can be measured by a lady distributor's experience in Krishna district. "We had to call in the police to control the crowds on the opening day," Kamal said.
Another distributor said the revenues have crossed the Rs two crore and Rs one crore mark in the Nizam territory and West Godavari within four days. And the revenues are steadily rising.
Did you feel hesitant about shooting the film? "Initially, I was," he answered. "But after three shots of the 12th century episode, I didn't feel it that much. I was sued for stepping on the Bhagvad Gita. Have you seen me do that in the film? I knew the law will help us and it did."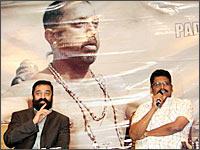 Asked whether Kamal had anything to do with Chiranjeevi entering politics, Kamal thought for a few seconds before replying, "The 11th avatar was not in my plans. I wish Chiranjeevi all the best."
About whether the film will go to the Oscars, Kamal was quick to reply that the company itself is that (Aascar films). He said that there would come a day when the Americans would come and receive award from the Indian people. "India and China account for one third of the world's population," he added.
He was also quizzed about his film's leading ladies Asin and Mallika Sherawat. "I got limited time with Mallika though I got to spend more time with Asin."
Kamal also mentioned about the time when Rajnikanth watched Dasavathaaram. "He said he liked it. He told me that he should have sat in the audience and not next to me."
"Marmayogi is a tale set in the 6th century and we had to make a compromise as far as costumes are concerned," he said. He claimed that he would make Marudanayagan next.
Photographs: Snaps India