Kamal Haasan has been forced to stop the shooting of his under-production Tamil film Sandiyar (which means rowdy).
The trouble began after Dr S Krishnaswamy, leader of the Puthiya Thamizhagam, a Tamil Nadu-based political party that claims to represent the dalits, accused Haasan of glorifying violence in his film.
Krishnaswamy said he would not allow the shooting to continue as the film, based on an incident of a caste clash, would reignite trouble in the communally sensitive southern parts of Tamil Nadu.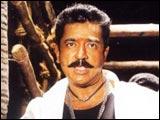 Haasan, who had planned to start shooting the film at Chinnamanur and Bodinayaganaur in Theni district on June 9, cancelled the shoot following threats from the Puthiya Thamizhagam.
The muhurat of the film had been held at a public function at Madurai a month back.
The actor sought police protection, but the Theni district police expressed their inability to provide it, citing shortage of policemen as the reason.
Interestingly, the All-India Moovendar Munnetra Kazhagam, a party of thevars, has offered full protection to the film crew. N Sethuraman, its president, said he would organise a volunteer force to provide protection for the shooting.
Haasan said, "I fail to understand what this controversy is all about. To stop shooting [of Sandiyar] on some wild assumption is tantamount to an infringement of my aesthetic freedom. I will tolerate anything, but not this. To suggest my film is 'pro' any community, be it dalits or brahmins, shows basic ignorance of the universal communicative powers of cinema. Why would I want to target Sandiyar at a particular group of people and deliberately preclude another?"
He continued, "Sandiyar is my homage to my soil, my people and my roots. Am I any less concerned about the culture of Madurai [where Haasan hails from] than he [Dr S Krishnaswamy] is, even though he doesn't belong there?
"I am a person who is against all castes. How can I act and produce a film which will encourage communal hatred?"
He appealed to all not to agitate against the film or to support it. "Do not politicise the film. I am not a politician," he said, adding that everyone should wait for the film's release before passing judgement on it.
The actor-filmmaker has since rushed to Chennai for an emergency meeting with Tamil Nadu Chief Minister J Jayalalithaa in the hope that she will help resolve the issue.
Sources say the Sandiyar unit requested Krishnaswamy to wait until the film is complete before accusing it of any alleged communal biases, but the politician rejected the offer.
Additional reportage by PTI