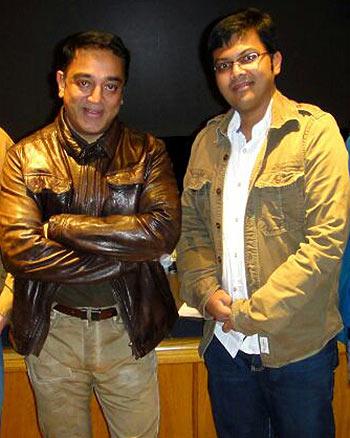 'Working with Kamal Haasan was a different experience because of his knowledge and the experience he brings to the table.
'Everybody says he is an encyclopedia and he is one, indeed.'
Sound designer Kunal Rajan discusses Kamal Haasan, and their latest film together Uttama Villain.
Kunal Rajan is the most sought-after sound designer in Tamil cinema.
Born and raised in Pondicherry, Kunal graduated in sound design from Singapore, then moved to Los Angeles for a career in Hollywood.
Kunal has collaborated with A R Rahman and Resul Pookutty in Shankar's Endhiren, Murugadoss's Hindi remake of Ghajini and Akshay Kumar's Blue.
He collaborated with Kamal Haasan for Vishwaroopam and most recently, for Haasan's forthcoming film, Uttama Villain, directed by Ramesh Arvind.
He spoke to Rediff.com contributor Praveen Sundaram from Los Angeles via Skype about his career in Hollywood, Uttama Villain and collaborating with Craig Mann, who recently won an Oscar for Whiplash.
How did you start your career in Hollywood?
After I moved to the United States, I started doing on-location sound. After a year of that, I realised that my passion lies in post-production, in sound design and mixing.
I did a course in the US specialising in post-production sound and slowly I started my career as a sound designer.
Was it difficult to find work in the US?
It is very scary to think about it now.
Before I came here, I thought there were Warner Brothers, Universal Studios, Sony and so many companies and I would go to the US and send them my resume with my Bachelor's degree in sound from Singapore.
I thought it would all be very easy.
Not even one company got back to me.
So, I started with students who were doing their thesis films. Slowly I got into very low budget, independent films. Slowly I began getting good work.
How did you get into mainstream Hollywood?
I worked on short films and small budget films. One person would recommend me to another and my network grew.
I began working on independent films. Some of them were recognised at film festivals and one went to Sundance.
My resume started getting better, with better films and better filmmakers. People started approaching me.
Now I find myself working in films like Jem and The Holograms, which should be out in October this year, directed by Jon M Chu. It's his next film after GI Joe. It is a very big movie for me. I am very excited.
What about your work with Tamil filmmakers?
Arun Vaidyanathan's Achchamundu Achchamundu was my first Tamil film. Sometime in 2007-2008, I read an article online that a Tamil filmmaker was making a Tamil film to be shot entirely in the US.
At the time, I was getting better work and had a good team. I contacted Arun through his website and expressed my interest in working with him. That's how Achchamundu Achchamundu happened.
Technically, I have done only four Tamil films: Achchamundu Achchamundu, Vishwaroopam, R S Prasanna's Kalyana Samayal Saadham and Saivam. Uttama Villain will be my fifth release.
You were also a part of Ghajini and Endhiran…
I've known Resul Pookutty for a while now, even before he won the Oscar. He was doing the foley work (foley is the reproduction of everyday sound effects that are added to film, video, and other media in post-production to enhance audio quality) for Murugadoss's Hindi remake of Ghajini.
He wanted to do some part of the work in the US. I helped him with that and also collaborated with him for Endhiren and Blue as a sound editor.
I also did a little work in Shah Rukh Khan's Ra One.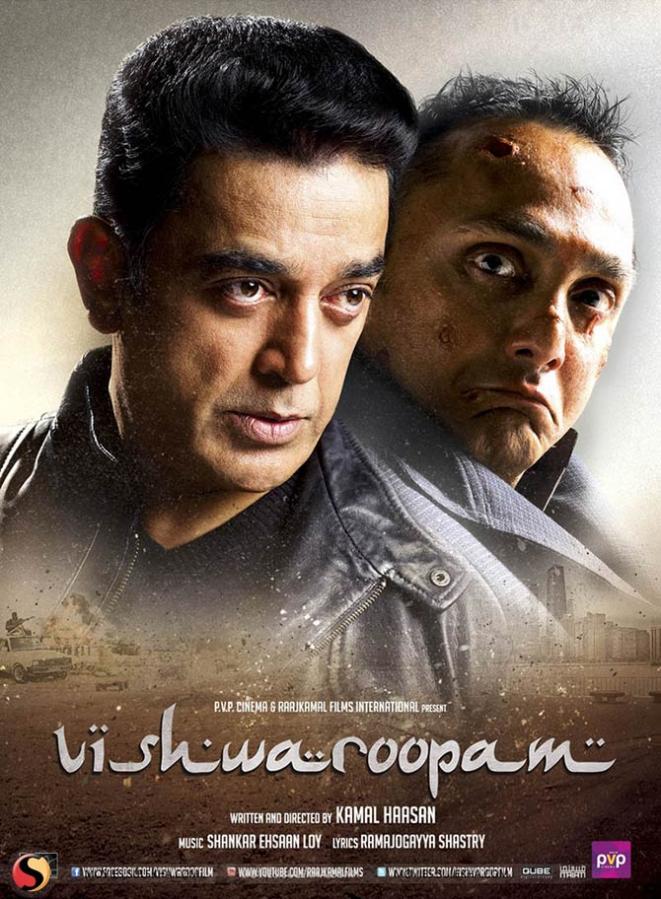 Image: Kamal Haasan and Rahul Bose on the poster of Vishwaroopam
What was it like working with Kamal Haasan?
I was initially concerned about working with such a senior artist and technician. He comes with a lot of experience and has terrific knowledge on every aspect of filmmaking.
I was aware that it was a big budget film and he has high expectations from people he works with.
He made me feel very comfortable and was open to ideas. If you know your job, Kamal will trust you and leave it to you. He collaborated very well, not just with me but my entire crew; they all enjoyed working with him.
Some of them have worked in very big budget Hollywood films like Inception. But they felt that working with Kamal was a different experience because of his knowledge and the experience he brings to the table.
In a particular situation if you don't know how to go ahead, he would be there. In his mind he knows the solution, but he will let you play around and come up with different possible solutions. Finally, he will tell us to try a particular way, just for the sake of trying and check if that works.
He has left me baffled many times.
Everybody says he is an encyclopedia and he is one, indeed.
Tell us more about your experience of working in Uttama Villain.
Kamal Haasan had narrated Uttama Villain to me while we were working on Vishwaroopam.
I thought it would be a cakewalk. It was only when I watched the first rough cut that I realised what I was getting into. He has done a fantastic job.
One of the biggest challenges was working in two different time zones in two different counties -- India and Los Angeles. Coordinating, getting all the sound files back and forth was very tough. The movie has contemporary portions and also period portions.
All the period portions were challenging because it was not something I had done before.
I had to work carefully without using any modern sounds. We wanted to keep it subtle and enhance the story and keep it as realistic as possible.
Did you visit the shooting spot?
No, but Kamal Haasan used to update me almost every two or three days over the phone. He would tell me about the scenes that he had shot.
I was aware of what was happening and I was always curious to see the final output.
I always watch the first cut like an audience and only from the second viewing I make my notes as a sound engineer.
Was the film shot in live-sound?
No, some of the actors don't speak the language and most scenes were shot in challenging locations.
The thing with live-sound is when you work partly live and partly dub, it affects the quality of the film.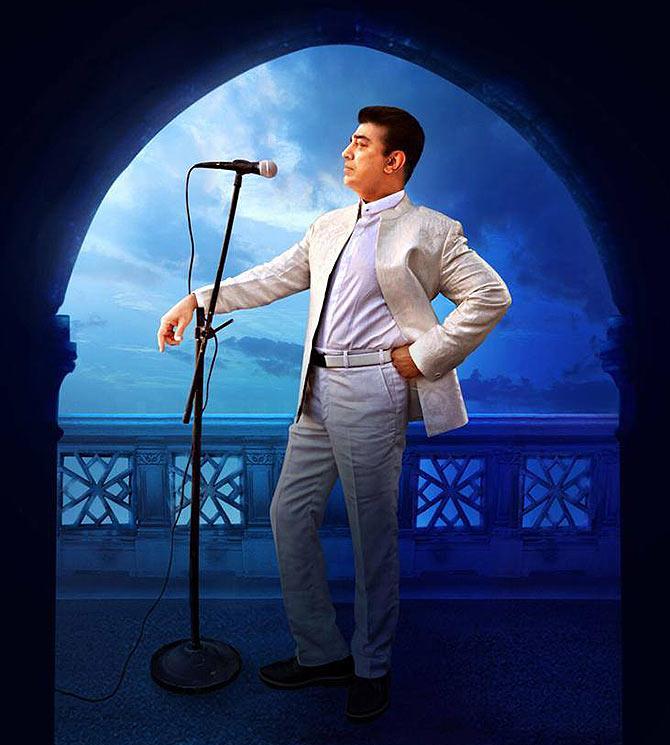 Image: Kamal Haasan in Uttama Villain
Kamal Haasan thanked you for putting him in touch with Craig Mann, the sound mixer who worked in Uttama Villain and won an Oscar for Whiplash. How did you guys collaborate? What did Craig Mann think of working in a Tamil film and Kamal Haasan?
I told Craig I was working in an Indian film and looking for a sound mixer to collaborate with.
He replied that he had just finished a small budget musical called Whiplash and if I was inviting him to collaborate for a Bollywood musical, he would love to do it.
I had to tell him that Indian films are not Bollywood films alone; there are multiple regional industries making fantastic films. He was fascinated by how many film industries we have in India.
I then told him about Kamal Haasan. They collaborated really well.
Will you be working in more Indian films?
I am open to working in any language as long as I find the work challenging and the team is good, and it is for people who understand the importance of sound, directors who understand what sound can do to their film.
I have worked in French, Italian and Ethiopian films too.