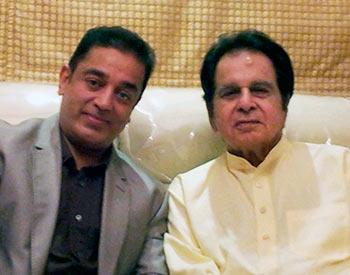 'I'm very upset with Dilipsaab for retiring 40 years too early.'
Kamal Haasan talks about his idol Dilip Kumar.
India's cherished actor Dilip Kumar turns 93 on December 11, and he's been getting a lot of love from the film industry.
Kamal Haasan, who idolises Dilipsaab, reveals he wanted to remake one of his most beloved Tamil films Thevar Magan into Hindi with the thespian and himself playing father and son.
But Dilipsaab declined.
"I even offered to move out of the project, thereby foregoing the honour of working with my idol. I thought Dilipsaab was not comfortable with the ambience of the original. So I offered to give the son's role to Shah Rukh Khan, but he still declined."
It was then that the veteran actor revealed the reason for his reluctance to work in the Thevar Magan remake.
"He found the theme too violent, and he has sworn never to do violent films," reveals Kamal Haasan.
The method actor, who regaled audiences with his performances in Bimal Roy's Devdas, Nitin Bose's Ganga Jumna and K Asif's Mughal-e-Azam, couldn't bring himself to do violent roles and films.
Reveals Kamalji, "As a child, he had witnessed the brutality of the Partition in his hometown in Peshawar. His family was butchered. He escaped the bloodshed by hiding under a bed without food and water for many days. What kept him alive was a sparrow that perched itself near his hiding place and reminded him that there was life outside. But Yusufsaab could never face violence after that even on screen."
Kamal Haasan is very upset with Dilip Kumar for giving up his career early. "He had no right to retire so early. I think he gave up 40 years too early, depriving us of many path-breaking performances that may have happened. But what he has done in the past is staggering. Mughal-e-Azam and Ganga Jumna make my jaws drop every time I watch them. I can't see a single flaw in his performance."