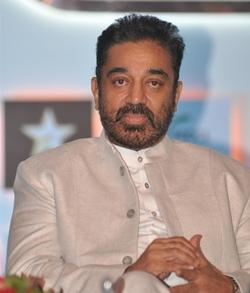 'Kamal Haasan does not need any new attempts to prove that he is a better actor. . He has grown beyond that stardom.'
Rajeev Kumar gets candid about his hero, superstar Kamal Haasan.
Twenty seven years after they had first collaborated for the super hit Malayalam film Chanakyan, director Rajeev Kumar and Kamal Haasan are back together for their second outing.
Titled Sabaash Naidu, the film will be a trilingual simultaneously made in Tamil, Telugu and Hindi.
What makes the film even more interesting is that the fact that it will bring together Kamal and Shruti Haasan for the first time as father and daughter on screen.
If that is not enough, his younger daughter Akshara will also be a part of the project, but as a assistant director.
Kamal's live-in partner Gauthami will be the wardrobe designer for the film.
Touted to be a humorous family thriller, the film will revive the character of Balaram Naidu, the eccentric and brilliant RAW agent from the film Dasavathaaram.
In this exclusive interview with Rediff.com contributor S Saraswathi, the National award-winning director opens up on the long gap of 27 years, his fondness for Kamal and the challenges of making a trilingual.
From 1990, there have been reports of Kamal and you getting together for another film. Why this delay?
I started my career with the Malayalam film Chanakyan with Kamal in 1989. We had a very good working relationship. Even before the film released in theaters, Kamal had signed me up for another project, a period film in Tamil.
Unfortunately, that did not work out because of the budget scenario. In the following years, we discussed many subjects but fortunately or unfortunately, I was continuously busy with my Malayalam projects and Kamal was also busy with his commitments. Somehow nothing materialised.
This time, however, things ended up differently. It was quite a coincidence actually. I came down to meet him for a different purpose and while we were discussing various factors, he asked me about my plans.
He expressed his interest in investing in some small projects. We were discussing in those lines and suddenly we landed into the subject called Appa Amma Vilayattu. Both of us were interested, and things began to move fast.
Later, we decided that it was not the right film to do now. So we shifted to this subject and everything just clicked. Sabaash Naidu will be a trilingual simultaneously made in Tamil, Telugu and Hindi.
How did you manage such a casting coup, Kamal Haasan and his two daughters, Shruti and Akshara?
I have always wanted to work with Kamal. I have an emotional attachment to him. He was, of course, the hero of my first film, but he has a very interesting personality.
We shared common interests and ideas regarding the treatment of a film, so to communicate with him as an actor was always very fascinating for me.
I am very curious about how he handles a character and I believe he is also very keen about how a director handles a subject.
For me, it was never a surprise that I am working with Kamal again, we were always destined to do a film together; the question was when. Luckily, this time it worked.
Shruti and Akshara joining us was also a lucky coincidence. Since the film portrayed a father-daughter relationship, we naturally thought of Shruti. And she was able to give us the dates.
Akshara was working on some short films, and had just completed a Hindi film, which is slated for release in July. So she also was free.
She is very keen to direct films. And I believe, just like her father, she is into all the departments of filmmaking. She really wanted to take it as an experience, so she joined me as an assistant.
Gauthami is doing the wardrobe. Everything was quite accidental, nothing was planned.
Tell us about this particular character you are reviving, Balram Naidu.
In Dasavathaaram, the character of Balram Naidu was not explored fully. His family background was not explained. He was quite an intriguing character, so we decided to revive him.
We worked on building the personal side of his character, and we landed on a whole new plot.
Kamal has written the story, screenplay and dialogues in Tamil, Sushanth is doing the Telugu dialogues, while Saurabh Shukla is working on the Hindi version. The film will be a humorously told family thriller.
When do you start shooting for the film?
Shooting starts in Los Angeles next week. The entire cast -- Kamal, Shruti, Brahmanandam, Ramya Krishnan, Anant Mahadevan and Saurabh Shukla -- will leave on Junr 17 or 18. We will shoot continuously for 60 days.
This is the main star cast from India, but we also have Manu Narayan opposite Shruti. He was the hero of Bombay Dreams, the Broadway show. He is settled in LA.
The DOP (Director of Photography) of the film, the editor and costume designer are also from here, but the rest of the crew -- the production designer, the art director, the stunt director, the stunt coordinator and the choreographer -- is from LA.
Will the entire film be shot there?
Most of the film will be shot there. There are a few scenes at the opening of the film that takes place in Vizag, but that will happen only when we get back. We plan to wrap up the schedule in LA by July 15.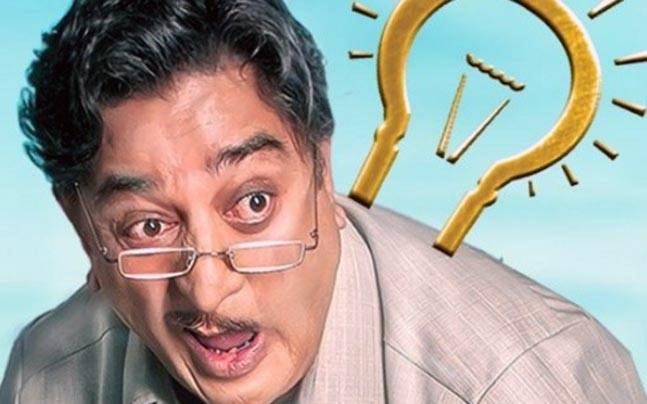 IMAGE: Kamal Haasan in Sabaash Naidu
Very few films have the protagonist as an older character. Does the film also have a younger version of Kamal as well?
Kamal Haasan does not need any new attempts to prove that he is a better actor. He is an accomplished actor. He does not fear any kind of roles and neither is he very keen about his stardom.
He has grown beyond that stardom. I don't think we need a younger version of Kamal. The story is powerful enough to hold Naidu as Naidu.
Are you worried about expectations since the film has already generated lot of buzz?
As a director, I understand that the subject always matters and we have a great script at hand. Besides Kamal's comedy films have always worked in any language throughout the country.
Sabaash Naidu also has a very a humor dominant subject and that will be the huge attraction for the film. Though loaded with a very interesting commercial proposition, this will not be your regular run-of-the-mill kind of film.
Have you made changes to the cast according to the language?
For the Hindi version, we have Saurabh Shukla doing a specific character, and the same will be played by Brahmanandam in Tamil and Telugu version.
There are few other minor characters who have also been replaced in Hindi, but otherwise there are no other major changes.
What are the logistic problems when you simultaneously shoot in three different languages?
I think it is more of a creative challenge. As a director, I have to handle the actors in all three languages.
While the dialogues in all three languages may have the same meaning, the body language, the timing, and the ambiance will not remain the same. The challenge would be to observe the characters to their local flavour.
As far as the logistics are concerned, the time factor could be a major challenge, how efficient you are in making a film in three languages simultaneously.
But with my experience in Malayalam cinema, where all filmmakers are known for their speed and practical approach to filmmaking, crisis management comes easy to us. We are tuned to such pressures and crisis, so the only challenge I face is to maintain the aesthetics of all these regions.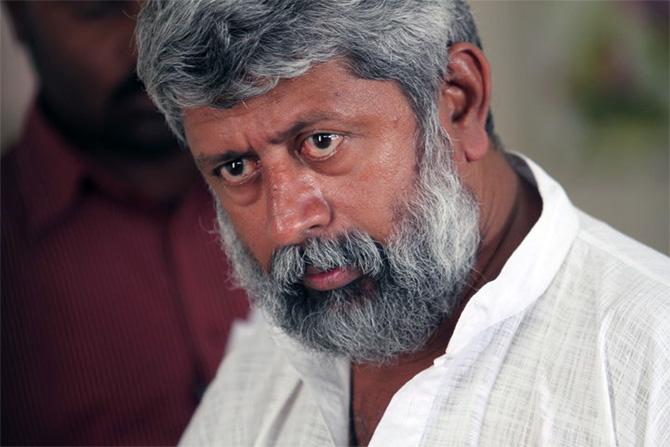 IMAGE: Director Rajeev Kumar
Will the film be dubbed in Malayalam?
It will be a straight release of the Tamil and Hindi version in Cochin and other areas, where we have the Hindi audience too.
I am sure the film will have a fantastic audience in Malayalam, because all Kamal's films which have released in Tamil in Kerala have done remarkably well at the box office.
Does the film become commercially more viable when released in different languages?
That was not the intention. But from the production house's perspective, it is also a business.
This film has the potential of a pan-India market. It is a universal subject, basically a light-hearted humorous entertainer. That will help the production house for their marketing, and production values will go up.
From a director's point of view, I believe this subject will appeal to everyone, irrespective of the language.
This film will mark your Tamil debut…
This will be my first Tamil and Telugu film. I have already done a few Hindi films, though with bad experience.
The first film Raja Ko Rani Se Pyaar Ho Gaya (starring Arvind Swamy and Manisha Koirala) had a little elephant and the film got stuck with the Animal Welfare Board. My next was with Govinda, which again got prolonged.
All the three films, which I worked in Hindi, fell into the trap of production delay. None of the films got a proper release; it was quite a bad experience, so I stopped making Hindi films at that point of time.
After Chanakyan, I got several opportunities in both Tamil and Telugu, but I kept away, because none was exciting for me. And as I mentioned, I was tied up with my projects in Malayalam.
Working with Kamal is always special. We respect and understand each other. Sabash Naidu is a very special film. I also have Appa Amma Vilayattu to look forward to.
Do you have a release date for the film?
I understand from the production house that the film will be released at the end of this year.
We will be shooting for at least two-two and a half months, then the post production has to happen for all the three languages. Logically, we will take time until October or November.
The film will probably have a December release.