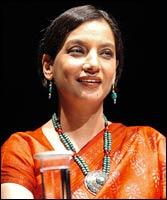 On the eve of her father Kaifi Azmi's fourth death anniversary, Shabana Azmi and husband Javed Akhtar staged a play called Kaifi Aur Mein at Mumbai's Prithvi Theatre on Tuesday.
In the two-hour play dedicated to the legendary poet's life, letters exchanged by Kaifi Azmi and his wife Shaukat Azmi during their courtship days -- and included in Shaukat Azmi's book Yaad Ki Rehguzar -- were read out by Shabana and Javed.
They also shared interesting snippets from Kaifi Azmi's life -- like his early years in his village Mijwan, Uttar Pradesh, and about him being thrown out of a madrassa because he was involved in a strike against living conditions in the hostel -- which had the audience in splits.
In one of her first meetings with Kaifi Azmi, Shaukat Azmi had said, 'College girls were clinging to him (Kaifi Azmi) like honeybees for an autograph, so I turned to (renowned Urdu poet) Sardar Jaffrey for his autograph. Only when the crowd dispersed, I went to him. He wrote a very bad verse for me. Later, when I asked him why he wrote a bad verse in my new notebook, he asked playfully: 'why did you take Sardar's autograph before mine?''
More nostalgia followed when they spoke about Kaifi Azmi's life in Bombay in the 1950s, his joining the Communist party, working with mill workers, his wedding, the death of their first son, Shabana's birth, Kaifi Azmi going underground thanks to his party work, Shaukat Azmi working for the radio, her theatre days, his fight against paralysis…
Kaifi Azmi also wrote scripts for films, the most memorable being the evocative Garam Hawa, about the effects of Partition on a Muslim family. He also wrote a script in verse, based on Heer Ranjha.
Shabana and Javed's attempt to give the audience an insight into the man behind the poet was well received. The best part was the way in which the narrative was interspersed with music.
Jaswinder Singh gave voice to Kaifi Azmi's memorable lyrics:
Meri awaz suno, Itna to zindagi mein kisiki khalal pade, Waqt ne kiya kya haseen sitam, Kar chale hum fida jaan-o-tan saathiyon, Milo na tum toh hum ghabraye, Tum itna jo muskura rahe ho and kya gham hai jisko chhupa rahe ho.
Needless to say, the play closed to a standing ovation.
Kaifi Aur Mein will be staged today, Wednesday, as well, at the Prithvi Theatre, at 9 pm.