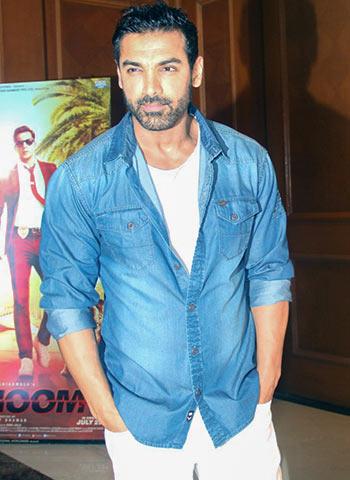 Get your low down on what's happening in Bollywood, right here!
IMAGE: John Abraham and Varun Dhawan at a Dishoom press conference. Photograph: Pradeep Bandekar
John Abraham reveals he enjoys working with heroes, more than heroines.

The actor has successfully worked with Akshay Kumar in Garam Masala, Desi Boyz and Housefull 2.
In Dostana, audiences loved the chemistry between John and Abhishek Bachchan.
Now in Dishoom, his pairing with Varun Dhawan is being appreciated.

"How many heroines do we have in the industry? We have more heroes today. So I am doing bromance with them. I am comfortable around men and I like it...not in a wrong way. It's about bonding and I get along well with Akshay Kumar, Abhishek Bachchan and Varun Dhawan," John said.
In Rohit Dhawan-directed film Dishoom, Akshay Kumar makes a cameo as a homosexual.

"That role was always there in the film. It's a comedy scene, but the scene has a deep meaning. It was written in a certain way. In our country, homosexuals (are looked at) in a certain way... (people) think a homosexual is not a strong as a straight man," Rohit said.

"In our country, we have athletes, who are gay men. Akshay Kumar symbolises that he is a homosexual but he overpowers the two men (John and Varun) in the film. We have shown homosexuality is stronger than straight," he added.

Rohit also revealed that if the sequel of Dishoom comes up, he will give Akshay a bigger role.
***
Sajid Nadiadwala: I was apprehensive about response to Kick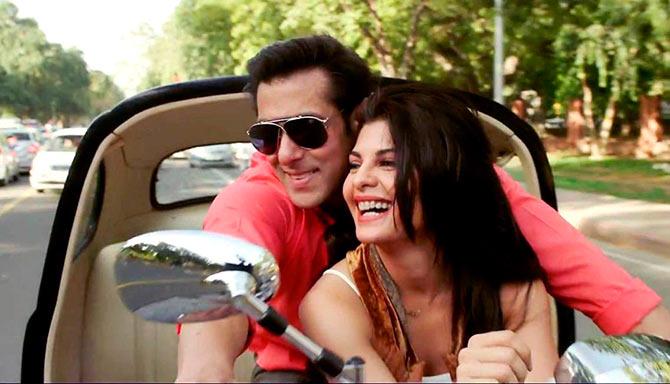 IMAGE: Salman Khan and Jacqueline Fernandez in Kick.
Filmmaker Sajid Nadiadwala, who is busy writing the sequel to Kick, says he was apprehensive about the box office prospects of his 2014 directorial debut.

Kick, which starred Salman Khan, Jacqueline Fernandez and Nawazuddin Siddiqui, went on to become one of the highest grossers of the year.

"As a director, I was apprehensive about the outcome of Kick. As it scored well, it is my duty to get above that expectation. They have accepted me as a big debut Bollywood director, so I should write something brilliant," said Sajid.

"It is difficult to maintain the Hollywood-stylised action that we had in Kick. There are expectations from the sequel. Salman and I are friends from last 20 years and we have had 100 per cent track record together," he added.

"If it's action, I will definitely take some from there (Hollywood). I have two-three friends in Los Angeles... so, I will take them up for the film. For me, it is about story first. Action and everything else will come later," he said.

Sajid said he is not certain when the sequel will go on floors.
***
Hostel where Kishore Kumar once lived is a ruin with memories
IMAGE: Kishore Kumar in Bhagam Bhag.
The century-old hostel of Indore Christian College, where legendary singer Kishore Kumar once stayed, has turned into a ruin.
Kishore Kumar, whose 87th birth anniversary is being celebrated on August 4, was born in the neighbouring Khandwa district.
He and his brother Anoop lived in one of the 60 rooms of the hostel, which had been abandoned two decades ago.
Amit David, principal of the college, told PTI that the district administration has now declared the hostel as 'dangerous building' due to its dilapidated form. He said that the revival of the building to its original shape was next to impossible, adding that the hostel couldn't withstand the weather conditions of so many years.
History department professor of ICC Swaroop Vajpayee said though the hostel has been abandoned, the memories of one the greatest singers in India are still refreshing.
He said Kishore Kumar studied in ICC from 1946 to 1948 and moved to Mumbai leaving his study midway. He rose to become a playback singer, actor, lyricist, composer, producer, director, and screenwriter.
"He owed 'panch rupaiya barah aana' to the canteen owner then," the professor said. It is believed that famous song Panch Rupaiya Barah Aana from film Chalti Ka Naam Gaadi has it genesis to Kishore's indebtedness.
Reminiscing old days, Vajpayee said Kishore use to skip classes and used to sing songs and practise his trademark 'Yodeling' under a tamarind tree.
Kishore Kumar or Abhas Kumar Ganguly was born on August 2, 1929 MP's Khandwa district. His father, Kunjalal Ganguly, was a famous
lawyer.