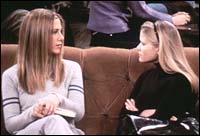 What are Hollywood's pretty ladies up to?
For starters, Jennifer Aniston and Reese Witherspoon are getting ready for their new projects.
According to People magazine, Aniston, Brad Pitt's significant other, will start work on her new film, Derailed.
The thriller co-starring Clive Owen (King Arthur) also marks the Hollywood debut of Swedish filmmaker Mikael Hafstrom. Another selling point of Derailed is its script by Collateral (Tom Cruise, Jamie Foxx) writer Stuart Beattie.
The plot deals with the events that follow a married advertising executive's life after he misses his train to work.
Currently though, the 35 year-old Friends star is wrapping up Ted Griffins's untitled comedy featuring Kevin Costner, Mark Ruffalo, Mena Suvari, and Shirley MacLaine.
Witherspoon, who played Aniston's kid sister in Friends, is reportedly 'eyeing' the lead part in the movie adaptation of Leslie Schnur's comic novel The Dog Walker.
To be produced by the Legally Blonde star's own company, Type A films, The Dog Walker is about a New York publishing executive who, after losing her job, takes up walking dogs for Manhattan's rich and famous and gets a peek into their dizzy lives.
Photograph: Getty Images