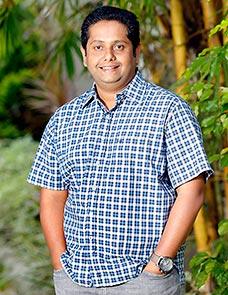 Ever since his film Drishyam became Malayalam cinema's biggest blockbuster, writer-director Jeethu Joseph has been the target of attacks from several quarters.
After the controversy over the film being inspired by a Japanese novel The Devotion of Suspect X by Keigo Higashino, Jeethu has now been accused by filmmaker Satish Paul of plagiarising his novel, Oru Mazhakkalathu.
Paul, who directed a dud film titled Finger Print some years ago, has filed a case against Jeethu Joseph. Since the court verdict went in his favour, Jeethu has gone ahead with the shooting of the Tamil version of Drishyam titled Papanasam, with Kamal Haasan in the lead.
In an exclusive interview with rediff.com, Jeethu Joseph replies to the charges.
Satish Paul has accused you of copying the story of Drishyam from his book. What is your response?
As per his version of the story, he was trying to make a Tamil film based on his book Oru Mazhakkalathu and he claims that Drishyam's similarities to his book goes up to 85 per cent.
A certain section of the media reported that he got Rs 10 lakh as compensation. Ten per cent of all this is fact, and 90 per cent is misinterpretation.
His story is based on a premeditated murder while Drishyam is about the unofficial investigation done by a cop after her son disappears.
He got an injunction order from the district court and not from the High Court, as reported by some. We were asked to present a bank guarantee for Rs 10 lakh as security.
Now, he has to prove his charges. I have decided not to speak more about the case as it is still under the consideration of the honourable court.
Satish Paul has stated that he came to you before the shooting started but you refused to show him the script.
He came to me around 10 days before the shooting started. He claimed to have written a script on a murder cover-up and wanted to know if the themes were the same.
I revealed my storyline in detail, except for the climax. He then said that there are no similarities between our stories.
According to him, his story is a scientific investigation and the tracks are different.
We talked over the phone one or two times after that. We have also talked after the release of the film. He said then that some of his friends had pointed out about the murder cover-up and he had told them that the two stories are different.
Then, after a couple of months, he got the injunction order. As per his statement, he was shocked after watching the film that 85 per cent of the film was copied from his story.
My question is why did he wait until July 2014 to file a case against a movie that got released on December 19, 2013?
He says that he was waiting for the DVD. If he has written the script, why should he need to wait for so long to make a comparison?
What could be his intention?
I believe there is a hidden agenda and that he is acting as per a written script.
Soon after the release of Drishyam, the remake rights of the film was sold. This news had come out in the media. Kamal sir (Kamal Haasan) was announced as the hero of the film. Satish was silent even then.
After the court gave the injunction, he demanded compensation from us. Frankly, we were worried if the dates of Kamal sir would be wasted. We had already started working on the project.
Kamal sir wanted to read the novel. He made sure that the stories were different. He also gave us confidence to challenge the claims.
He said that such instances are happening frequently these days. He believes that it's a question of ethics. In fact, when Satish Paul called Kamal sir's secretary, he was given this message by the legend: 'If you have a good case, you can go ahead. If it is not, we will hunt you down'.
On hearing this he realised that Kamal sir was supporting us. He then started maligning us through the media.
I had decided not to comment but I have been forced to make this clarification.
It is alleged that Drishyam was 'inspired' by a Japanese film Suspect X. There are rumours that Ekta Kapoor of Balaji Telefilms, who had bought the remake rights, filed a case against you?
We did receive a notice from her lawyer but no case has been filed.
We are aware that certain people tried to create a misunderstanding, which resulted in all those false rumours.