'A fortnight ago, I met her and Boney.'
'We were laughing and joking and counting our blessings.'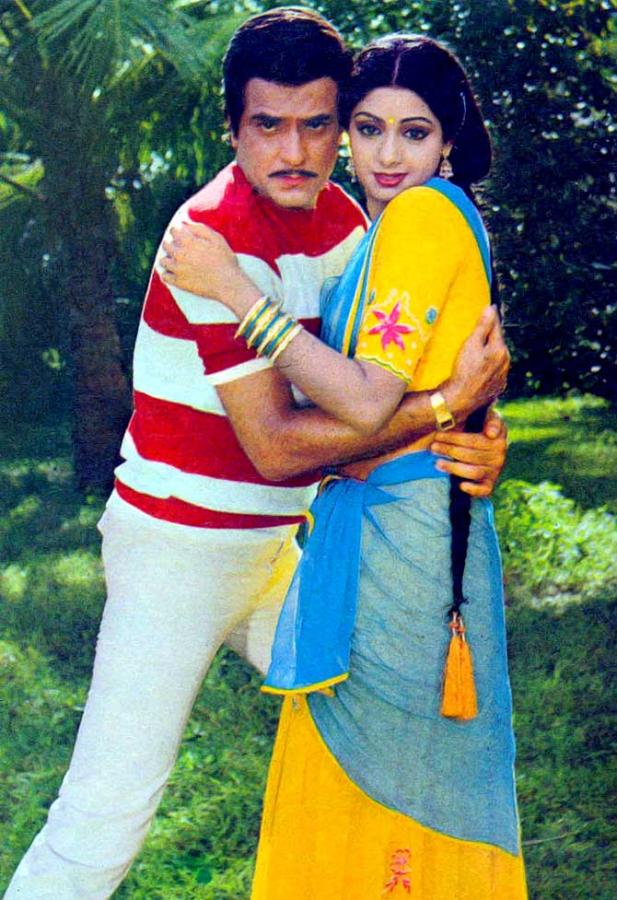 IMAGE: Jeetendra and Sridevi in Tohfa.
Jeetendra and Sridevi did 18 films together.
They starred in Sridevi's first Hindi hit, Himmatwala, in 1983 and were promptly dubbed box office magic.
"It just doesn't sink in that Sridevi is gone. A fortnight ago, I had met her and her husband Boney. We were laughing and joking and counting our blessings. And now, she is no more!" Jeetendra tells Subhash K Jha.
"This a slap on the face of those who spend their time bickering over small things. Life may have plans that will completely overthrow your pettiness."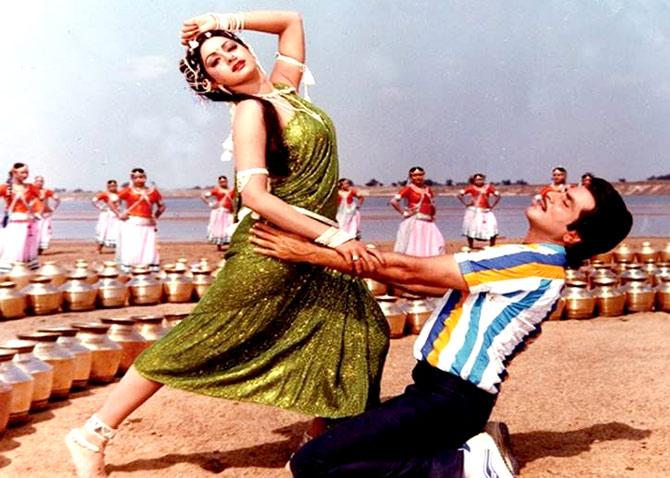 IMAGE: Sridevi and Jeetendra in Himmatwala.
What do I say about Sridevi? So many memories.
I can never forget Sridevi's determination to make it big in Bollywood.
She had conquered Tamil and Telugu cinema and she had a tigress' will to conquer Bollywood.
Her first Hindi film Solva Sawan had released and flopped.
For five years, Sridevi had no other Hindi offers.
This is when Himmatwala was offered to her.
It's interesting how Sridevi got Himmatwala.
The original Telugu version of Himmatwala starred Jaya Prada, but for some reason, we were committed to re-launching Sridevi in the Hindi remake.
It was a very awkward situation for me.
Jaya Prada was a big star in Telugu cinema. To tell her she is not doing the Hindi version was difficult.
Director K Raghvendra Rao and I went to her and explained why we had to sign Sridevi for Himmatwala.
Jaya Prada was upset, but she accepted the situation.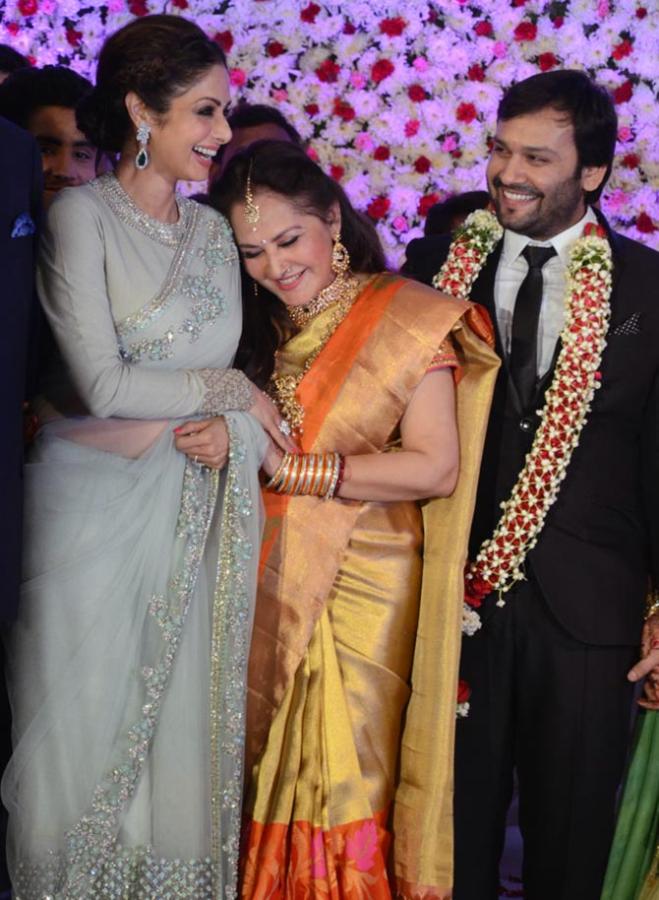 IMAGE: Sridevi attends Jaya Prada's son Siddharth's wedding in 2015.
Were Sridevi and Jaya Prada rivals? Look, I worked with both extensively. I even did films in which both were my co-stars.
I never saw then being anything but thoroughly professional with one another.
In Tohfa, Jaya Prada played Sridevi's elder sister. Such was their level of professionalism that they looked like actual sisters in the film.
Coming back to Himmatwala, no one at that point of time had faith in Sridevi. But we saw something special in her.
Both Sridevi and I had something to prove.
She had to consolidate her position after Solva Sawan. I had lost everything after producing Deedar-e-Yaar.
Can you believe I lost Rs 2 crore way back in 1982? You can calculate the size of my losses in today's economy.
We signed Sridevi for two more films even before Himmatwala released to show the film trade how much confidence we had in her.
This was never done before, and we were proven right.
Sridevi was magic on screen.
I had seen her Telugu films long before Himmatwala. I had seen her playing the romantic lead with the legendary Telugu actor N T Rama Rao, who was three times her age.
She did romantic scenes with the confidence of a pro. Not for a moment did she look so much younger than NTR.
In Himmatwala, I was almost twice her age. She treated me with utmost respect.
And what a fabulous dancer!
During the shooting of Nainon mein sapna and Taki oh taki, the dance assistant would show the steps to both of us.
She would get them right quickly while it would take me time.
If it was some other co-star, she would have gone into her makeup room and asked to be summoned when the hero was ready with his steps. Not Sridevi.
She would wait on the sets for me to get my steps right. This was the level of her dedication.
We went on to do 17 other films together.
I did even more films with Rekha. I did 30 films with her.
In Sridevi, I saw the same fierce dedication to get better with every film that I saw in Rekha. They are both lionesses on screen.
I couldn't keep up with them on screen.
Now, Sridevi has gone to a place where I can't even see her. Itni door chali gayi.