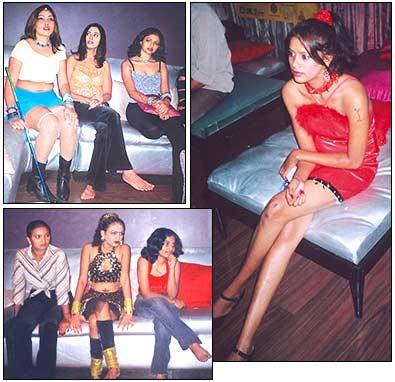 T
he makers of 
Musafir
have found a new way to promote their film.
They have launched a nationwide hunt for an 'item bomb' who will perform an item number in the movie.
Starring Sanjay Dutt, Anil Kapoor, Mahesh Manjrekar and Sameera Reddy, Musafir is scheduled for a November 12 release.
Along with Zee Music, the filmmakers are looking for an attractive young girl, who can dance, knows how to carry herself, can interact with people and is physically fit.
On August 31, the Mumbai audition was held at Zaha, the night club at the Hotel Leela.
Many girls turned up, but only 40 were allowed to perform to songs like Babuji zara dheere chalo [Dum], Aisa jaddoo dala re [Khakee], Seekh le [Munnabhai MBBS] and Sharara [Mere Yaar Ki Shaadi Hai].
While the girl could choose the songs, they were given 30 seconds to prove themselves.
Anil Kapoor and [choreographer] Pappu, who were supposed to judge the auditions, did not turn up. So Niyati Shah, head of programmes and marketing Zee, and [choreographer] Bosco [Lakshya] joined Sameera Reddy on the jury.
Meet some of the girls who hope to be the next Item Bomb:
Neha, who hails from Nashik, claims she will go all the way to the top or go home. "There's no middle road!"
Her namesake from Punjab says she had danced in many programmes, but never in a movie.
Kavita, who moved to Mumbai recently, had come to the auditions without her parents' approval. "I don't know how I will tell them if I am selected," she says.
Angela stood first in a dance competition, so she was trying her luck in films.
Ananya is a third year law student from Pune. "Even if I am selected, I will continue with my studies and get the degree. If an engineer like Anil Kumble can play cricket, why can't a lawyer perform item numbers? I am a trained classical dancer," she says.
When the judges asked Lovey, who came in a black and gold sequenced outfit, if she had designed it herself, Lovey answered, "No, my mother did."
While the girl put on their best dancing shoes, they complained they had not been offered any refreshments. One of them said, "I've been here since 9 am. They haven't even given us water!'

The Bangalore, Kolkata and New Delhi auditions have concluded; the next stops will be Dubai and London.
Niyati Shah, one of the judges, felt the talent on display in Kolkata was the best so far. "Delhi wasn't bad but in Mumbai, only two have been great."
The judges will select eight girls from each city. Out of these, two will be selected for the final audition, to be held in Mumbai.