'The nation is incensed, we all know that.'
'I respect all artists.'
Amitabh Bachchan voices his opinions on his birthday.
Amitabh Bachchan celebrated his 74th birthday with the media at his office premises Janak in Juhu (a posh Mumbai suburb) and thanked everyone for showering him with love.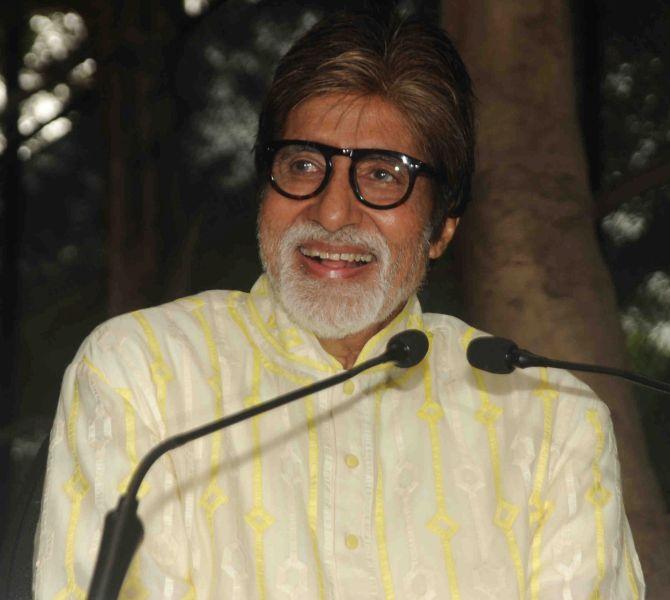 Photograph: Pradeep Bandekar
The Shahenshah has a huge fan following, who gather outside his home every birthday to wish him.
"I am grateful that there are followers on social media and outside (the house)," the star said.
He says this doesn't happen with him alone but with all film stars. "People, who are connected with films, have a huge following and this has been every time anybody has been liked for their creativity."
The family wished the Big B at midnight but of course, the youngest member of the family had fallen asleep by then. "Aaradhya hasn't woken up yet as there's a holiday," Bachchan said, referring to the Dusserah holiday which coincided with his birthday.
Bachchan will soon be back with the third film in the Sarkar series and director Ram Gopal Varma has promised that he will be seen in the 'Angry Young Man' role once again.
"Sarkar is the continuation of the brand and the series. There is not much change in the line-up. The premise is the same. Some of the characters will change because some died in the previous films. It's a new story. It's like carry forward from where Sarkar Raj ended or perhaps Sarkar ended," he said, adding "Sarkaris the only constant."
He will also be seen in Thugs Of Hindustan with Aamir Khan.
The Sarkar 3 shoot will start in a couple of days while Thugs will start in February.
"There have been many attempts for us (Aamir and him) to work together but we haven't. I look forward to that. Aamir Khan is a great star and actor. He has been ruling the box office and industry for many years. I am fortunate to get an opportunity to work with him," he said.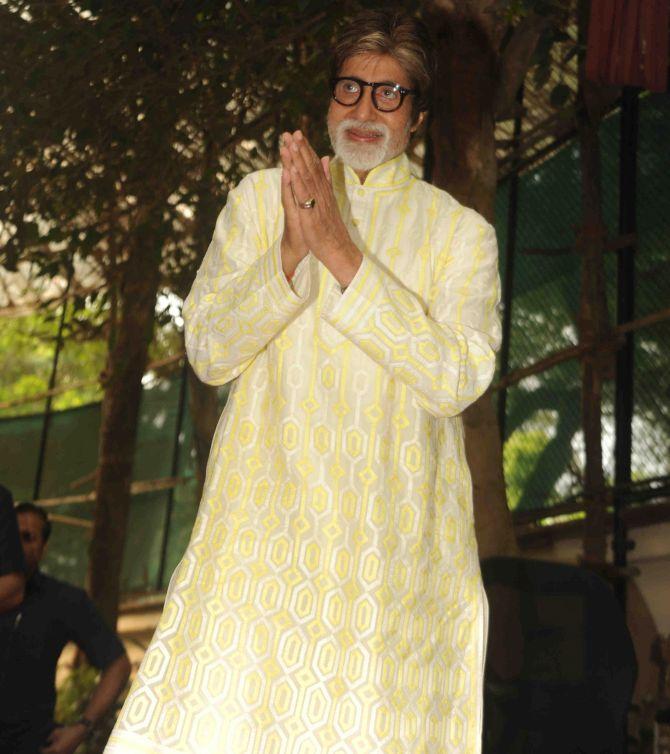 Photograph: Pradeep Bandekar.
What did he think about Pakistani artists being banned in India?
The Big B decided to answer that in his own way. "The nation is incensed, we all know that. The people of this country are very angry with the incidences that have been happening. I think it is time to show solidarity towards our jawans and armed forces, who are sacrificing their lives so that you and me can be safe here."
He added: "I respect all artists."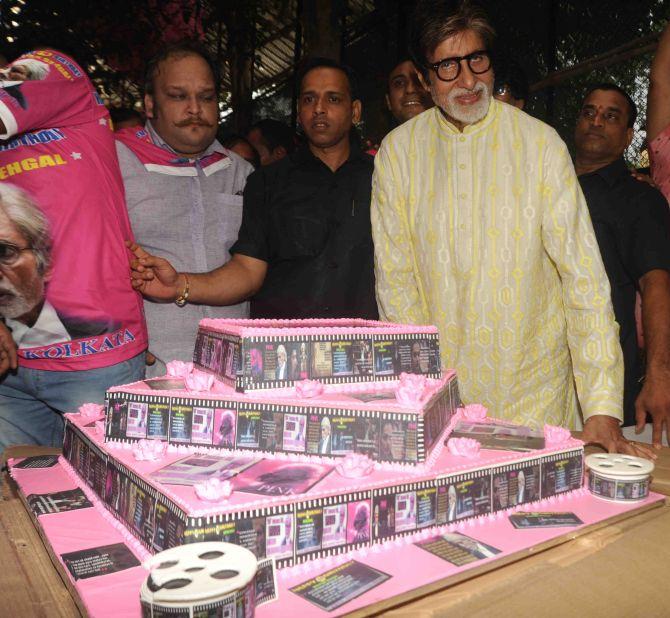 Photograph: Pradeep Bandekar.
After reports of studios shutting down in India were out, it was said that one of the reasons was the high fees of the actors.
Big B disagrees: "Every time, it is said that the actor is paid more, hence the film didn't do well at the box office. I don't believe that. If the actor is capable of bringing the audiences to the cinema houses and if he is asking for a particular fee, what is the harm? If the money is recovered, there's no harm. If that doesn't happen, you give him less money in the next film. Nobody questions then."