'This (middle) finger, this lipstick is for that part of society which isn't allowing us to come out and is curbing our voice. It's not about the CBFC, it's not about men, it's about an ideology.'
'There are lots of men, like my father, who have made us the women we are today. There are lots of women who want a grandson and subject their daughters-in-law to abortion.'
'So, it's not about men and women, it's about the ideology. It's about patriarchy.'
Alankrita Shrivastava's controversial film Lipstick Under My Burkha has finally been certified by the Central Board of Film Certification and is set to release on July 21.
The Film Certification Appellate Tribunal has directed the CBFC to grant an 'A' certificate to the film.
Its leading ladies -- Ratna Pathak Shah, Konkona Sen Sharma, Aahana Kumra and Plabita Borthakur -- launched the trailer in Mumbai with a bold statement that was conveyed through the T-shirts they were wearing.
Ekta Kapoor, who co-produces the film along with Prakash Jha, was all smiles at the event.
"I have no issue with the CBFC. My problem is with the entire society, which talks about the same thing but in its own way. The CBFC is only mirroring society. We will trivialise this issue if we make it about the CBFC. It's a larger issue," she said.
"If you talk to a woman, she will give you at least five incidents in a day, five-10 in a month, where she had to work harder to prove herself because she is a 'woman', maybe at a male-dominated work place or when she has to come across as a smarter woman if she is good-looking," she added.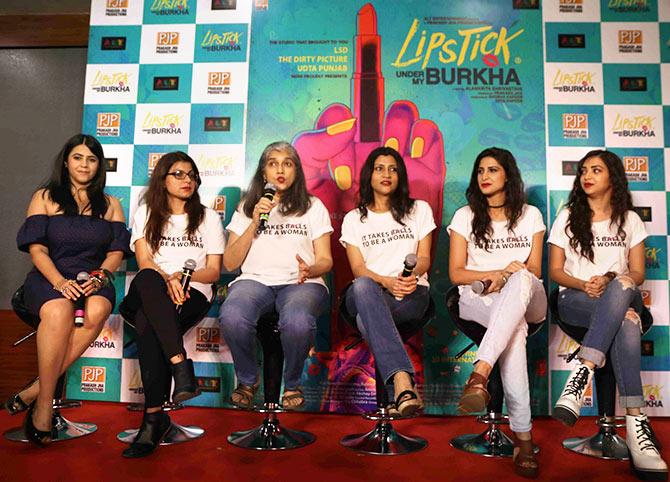 Recently, the first look of the film, directed by Alankrita Shrivastava, was released in which a lipstick replaced the middle finger.
"'This (middle) finger, this lipstick is for that part of society which isn't allowing us to come out and is curbing our voice. It's not about CBFC, it's not about men, it's about an ideology," Ekta continued.
"I am going to do a campaign (called) 'lipstick for men'. There are lots of men, like my father, who have made us the women we are today. There are lots of women who want a grandson and subject their daughters-in-law to abortion. So, it's not about men and women, it's about the ideology. It's about patriarchy," she said.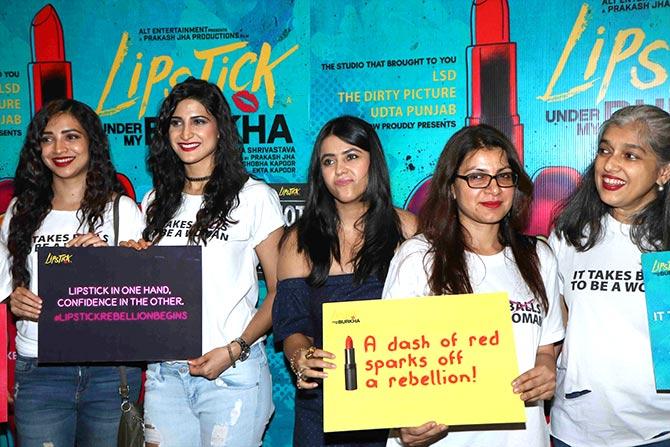 Ekta added that, since the film had won several awards internationally, she thought it would be 'pretentious, very arty' but was surprised after watching it.
"We are so scared to feel that it is now our second nature to be shy about our sexual fantasies and desires. The film stared at me and asked me a question. As a producer, you have made financial decision but it's time that, as a woman, you made a decision from your heart. That's what I did."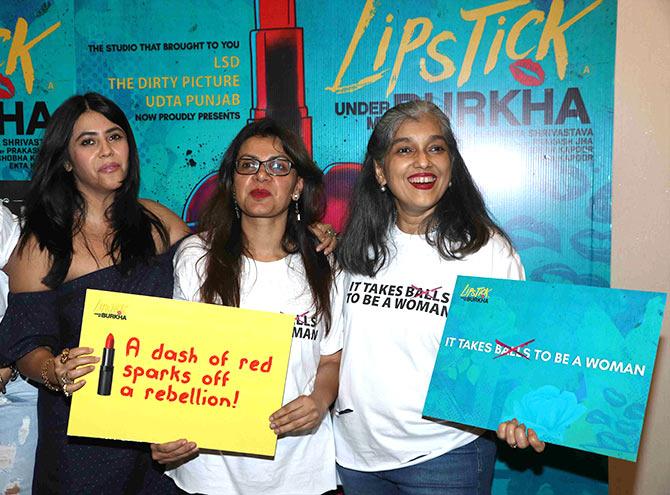 The ladies also said that necessities like sanitary pads should not be taxed at 12 per cent under the Goods and Services Tax that comes into force on July 1.
There is a raging debate about making sanitary napkins tax free.
When asked about it, Ekta said, "Honestly, I am not that well read about what is being taxed and how much, but have definitely heard a lot on this issue. Personally, I think the necessity of a woman -- be it a choice, a need or a desire -- cannot be taxed.
"We have to stop using words like 'that time of the month' or other such variations. Say it, I have my periods. There is nothing to be shy or embarrassed about," she said.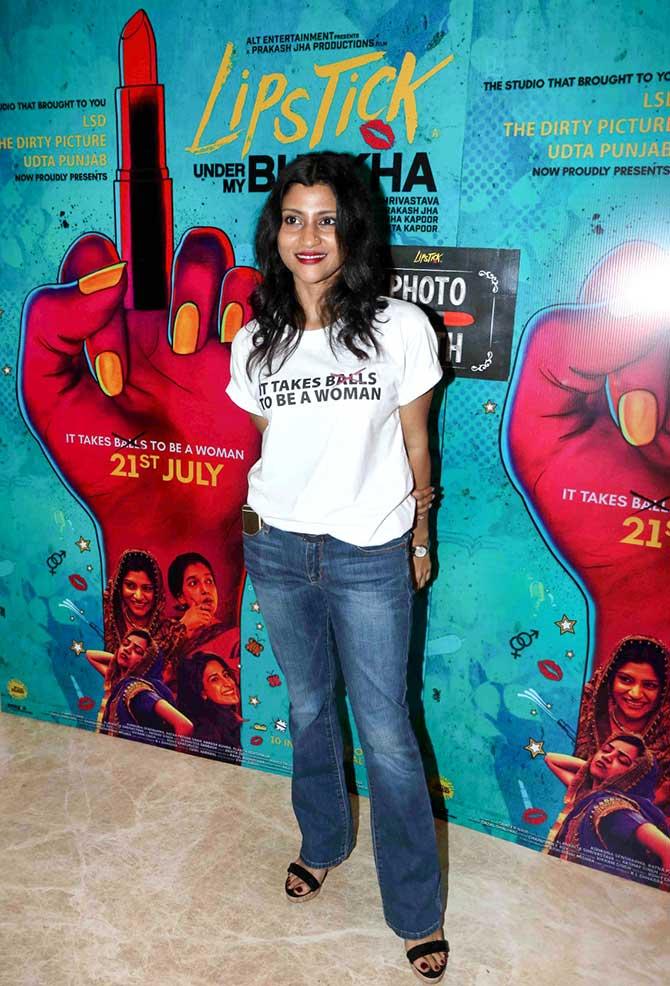 Konkona said adults should not be embarrassed talking about sanitary pads.
"If you don't have any control over your bodily function, how can it be considered to be taxed under luxury goods? It's not like you'll voluntarily say 'I won't put out my AC (air-conditioner) tonight'. It's not the same thing," Konkona said.
"I don't know why adults laugh when such an important question is being raised. We talk about toothbrush, toilet paper and toothpaste but the moment sanitary napkin comes, we all go 'haw sanitary' like we are in school."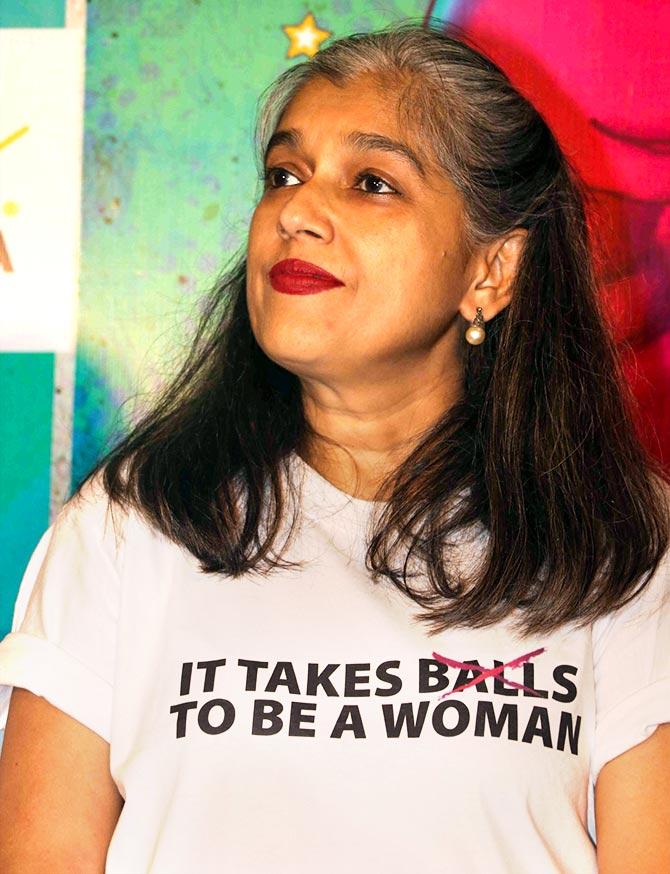 Ratna felt the overall conditioning needed to change and Indians should stop behaving like "ostriches".
"I've worked with an NGO. Ten to 15 years ago, when we started work, we were doing some stuff which had to do with the way the body develops. The teachers were appalled, they said 'No, no, chhee, never never.'
"Ten years down the line, the same teachers come up to us and say, we can't thank you enough. This has given us a way to talk about something which nobody wants to talk about... It's time for us to stop behaving like ostriches, get our heads out of the sand and look at the world."


The girl gang including Ekta, Alankrita, Ratna, Aahana, Plabita and Konkona are all smiles with their bright lipsticks on!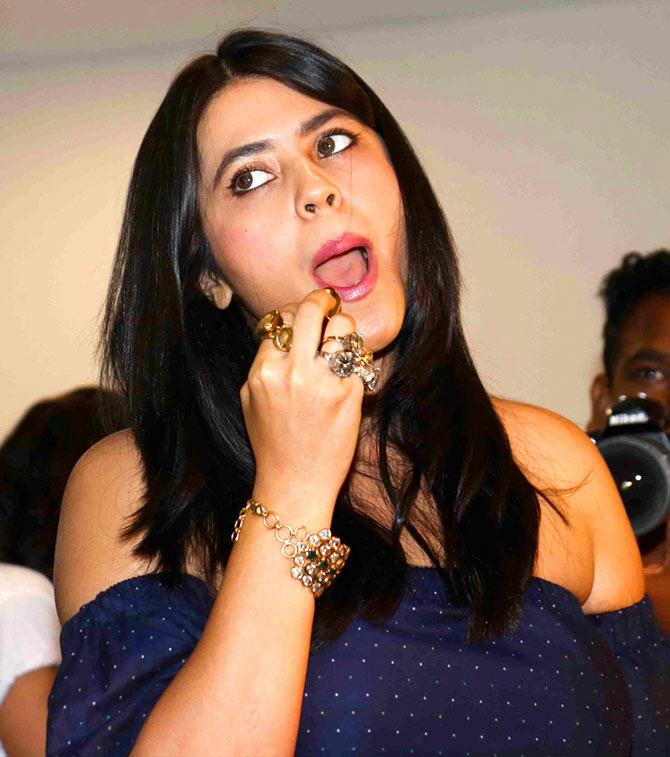 Ekta puts on more lipstick...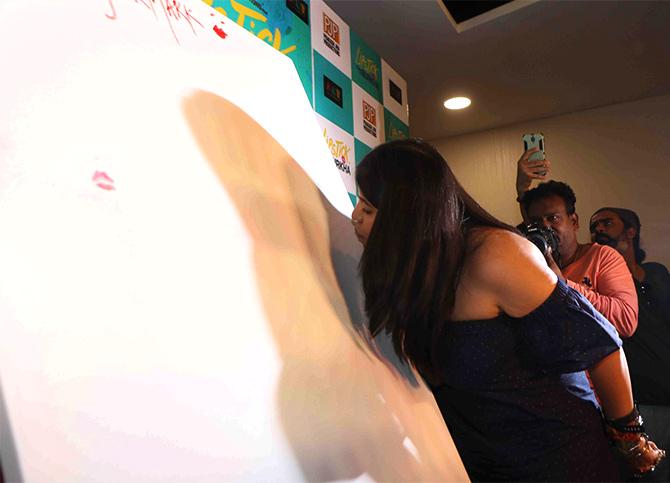 ... And makes her mark on a white board.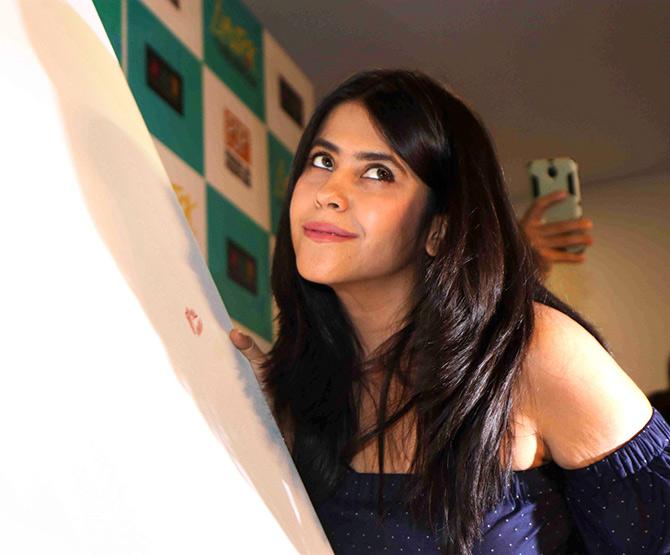 There, she's done, and it's now time to pose.
Photographs: Pradeep Bandekar