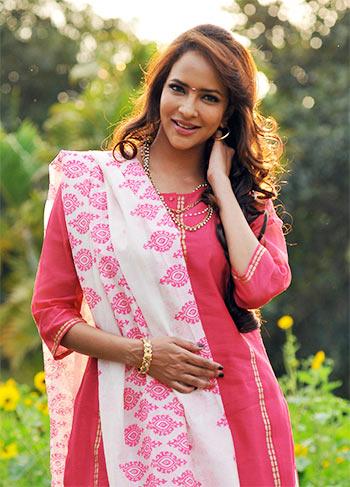 Lakshmi Prasanna Manchu straddles the big and small screens with ease. She juggles production and acting effortlessly too.
She is the producer of Dongata which releases this Friday, May 8.
She talks to Radhika Rajamani/Rediff.com about the film, in which she also acts, and her forthcoming television talk show.
Why did you want to act in your own production?
One is continuously looking for films. So when a story comes along, one is excited.
I felt I could bring a lot more to the character.
I saw the potential of the film and I decided to produce it.
What is Dongata all about?
It is a crime comedy.
I play an actress who is kidnapped. When, what and who kidnaps me is what the film is about.
Why did you name your film Dongata? There was a film made in 1997 called Dongata ...
After 10 years, you don't count (laughs).
We came across many titles that were horrendous and hideous. Dongata was the one that made sense.
It was fun, simple and to the point.
Since it is a Telugu film, I wanted a Telugu title.
Your role is said to have comic shades and that needs comic timing. How did you handle the comedy?
It was quite a challenge. I thought of Lucille Ball (the American comedienne). She thinks of urgency – how quickly she wants to do things. The word urgency made sense to me. You can never time anything right.
You worked with Sesh Adivi for the first time. What was it like working with him?
Awesome. He is a hard-working actor and a nice guy.
I see a lot of potential in him. He has an amazing screen presence.
What about the director Vamsi Krishna who is also the scriptwriter?
Yes, he has scripted the film. It was refreshing to see a director well versed in all the crafts.
Being a director is one part of the game. Controlling the budget is another. Vamsi is knowledgeable about editing too.
He knew exactly which scene to compromise and where it can't be done. He had the scene in his mind and he would say 'cut' at the right time.
You have also sung one of the songs in the film. How did that happen?
There was a situation for a song. We were blown by the lyrics written by Varukuppala Yadagiri.
I was very impressed by the lyrics and the unit thought that I should sing the song, so I sang!
One song in the film features a number of Telugu actors. Is it something like the Om Shanti Om song?
Yes, I was definitely inspired by the Om Shanti Om song.
I thought of having actors, both male and female, and not just heroes. The actresses were busy and only Taapsee was able to do it.
How do you juggle production and acting?
It is always difficult and I feel I will never do another film like this.
I liked the story and the process of production but not the business aspect.
My teacher (in Hollywood) Richard Lawson once said, "If work doesn't come your way make work happen."
So I am still learning and will continue to learn.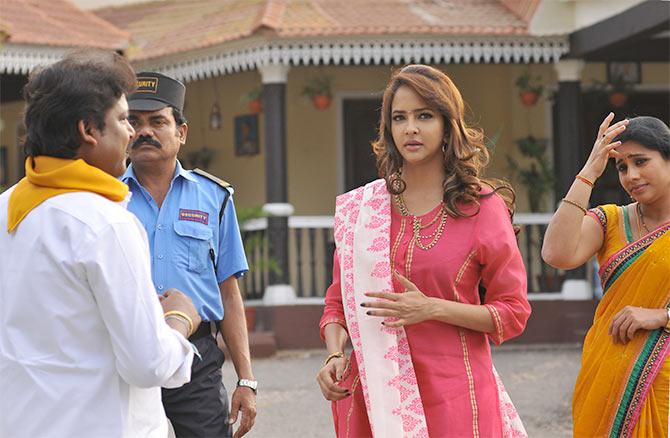 How did you feel about the response to your recent release Budugu?
I got a good response to my characterisation.
I wish the production company had paid attention to, and reached out to, people. They were being stubborn about the release timing. The movie got a lot of good credit though.
Did you feel the timing of the release was wrong?
Yes, I had asked them to release it after Dongata. It would have been more visible and viable. But they went ahead.
What's on the cards now?
I will be producing a film with Tarun Bhaskar. He is known for his short films.
When I saw them I liked them. So I called him and signed him for his first feature film.
Are you thinking of doing something on the small screen too?
Yes, I am starting a talk show, Lakshmi Manchu Tho Malli Malli Idhi Raani Roju, which will be telecast on Zee Telugu shortly.
Will it be with film celebrities?
Yes, because that is what the channel wants.
Are you looking at scripts in other languages?
Talks are on always. I would love to do a Malayalam film. It is very different and very real.