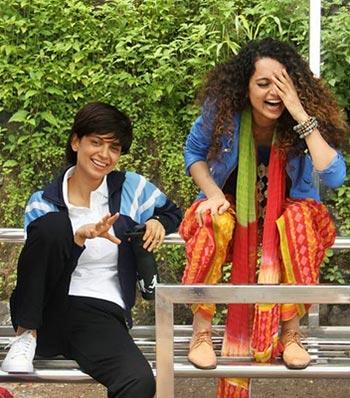 Business is better than usual in Bollywood.
It is 7:45 on a Wednesday evening.
In its third week, Zoya Akhtar's Dil Dhadakne Do, the story of a rich Punjabi family's journey of self-discovery, is running to a packed house at a DT Cinemas screen in South Delhi.
This is the fifth Hindi film this year to see packed halls.
Considering 2014 was one of the most miserable years for the Rs 12,640-crore Indian film industry, of which Hindi is the largest chunk, should we be singing the hallelujahs?

The answers swing between elation and caution.
"It has been a decent year (for the industry) so far, with only one or two big losses," says Ajit Andhare, chief operating officer, Viacom18 Motion Pictures. The studio has had two moderate successes in Gabbar is Back and the critically-acclaimed Margarita, With A Straw.

"It has been a fantastic year so far," says Nandu Ahuja, senior vice-president, India theatrical, at the Rs 1,457-crore Eros International, India's largest film studio. Two of the biggest hits this year, Aanand Rai's Tanu Weds Manu Returns and Sriram Raghavan's Badlapur are from Eros.
Amrita Pandey, vice-president and head, marketing and distribution (studios), Disney India, is happy, too. The good news from PK, which released late in 2014, spilled over into 2015. Then there was Avengers: Age of Ultron, which reportedly did a net (India) box office collection of Rs 77 crore.
There is some debate on whether local Hollywood successes such as Avengers or Fast and Furious can be counted. Pandey reckons they can because their marketing and release is tailored to local tastes.

Then there have been the lemons -- Anurag Kashyap's Bombay Velvet (Fox Star Studios), R Balki's Shamitabh (Eros) and Vikramjit Singh's Roy (T-Series).
Shailesh Kapoor is the chief executive of Ormax Media, a research and consulting film. According to an analysis his firm has done, "footfalls have been dropping since the second half of 2013. Since average ticket prices kept going up, the revenue drop became apparent only in 2014".

"This year (2015) though ticket prices rose by nine per cent we are looking at an eight per cent drop in revenue in the first six months," Kapoor says.

This analysis applies only to Hindi films; and only to their domestic box office, roughly 70 per cent of total revenues. If you add in the remaining 30 per cent from satellite rights, overseas et al, does the picture get better?

This is where the elation becomes caution. Given what happened last year, it is not clear if the 30 per cent will deliver. The industry remained stagnant in 2014 over 2013 going by FICCI-KPMG numbers.

Of the top 20 films released in 2014, only four turned up a profit. This happened because the price broadcasters paid for airing films fell by half, talent costs shot up to 40 per cent and marketing costs to 30-50 per cent of a film's budget. This resulted in some serious belt-tightening but "it still cannot make up for the drop in satellite prices," Andhare adds.

Analysts point out that stagnation at the box office, the industry's biggest source of revenues, however, is also a function of India's abysmal 10 screens per million of population (the US is at 125).

For comparison, look at China. Five years ago, China had roughly the same number of screens as India. It has worked furiously to push the number to 24 screens per million.

This has made it the second-largest film market ($4.8 billion) in the world after the US, though it does not have a prolific or robust local film industry like the US or India.

Till India has a network of screens that is at least 10 times larger, monetising the 1,000-odd films it makes every year is difficult.

And the industry's dependence on the smaller part of the pie will remain high. The feel-good first half of 2015 will remain just that.