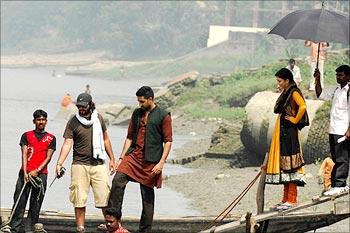 According to sources Southside, things are apparently not going as planned on Mani Ratnam's
Raavan
.
Apparently, the legendary director wants to re-shoot some parts of his film.
These sources claim Mani doesn't like Abhishek Bachchan's work in certain scenes, where the actor -- who plays the title character of Raavan -- has been overshadowed by co-star Vikram.
Vikram has apparently done such a fine job that Mani wants to re-shoot some scenes so that his hero can hold his own.
The film, which also stars Aishwarya Rai Bachchan, will also have a song choreographed, we hear, by the renowned dancer, Astad Deboo.
In the picture: Abhishek Bachchan (third from left) and Aishwarya Rai stand on the banks of the river Ganges during the shooting of Raavan on the outskirts of Kolkata. Photograph: Parth Sanyal/ Reuters