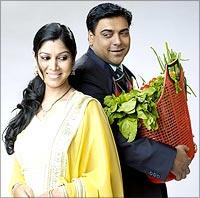 Ram Kapoor has slipped smoothly from being Jai Walia in Kasamh Se to Ram in Bade Acche Lagte Hai. In between, he played brother to Rakhi Sawant in Rakhi ka Swayamvar and best friend to Rahul Mahajan in Rahul Dulhaniya Le Jaayega.

He also acted in a few films, including the hit low-budgeter Udaan, and will soon be seen Asha Bhosle's debut film, Maaee.

Terrence Fernandes caught up with Ram Kapoor on the sets of Maaee.
 
Tell us about Maaee.
 
It's about an elderly mother suffering from Alzheimer's. To begin with, we don't really know what's wrong with her. It's about how she affects us and affects our lives as the journey progresses.
 
It was originally supposed to be a Marathi film. How did that change?
 
The producers they approached really liked the concept. They felt if it was made in Marathi, it would cater to a limited audience. They organised more funding so that the film could get an all-India release.

In our country, old people are not always treated correctly. People should realise there are diseases like Alzheimer's and Parkinson's that should be investigated. They should realise that those who suffer from these diseases need help.

One shouldn't just think they've become old and that's why it's like this. That's the basic message of the film.
 
What is your role in the film?

Ashaji plays Maaee and I play her son-in-law, her daughter Madhu's (Padmini Kolhapuri) husband. And that's about all I want to reveal right now.
 
What is working with Ashaji like?

Oh, she's one of the sweetest people I've ever met! So charming and so full of fun. She has a lovely sense of humour. You actually forget sometimes that you're with a living legend.
 
Women, in both television and the movie, tend to be portrayed as oppressed victims. Comment?

I really don't think that's true anymore. A lot has changed. Maybe this was true about five years ago but the market has opened up tremendously in television and in films.

In films, mainly because of the multiplexes and the vast variety of software available, I don't think women being oppressed is a popular plotline any more.

Maaee is definitely not about a woman being oppressed. It's not about an old person who's misunderstood.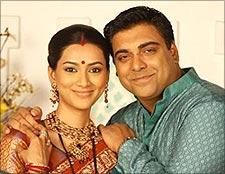 How's your equation with the director (Mahesh Kodiyal)?

Excellent!

It's a great help that he's written the script himself, so whenever I have a question about the scene I can always discuss it in great depth with him.

It's very good that he's the director of the film because he's a very sensitive person and it's a very sensitive subject. I think that's why he chose this subject.

I understand you're a 'method actor.' Has that helped you in any special way to prepare for this role?

It helps me in general in my career. 

I don't think one should try to make too big a deal of it because what it is, basically, is that you learn a certain method to bring a character to life and you do that.
 
It's not as if it's helped me in this film any more than in any role I've played. But it's the reason I'm an actor today and the reason, I think, that I've managed to have a career for the last 10 years. 

I owe everything to the method that I learnt.
 
Did Udaan, and the huge impact it had on your career, help you bag this role?

I guess this is really a question you should ask the director but it's definitely helped. 

I was always getting a lot of television work -- in fact, I have been known as a television star for the last 10 years. Whenever I used to get film work, it was either to play the 'best friend' or the 'brother' -- which I wasn't really interested in. So I happily concentrated on television. 

After Udaan, the scripts that are coming my way are all performance oriented; they are the kind of roles that I've always wanted to do. 

Udaan has helped immensely in opening up films for me. From this moment on, you will see me as much in television as in films.
 
What is your kind of cinema? What kind of movies do you like?

My kind of cinema is multiplex cinema. I would rather watch a film like Taare Zameen Par or a Dhobi Ghat rather than a blockbuster.
 
Can you name the five movies in recent times that have redefined Hindi cinema, according to you?

3 Idiots, Taare Zameen Par, Munnabhai, Udaan, Love, Sex Aur Dhoka