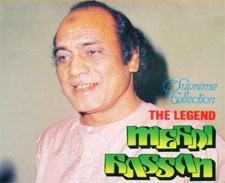 Legendary Ghazal singer Mehdi Hassan's demise is being equally mourned in Pakistan and India alike. Both the countries' leaders and celebrities have termed it as a tragic loss to the music industry in the sub-continent.
Pakistani President
Asif Ali Zardari
said that Hassan, whose popularity spans an era of quality singing, would be forever remembered.
He added, "He was an institution in himself and would always remain a beacon for the young artistes to learn from his mastery of singing."
Prime Minister
Yusuf Raza Gilani
said, "Hassan was an icon, who mesmerised music lovers not only in Pakistan but also in the sub-continent for many
decades."
Indian Prime Minister
Manmohan Singh
has also expressed 'deep grief' over the passing away of the Ghazal legend and said that Hassan brought the sub-continental Sufi sensibilities to life through his songs.
"The influence of his passion for Urdu poetry and initial grooming in Dhrupad tradition earned him a special place in the world of music," said a statement issued on behalf of the PM.
Imran Khan
, cricketer turned politician tweeted over the occasion, "Saddened to hear of the death of our legend Mehdi Hassan. His music will live on but we are poorer with his passing away."
Pakistani Singer
Ali Zafar
said, "Mehdi Hassan will live forever. He has left us with a legacy of music, magic, memories and so much more than words can describe."