'It is a huge responsibility to play Netaji.'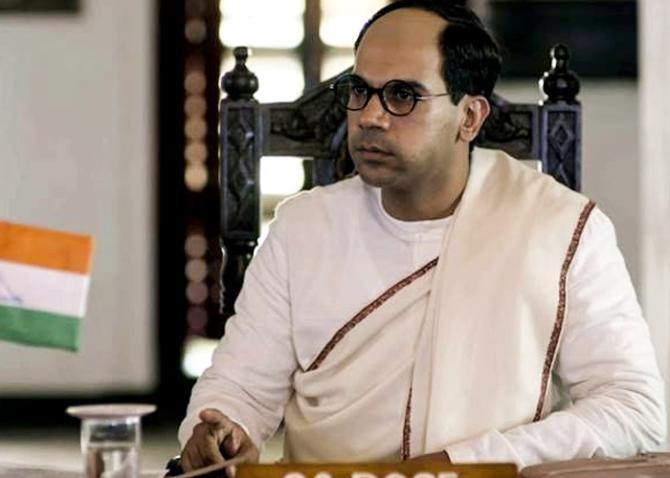 IMAGE: Rajkummar Rao in Bose: Dead Or Alive.
2017 has been a game changer for Rajkummar Rao.
The actor has had five releases -- Trapped, Behen Hogi Teri, Bareily Ki Barfi, Newton, Shaadi Main Zaroor Aana -- and except for the last film, everyone has applauded about the films and his work in them.
Rajkummar's Web series Bose: Dead or Alive, which premieres on altbalaji.com on November 20, looks at the life and mysterious death of Netaji Subhas Chandra Bose.
Suffering a fractured ankle, Rajkummar -- dressed in a black Pathani with a white floral Nehru jacket and accompanied by girlfriend Patralekha -- speaks at length about his Oscar plans for Newton, working with Aishwarya Rai Bachchan and much more.
Urvi Parikh listens in.
Bose's trailer has been winning hearts.
It is fulfilling to see the way the trailers have been received. That is exactly our intention. We want people to watch the series.
More than that, the journey that I have had of re-living Bose is important and I want people to witness that.
This has been my most ambitious character. I am very proud about the series.
It is a huge responsibility to play Netaji>.
I was very excited when they approached me. I felt proud that they thought I could play such a historic character.
Bose is a very unconventional character to play and I could never imagine myself in that avatar.
Netaji was indeed challenging, but I enjoyed it.
Challenges often bring out the best and I love challenging myself.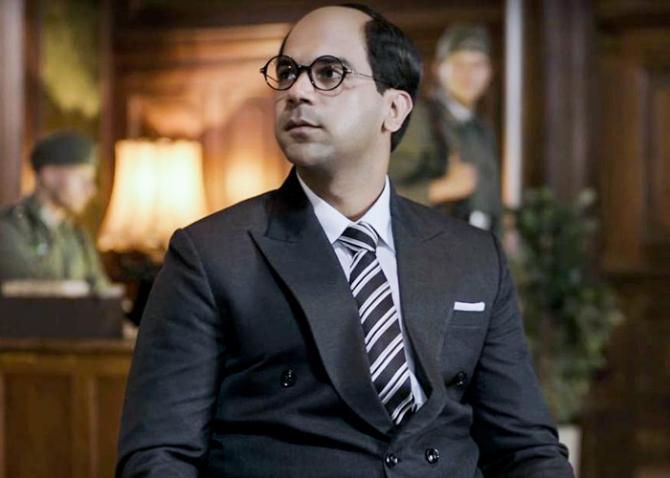 IMAGE: Rajkummar in Bose: Dead Or Alive.
What sort of preparation went into playing Bose?
Oh! a lot of preparation.
I watched documentaries on his life. There are many documentaries and all of them had something new in it.
I visited Netaji Bhavan (in Kolkata) and stayed there to get to know his daily life -- how his bedroom looked, how his house played an important part.
I put on almost 12, 13 kilos for the role and shaved half my head to look like Netaji.
Once my physical appearance was right, I began the internal process.
Our script was amazing. It was well researched and nothing was missing.
Do you think Indian history would be different had Bose been alive when India became free?
Definitely. This is all speculation, but if he would have been there, things would have been different.
There is a scene with Adolf Hitler in the series.
When we were shooting, and the actor playing Hitler came on the set, I was like wow! Shooting that scene was surreal.
It is a big event in Bose's life and when we shot for it, we knew what we were getting into.
We wanted people to believe that they are watching a piece of history.
Have you shown the Web series to Bose's family?
No.
Do you fear any backlash from his family?
I don't think so. Even if it happens, it's okay.
People are free to say what they feel like.
If need be, we will take the legal route.
It is a democracy and everyone has a right to say. But as long as they are abiding by the law, it should be okay.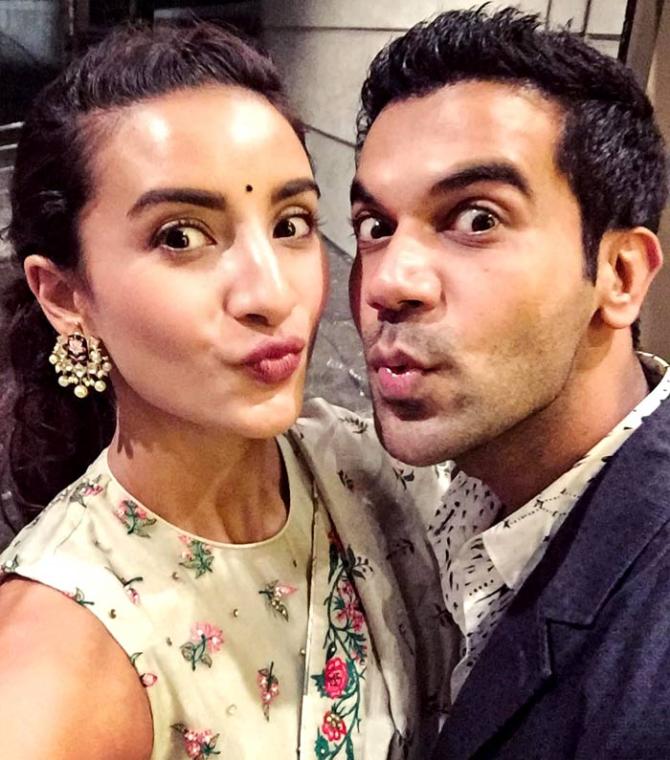 IMAGE: Rajkummar with Patralekha. Photograph: Kind courtesy, Rajkummar Rao/Instagram
How was it working with Patralekha after City Lights?
Working with Patralekha is always amazing.
She is a talented actress apart from being my girlfriend.
She proved her mettle in her debut film and not many actresses can do that.
If you have such talented co-actors, it brings out the best in you. Patralekha does that for me.
Shaadi Main Zaroor Aana didn't do well.
I haven't seen it yet, but it happens. Not every film can be Newton or Bose or Bareily Ki Barfi.
Ratna ma'am (Singh, director) is a great human being and I adore her work.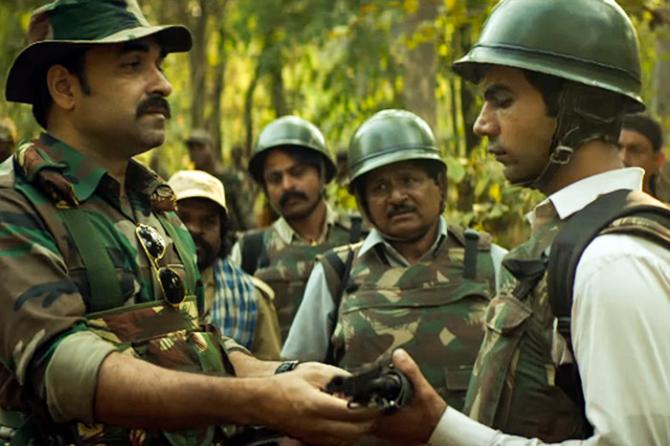 IMAGE: Pankaj Tripathy with Rajkummar in Newton.
After being received so well in India, Newton will soon see a global release. What are the plans? How will it be promoted ahead of the Oscars?
I am so thrilled! My team has already gone there and I will be joining them soon.
We have hired a publicist and the plan is being put in place.
The campaign has begun full fledgedly. We shall leave no stone unturned in bringing Newton to the world.
It is an amazing film that I am very proud of.
IMAGE: Rajkummar in hospital with Farah Khan. Photograph: Kind courtesy, Rajkummar Rao/Instagram
You were to begin shooting for Fanney Khan, but you suffered a foot injury...
Yes, but what can be done?
My producers have been very kind, and they postponed the schedule.
Once I recover, I shall begin shooting for Fanney Khan.
It is exciting to work with Aishwarya ma'am and Anil sir (Kapoor). I cannot disclose much about the film since I am under a contract.
Fanney Khan is all set to release alongside Salman Khan's Race 3.
I am nobody to decide or comment on it.
I am an actor and my work is to go, act and come back. Releasing a film is a producer's call.