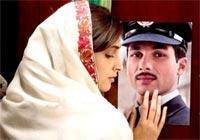 Shahid Kapoor starrer Mausam is in trouble as the Indian Air Force (IAF) has objected to certain action scenes in the film, where the actor essays the role of a fighter pilot.

The IAF has raised objection to an action scene in the film and has held back the No Objection Certificate (NOC) until the changes are made.

Director Pankaj Kapur said, "Right now I am busy with the completion of the film and frankly speaking, all these things are looked into by the producer. He would be the better person to answer it. The producers need to get back to me regarding the deletion of scenes for me to consider."

However, Shahid seemed unfazed by the possible delay in the release following the objections.
"I think what we can commit is we are releasing the movie on September 16. The fact is that IAF has been extremely kind and supportive and very helpful throughout the making of the film. Whatever will be the final outcome the idea is to do something with which they are happy and comfortable. And there is something that is being worked out. I am sure we will come out with an amicable solution," Shahid said.
The film is a love story starring Shahid and Sonam Kapoor. Shahid plays the role of a F-16 fighter jet plane pilot in the movie, which is scheduled to hit the screens on September 16.