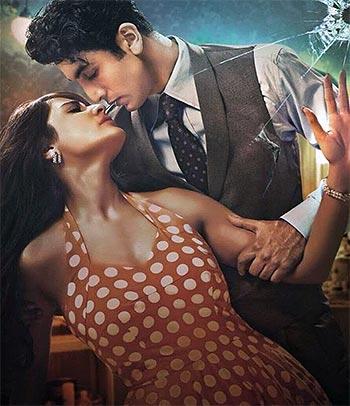 It took author Gyan Prakash's saga Mumbai Fables more than eight years to be brought to screen. But just less than a week for the movie version Bombay Velvet to come crashing down.

Anurag Kashyap's Bombay Velvet is a disaster at the box office; the losses have to be borne by producers Fox Star Studios and Kashyap's Phantom Films.

But Gyan Prakash, who teaches History at the Princeton University in New Jersey, stands by the film.

"I'm thrilled that the film even got made!" he exclaims. "From the very beginning, I knew that it would be a challenge, given the requirements of a period film. So was the complexity of the story of Bombay's transformation from an industrial to post-industrial city of real estate and finance, which had to be told through an ensemble of characters and complex plot twists."

Defending the film against the critical backlash it faced, he says: "Perhaps in the heat of the moment, it is difficult for the critics and the audience to appreciate the effort involved in mounting such a film. But I am deeply appreciative, and I love Anurag's stylised way of telling my story."

Prakash blames audiences' differing expectations for the film's failure.
"I think the film has met with mixed reception because of wildly different expectations. Some expected an Anurag film to be like Gangs Of Wasseypur and others expected a film with stars like Ranbir Kapoor and Anushka Sharma to be standard Bollywood fare. Yes, with Anurag's twist. Perhaps the promotion of the film, presenting it as a star-studded spectacle, also raised this expectation. So when it turned to be neither, people were disappointed," he reasons.

The author does not feel let-down by the movie.
"I think it is an amazing film, one with huge ambitions in terms of cinematic craft and in its expectation that the audience will connect the dots, and not have every bit told to it," he says.

At the same time, he does not find it perfect either.
"Of course, any film, any work of art has flaws. And when I see the film, I too have second thoughts on a scene here, a scene there, what could have been left out, what could have been added," he says.

Prakash is all praise for the Bombay Velvet actors. "The actors have done a superb job. Never before have we seen Ranbir Kapoor in this kind of a role. Anushka Sharma, Satyadeep Mishra, Manish Chaudhary and Kay Kay Menon shine. I think one needs to step back from the noise, take a breath, and then watch the film to make up one's mind," he justifies.