'You have to sip me slowly and enjoy the journey.'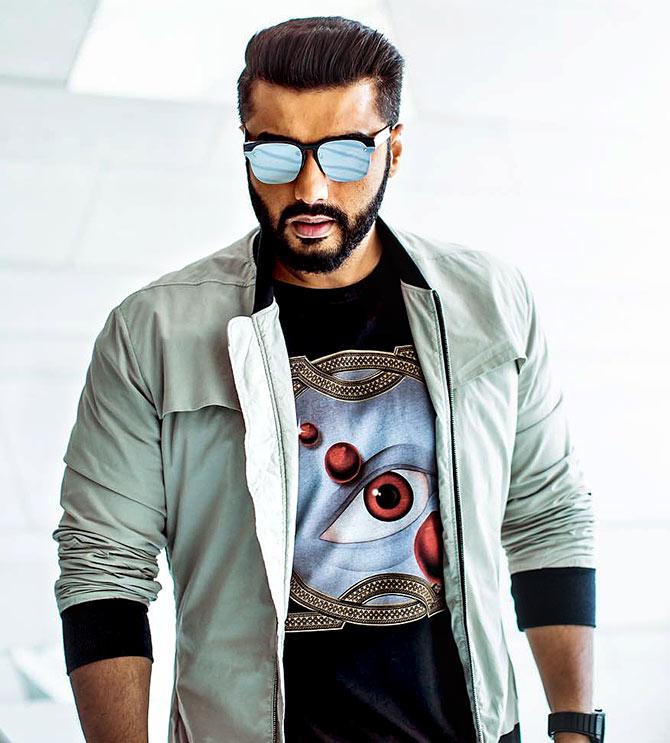 Arjun Kapoor reunites with Parineeti Chopra in Vipul Shah's Namaste England.
"Our movie audiences are more sensible than YouTube or Twitter audiences," Arjun tells Rediff.com Contributor Ramesh S.
The first trailer of Namaste England did not receive much response from the audience. Did you feel nervous?
Not really. I went Nepal to shoot India's Most Wanted, and Vipul sir got sick from dengue and typhoid.
Our timelines were set and we had to put something out because the film was releasing soon.
At that point, we choose a trailer which we felt would be good enough to excite the audience.
But we did not expect people to react in a bad way.
I believe the audience felt it is an intense romantic film, but it is a young love story, fun, sweet and energetic.
But we understood the audience perspective and decided to add a surprise element of me having another wife in the film and what I do in London after landing there.
I always feel the trailer can give you either too much or too little because it's very difficult to get that perfect trailer.
So we learnt from experience that there is no harm in giving something extra to the audience, to show them that something more is happening in the film.
Then, the music caught on.
Proper Patola and the new trailer gave us a new energy.
Sometimes, we come out wrong, but the audience guides us in the right direction.
I am happy we reacted in a positive way and put out something new, rather than just sit and accept things.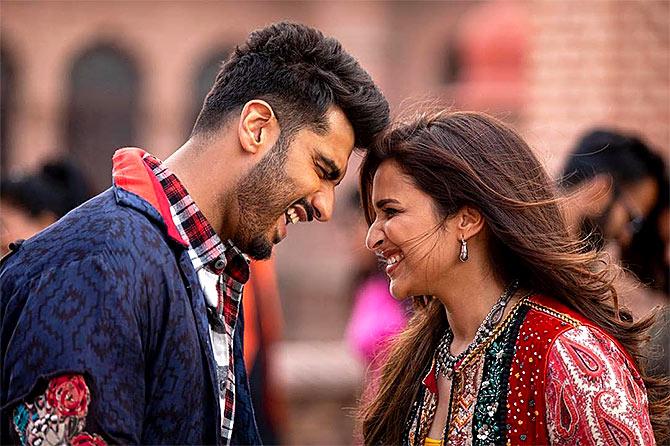 The songs are fantastic, especially Rahat Fateh Ali Khan's Tu Meri Main Tera, where your anguish can be seen. How did you film that song?
That is my father's favourite song in the film.
I tried my best to be as honest as possible for that moment, and did not realise how difficult my character's journey would be.
I tried to show what my character is going through.
When you see it, you realise that people have travelled like refugees to other countries for years and years.
They are risking their life while travelling as a migrant, where they might get caught and get sent back.
So you can sense that emotion of fear but as he is going for love, there is also a certain calmness on his face.
This mixture of happiness and sadness connects with people I guess, when one finds happiness in sadness.
The film's theme is that love can travel any distance, and that is the moment where the lover emerges in the movie because till then, he was a married man living with his beloved wife.
That is the journey of love and that is why everybody likes the visuals; you can find the madness and the simplicity of the lover.
You reunite with Parineeti Chopra after 2012's Ishaqzaade, in which you made your debut. You will be seen opposite her in Sandeep Aur Pinky Faraar as well. How much has she changed?
We were always friends, but there was some kind of nervousness, where you wonder will she be the same on the set or will she be easy to work like before.
But we figured out in the first two days of our shoot that we can be honest with each other and there was nothing to worry about.
Honesty is very important between two people if you want to create an environment, where you can openly speak with each other.
If you are just faking it, one cannot improve in his/her respective work.
So our honesty has always remained intact with each other.
The change I have seen in her is deep-rooted.
It's not like she is more beautiful now, but she has that sense of direction.
During Ishaqzaade, it was just another film for her.
She had thought that if this does not work in the film industry, she will move back to London and work there.
She was not focused then.
Now, she has become a person who values what she has. She values this profession, and wants to do better in it.
One cannot rest in this profession thinking that I have achieved enough in my life.
I can see a fire in her now, this energy to become a mainstream commercial actor.
And you need that energy because there are millions of people dying to be in your position, so you can't be relaxed and calm.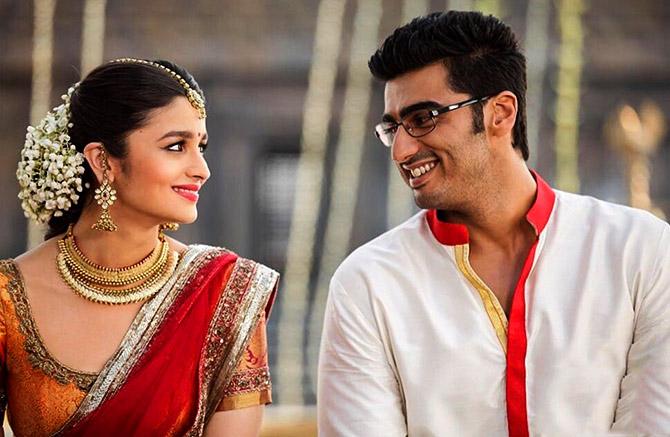 You have done different kinds of films, but people still associate you with mainstream cinema. Do you think an actor is constantly judged on the basis of his/her next film?
In my first two, three films, my image was of a commercial hero.
In Ishaqzaade, I didn't hit anybody, but I became an action hero.
In fact, Parineeti hits me more than I hit her!
In Aurangzeb, I had a violent and volatile role while Prithviraj had an action-oriented role.
People thought Aurangzeb was a regular masala film, but realised it was heavier after watching it.
Gunday had a big impact on people. Tevar was another big masala commercial film.
2 States did commercially well.
So when people look at my career -- Ishaqzaade, Gunday, 2 States, Tevar, Half Girlfriend, Mubarakan... the last two arrived back-to-back, so the thought in everybody's mind is that I had done Mohit Suri's romantic movie and Anees Bazmee's comedy.
But I have also worked with R Balki (Ki & Ka) and Homi Adajania (Finding Fanny) along with Ali Abbas Zafar (Gunday) before he directed Sultan and Tiger Zinda Hai.
Our movie audiences are more sensible than YouTube or Twitter audiences.
We made Sandeep Aur Pinky Faraar before Namaste England, but the latter is releasing first.
I was coming from Anees Bazmee's Mubarakan to Dibakar Banerjee's Sandeep Aur Pinky Faraar, then Vipul Shah's Namaste England, and then Rajkumar Gupta's India's Most Wanted.
In my head, I am playing all sorts of roles in different films, but I cannot control the release dates.
So (I hope that) the audience who pays money to watch movies in theatres notices that as an actor, I am doing everything, and eventually, will not pigeon-hole me.
People who don't like me will find fault even if I do different kinds of movies.
And you cannot control the fate of films.
I wished to control Aurangzeb's fate, my second film and a song-less thriller.
I did a double role in that film as well as play a negative character.
It was a Yash Raj film, and so I believed it would work.
I also did an English film Finding Fanny with an ensemble cast. At that point, I did not see a young actor doing a film with an ensemble cast.
I did Ki & Ka, in which my wife goes to work and I cook at home.
Today or tomorrow, the truth will come out -- some people are like slow-burners who will win you over slowly and gradually.
So maybe I am one of those, who is not instant coffee.
You have to sip me slowly and enjoy the journey.
Next year, I have three films coming up: Sandeep Aur Pinky Faraar, India's Most Wanted and Panipat.
I believe that a sensible audience will not judge you on the basis of your next film.
What is your take on the #MeToo movement?
What is happening in the film industry now is very different from what was done in the past where a certain statement led to consequences.
However, actions of certain people have led to certain consequences.
I believe 99 percent of these issues will be the truth because these women have shown a lot of courage to speak up.
And we must respect that.
We must listen and pay attention.
We should understand the information first, and react accordingly.
It's an internal problem which exists all over the world, and we have to find a solution.
Certain films are being punished because some perpetrators are involved in it.
We might go two steps back, but I think our country will go two steps forward.
It's unfortunate because films are not one person's work, but because of a mistake done by that one person, few things change accordingly.
But all is not lost.
There are enough sensible people in the film industry who can find a proper solution so that a film does not suffer.
Right now, we need to keep quiet and let the entire poison come out.
It might take a few weeks or months, but I am certain that something good will come out of this.
We need to have patience and respect because it is not a political issue or an India-Pakistan issue where Fawad Khan had to return.
This is the harsh reality, visible in every household. There's domestic violence and abuse even in marriages.
We need to make sure to create a safe environment for women across the country.