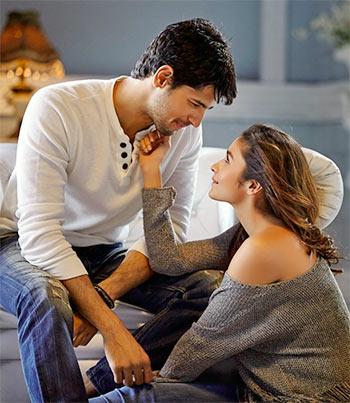 'It's a good thing that people will see our chemistry on screen. What happens off camera is not our concern.'
Sidharth Malhotra wants his chemistry with rumoured girlfriend Alia Bhatt to do all the talking in their new film together, Kapoor & Sons.
But he's just as excited about romancing Katrina Kaif in his other film, Baar Baar Dekho.
The actor discusses his movies, his life and all things Alia, as Jahnavi Patel/ Rediff.com listens in.
Sidharth Malhotra/Facebook
What made you sign up for Kapoor & Sons?
I have done two back-to-back intense and heroic kind of roles. This is a very regular, non-heroic kind of film, and that attracted me as a change.
Fawad (Khan) is slightly mature and serious while I'm the cranky, goofy, not-so-focused kind of boy.
Apart from Hasee Toh Phasee, you've done all two hero films...
I don't look at it like a two hero or ensemble cast -- it's a good or a bad story.
You cannot be good in a bad film so I choose good films where I may have a small part. But yes, this isn't a conscious effort.
I have two solo releases coming up: Baar Baar Dekho and an action film.
Was it easier working with Rishi Kapoor this time, after Student Of The Year?
The scenes were different but he treated us like students only. We would faff around a lot.
He loved Fawad because he's from Pakistan. He also liked Jeff (F Bierman, cameraman) and Greg (Cannom, makeup artist), who were not from India. He would treat the Bollywood crew like kids.
I was a vegetarian at that time, so he would irritate because he loves non veg Punjabi food. But it was great because I got to see a different side of him. I remember we had taught him Twitter, as he was very new at that time. He thought people get tagged only by writing their names. We taught him how to tag people, and about hashtags.
Also, he's so hardworking at his age. He would sit for makeup for five hours.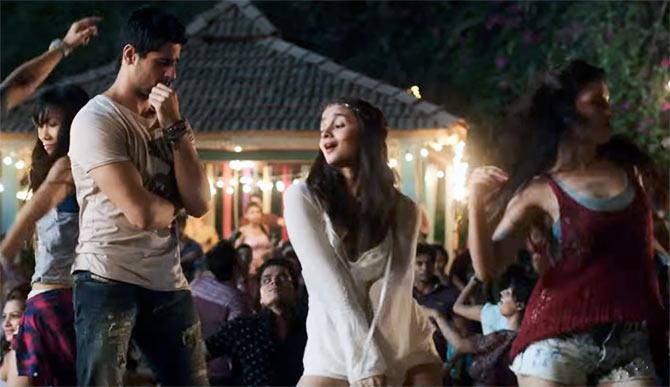 IMAGE: Sidharth Malhotra and Alia Bhatt in Kapoor and Sons
Tell us about the Kar Gayi Chull song shoot.
It was the first song we shot. It was Shakun's (Batra, director) idea of shooting an item song but I told him it isn't an item number.
His sensibility is such that he cannot have anything without reason.
It's worked out well for the song. This is how a house party is supposed to be, and it's an amazing track. Shakun was sceptical about the song but I convinced him that it's a hit song and that we must use it.
You've become a better dancer.
It took a while to get into that zone. It's also about finding your own style, every actor takes time to achieve that. I have got the longest limbs in the industry, so it is tough. I'll be dancing more in the future.
How was your bonding with Fawad and Alia?
It was very good.
We were in Coonoor for 40 days, where there are very few restaurants so we had to find entertainment. I would play cricket and Dumb Charades with the crew, play poker with Fawad...
I had fun because Shakun would keep us at ease. He takes a lot of stress but doesn't give us any. He has lost his hair and blames us for everything (laughs).
There were so many actors but there were never any ego clashes or politics.
Shakun, Fawad and Jeff would play the guitar.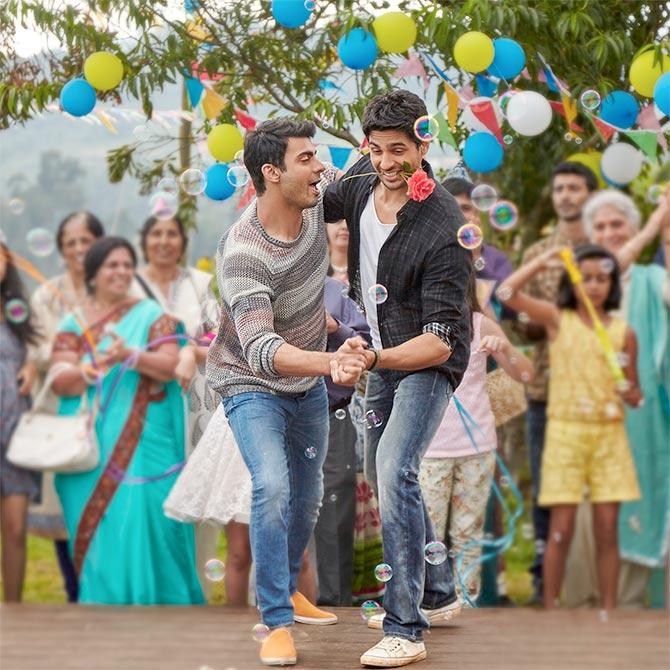 IMAGE: Fawad Khan and Sidharth Malhotra in Kapoor and Sons
How was the bromance between Fawad and you?
I haven't seen his serial (Zindagi Gulzar Hai); I met him only on this film.
We had done some reading before to get comfortable. I find him extremely easy to work with. He's very professional, composed and a giving actor. He's very involved and open to opinions.
We were shooting a scene where we had to be drunk and laugh like we were high but we were not getting it.
I was tired and started abusing him in Hindi and Punjabi and Fawad just started laughing. Shakun got so excited that he asked me to abuse him more. I think that broke the ice.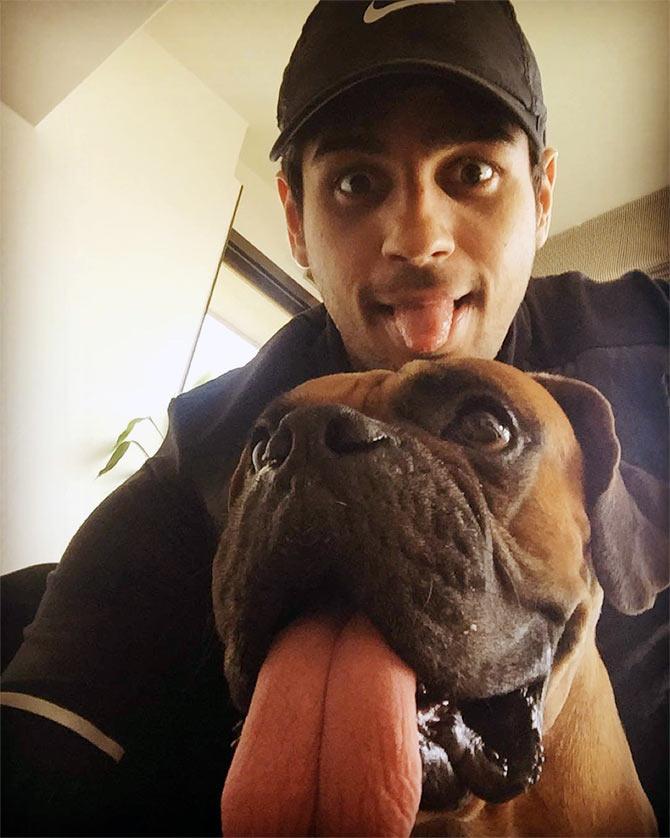 IMAGE: Sidharth Malhotra and his dog Oscar. Photograph: Sidharth Malhotra/Instagram
How much time do you get to spend with family?
There's very little time, especially since my family doesn't stay with me. I do pangs of having somebody in my Mumbai house. Right now, it's only my dog, Oscar.
It is very difficult for them to live in Mumbai. They have their set of friends (in Delhi) and it's difficult to shift at their age.
Also, I need a bigger house. Once I make enough money, I'll try.
Did you have house parties?
I used to have birthday parties when I was 17 and 18 on the terrace of my home.
You've been romancing Alia once again in Kapoor & Sons.
It's a good thing that people will see our chemistry on screen. What happens off camera is not our concern.
It was fun working with her again. We have become matured actors, Alia's Hindi has become better and she can improvise now. She used to struggle before.
We were so nervous during Student Of The Year that we couldn't enjoy the process. Now, we are enjoying the process.
Is the film a love triangle?
No, it's not. It's difficult to sell a film and you would feel that (after watching the trailer) but once you watch the film, you will know.
I'm not fighting for her at all.
All of us have a 20 percent stake in the film. If we could, we would take Rajat sir (Kapoor), Ratna ma'am (Pathak Shah) and Rishi sir (Kapoor) with us (for the promotions) but they cannot travel much. So we are representing the film.
Akshay Kumar said that his film Brothers was ahead of its time and will get its due after a few years. Do you agree?
We don't know the future.
As actors, we have to move from one film to the next, so I'm not given it much thought. After watching the trailers, people must have thought it's an action film but when they saw it, it was so emotional and intense that they weren't prepared it.
When people watch the movie with a clean mind after three years, they might be prepared.
It was your first flop film after your biggest hit Ek Villain. Did it make any difference?
There are two ways to say if a film is a hit or a flop: you either see it from the money or the perception aspect.
From the money aspect, Brothers did not lose money. None of my films have. Hasee To Phasee was a small investment and it did make money. But yes, we did lose out on the perception.
I still feel Karan Malhotra (who directed Brothers) is a great director. He has a handle on showing heroism like no other. He's like Subhash Ghai from a few years back. We believed in it, so we made the film. I am learning with every film.
Till Ek Villain, everything was going upwards. This was my first experience and I learnt that storytelling can matter. I still back the film and the whole team.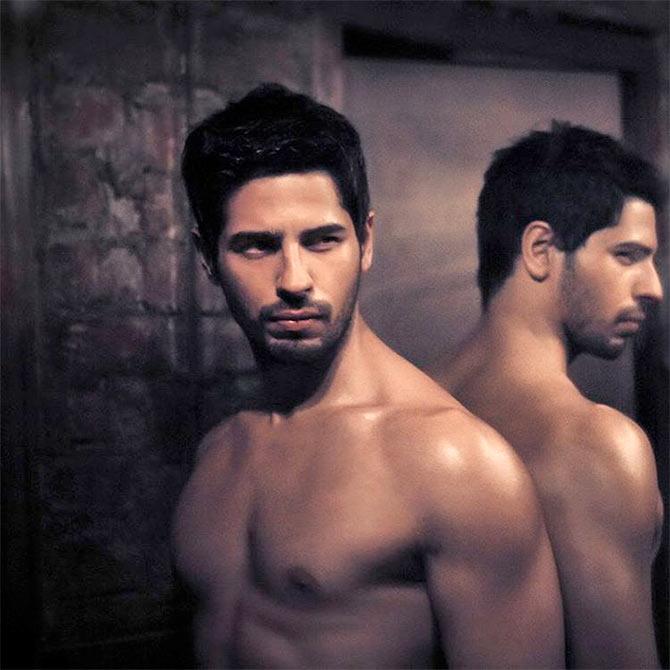 Photograph: Sidharth Malhotra/Instagram
You have replaced Hrithik Roshan in the Bang Bang spin-off. Any pressure?
It's not entirely a sequel; we still have not titled the film. It is an action film, produced by Fox Star. It has nothing to do with Bang Bang. I will start shooting for it after Kapoor & Sons.
I'm training for it now, doing hand-to-hand combat. I am trying to pick up a different sport to hit people!
Which actress do you want to work with?
I want to work with Deepika Padukone and Anushka Sharma. I think they are the only two actresses I haven't worked with so far.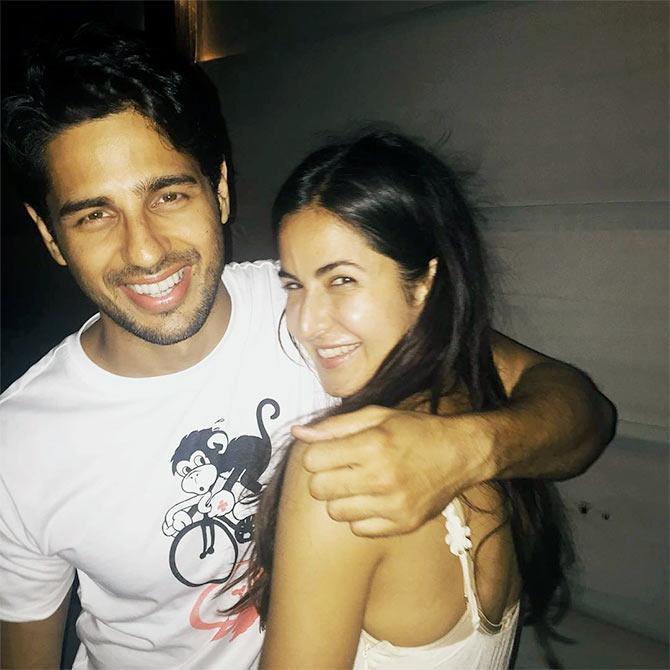 IMAGE: Sidharth Malhotra and Katrina Kaif. Photograph: Sidharth Malhotra/Instagram
What made you choose Baar Baar Dekho?
The fact that it's a love story attracted me.
It's a fictitious story of what happens to a man who gets the opportunity to see his whole journey. India has never seen a story like this and if they have, it hasn't worked.
I got an opportunity to age from 18 to 60. Katrina Kaif joined the film later.
It's a difficult script. Hopefully, we have done justice to it.