'I would love to do comedy. Someone should make a film called Crime Master Gogo Aur Uski Beti Gogi with my father and me. Imagine my dad and me in that cape!'
Yes, Shraddha Kapoor has a fine sense of humour!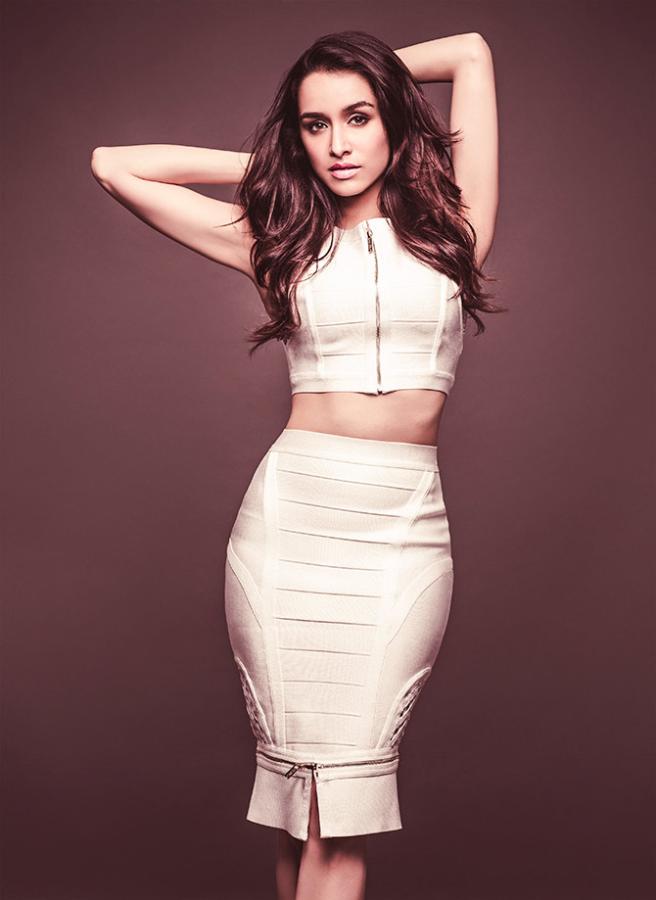 Image: Shraddha Kapoor
Shraddha Kapoor talks like a little girl, and thinks a lot before she speaks.
She's always ready with a smile -- and a laugh -- to the tiniest joke.
She's quite a devoted family-person. She interrupts the interview to take a call from her 'Padmini Maasi.'
Patcy N/ Rediff.com finds out more about Shraddha, who stars in Half Girlfriend, in this interesting chat.
You look very glamorous in Half Girlfriend.
In real life, I am all about comfort. But in this film, I am glamorous. That's the demand of this character Riya Somani, who comes from an affluent family. She's prim and proper, and blow dries her hair and wears designer clothes to college.
She is very popular in college; every guy wants to be with her. People think she's very happy, as she is very rich. But she's not; she's in search of happiness.
She sees that happiness in Madhav (played by Arjun Kapoor) and his simplicity.
Tell us about the fun moments during the shooting.
Shooting the film was fun as well as challenging, especially playing basketball. In school, I used to play basketball but I was the substitute player. So I was only called when someone was injured or tired and I was very bad at it.
Now, I am decent at basketball. I got to learn a lot of tricks. The training was tough; I trained for nearly a month. That was 15 classes of two-three hours each.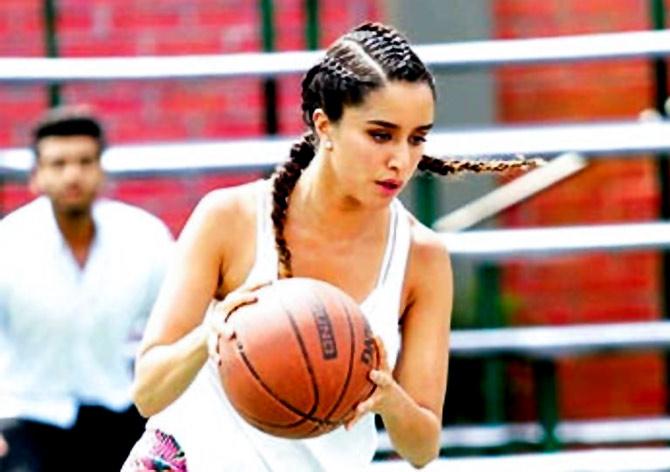 IMAGE: Shraddha Kapoor in Half Girlfriend
Do you believe in the concept of Half Girlfriend?
Yeah, I think it exists.
It's just that the film has been made now but my friends and I have experienced something like this -- sometimes people are hesitant to take the first step because they may want to focus on their career. It is a halfway thing. It's really sad when two people like each other but for some reason, cannot be together. That's the line: 'Kuch rishtey aadhe adhure se reh jaatey hai'.
Have you read the book on which the film is based, written by Chetan Bhagat?
I started reading it and then I messaged Mohit (Suri, director) saying I was 10 pages down. But he messaged back and asked me not to read it because he wanted me to read the script and connect with that, as he had made some changes. So I've read a total of 15 pages of the book.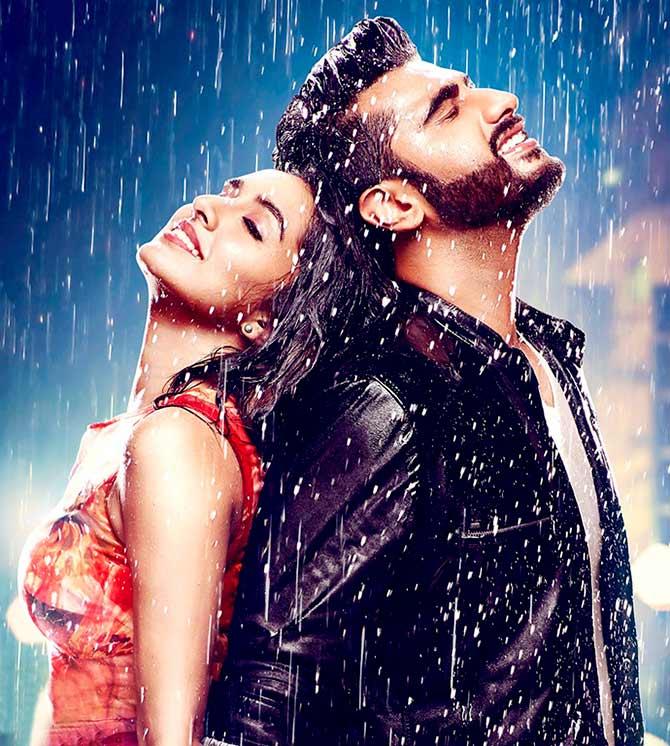 IMAGE: Shraddha Kapoor and Arjun Kapoor in Half Girlfriend
How is Arjun Kapoor as a co-star?
He's amazing. I got to know him much more through this film. He speaks so well, he's so eloquent in Hindi and English. He expresses himself so well. He has worked very hard on this film. He has that innocence that's very nice.
Watch Shraddha sing live in Mumbai.
How was working with Mohit Suri for the third time, after Aashiqui 2 and Ek Villain?
He's a very good friend now.
His wife Udita had said that in both Aashiqui 2 and Ek Villain, I have played a girl from a middle class family with humble beginnings. I was known as the girl-next-door type, so how did he visualise me as Riya Somani?
She made us realise that it was a challenge because I had to do a different character, with a different body language and a different tone.
I am a little tomboyish. In front of you, I'm sitting properly and looking refined but I'm a different person with my friends and family. Mohit has seen that side.
He told me to get the high society Delhi girl body language. He made me meet some girls from Delhi and asked me to sit with them, have coffee and observe them. See how they use their hands, how they speak...
Initially, I was sitting with my legs folded on the chair. One hour later, my legs came down, and I was sitting 'properly' like a lady. I decided to take up that body language.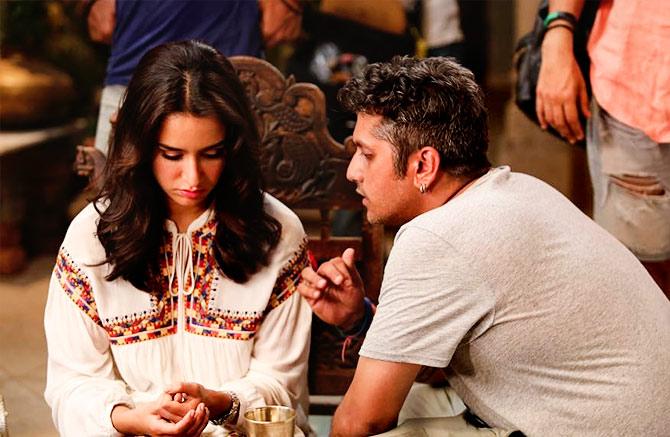 IMAGE: Shraddha engrossed in a conversation with Mohit Suri. Photograph: Shraddha Kapoor/Instagram
Which sports were you good at in school?
I was good at running races -- 100, 200 and 400 metre races.
I was good at football.
I was good at high jump and long jump.
I loved badminton as a child (Shraddha will play Saina Nehwal in her biopic Saina). I am sure all the girls must have played in their building. I have amazing memories. I will soon be playing the former World No 1 badminton player. It's is amazing how things work out.
When will you start your training for Saina?
I will have to train for a longer time, not like how I trained for basketball in Half Girlfriend. Badminton is the crux of Saina. I will have to train for a few months.
I can't wait to learn from Saina herself. I hope she teaches me for a few days at least.
I haven't met her yet but we have been texting each other. I look forward to spending time with her.
Sports biopics have a high standard these days. Do you feel the pressure?
When Saina was offered to me, I got very scared initially. I even asked them, 'Are you sure?'
I knew it would require a lot of effort and that there will be big expectations to live up to. I will do my best. I hope people like my interpretation and my effort as Saina.
I have to train a lot for it.
How difficult was it for you to play the gritty Haseena Parker?
This is the first time I am playing a grey character. When I told people, I was doing this film, they were surprised. I don't think people can see me doing grey characters, so that reaction was very interesting.
The reaction I got for the first poster was overwhelming. I hope people like the teaser too. It was a big challenge for me to do the role.
Once you see the film, you will realise what all that lady has gone through in her life. Her son died in front of her eyes.
How difficult was it acting with the prosthetic?
It become like a part of the body. I tried to gain weight but everything just went to my stomach! I tried gaining weight on my arms and cheeks but it was not possible. The prosthetic helped. It was funny because after sometime, you get so used to it that you feel weird without it.
I don't need the prosthetic throughout the film; I only need it when my character reaches her late 40's.
Now I have to lose all the weight I gained on my stomach for Saina.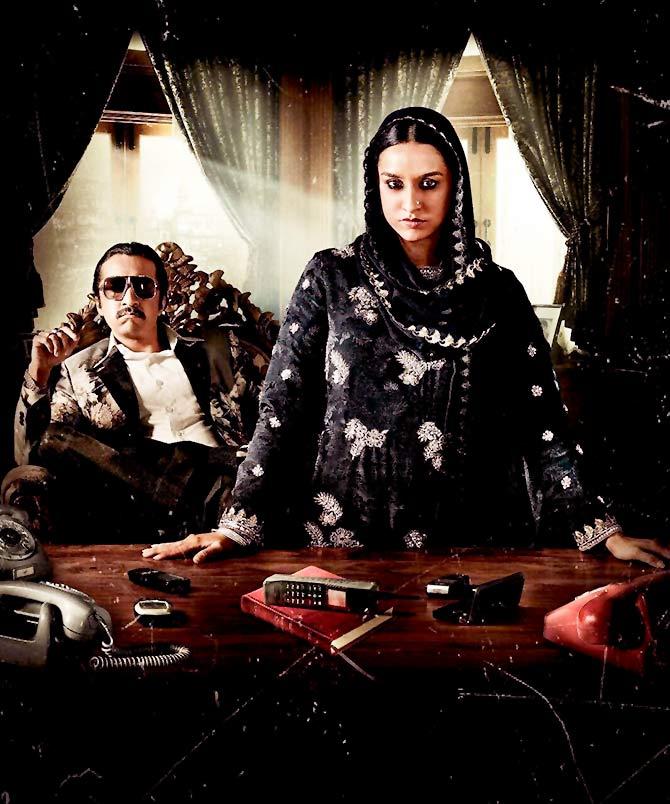 IMAGE: Siddhant and Shraddha in Haseena
How is it to working with your brother Siddhant in Haseena?
It's amazing to play reel siblings. Apu sir (Apoorva Lakhia, director) told us to be just like the way we are in real life. I was really nervous because I had to face my brother and say my lines. I had to remind myself to be like me.
He used to bully me when we were children but now, he's a really good friend. We are very close to each other.
What fascinates you: fictional characters or real-life characters that you play in Haseena and Saina?
Saina is our current youth icon. She's real, and I will have to speak exactly like her. I will have to have a body language like hers. I will have to look like her as much as possible.
But when I do a fictional character, I can interpret in my way, add my own imagination.
Both are challenging in their own way.
When you started your career, your films were not doing well. Today, you are giving hit after hit. What do you think of your career so far?
Every Friday changes things for you. My life changed overnight with Aashiqui 2. Now, I have been doing films back-to-back.
It's strange but I'm grateful that I started with failure. You learn from your failures, not from your success.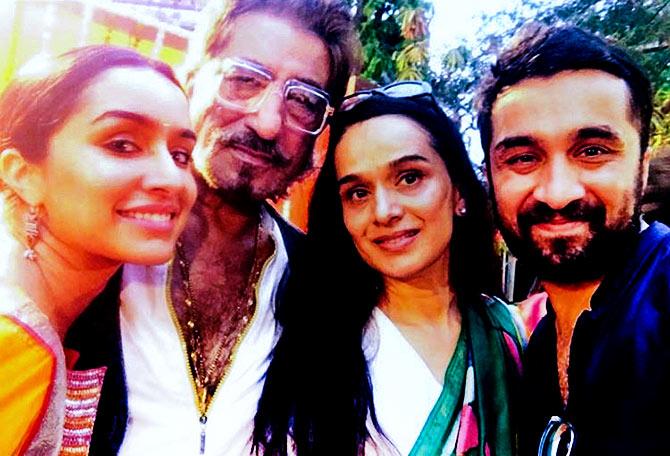 Image: Shraddha with her father Shakti Kapoor, mother Shivangi and brother Siddhant. Photograph: Shraddha Kapoor/Instagram
Do you take advice from your father Shakti Kapoor?
I seek my father's advice on everything.
Would we see you doing comedy like your father?
I would love to do comedy. Someone should make a film called Crime Master Gogo Aur Uski Beti Gogi with my father and me. Imagine my dad and me in that cape!
How close are you to your mother?
My mother is everything to me. I don't know how a mother can be so selfless towards their kids. I don't think any kind of love can go above that.
A lot of singers have a problem with actors turning into singers. Kailash Kher said that 'actors should leave the mike to the singers, as that is their playground.' What are your views on that
Whether it is singers, actors, directors, lyricists or the media, we are all interconnected. We are all a part of films. We are all a part of the creative medium. We have a large responsibility to support and help each other grow.
I don't think anybody has the right to say what others should do. If they want to pursue another profession, they can. If someone dreams of becoming an actor, singer or dancer, why should others say you can or can't so that?
It's better to have a supportive environment and give power to each other rather than pull people down.
Do link-up rumours bother you?
No. I ignore them now. Some stories become like television serials, they're funny. I laugh at them too.
I used to get affected initially but now I don't. I want to focus on what I am here for.
Do you keep a track of what is written about you?
I don't read the newspapers.
I am a very disconnected person, even in my own industry. I am focused on my work and don't get time to do anything else or pay attention to anything else. I am in my own bubble.