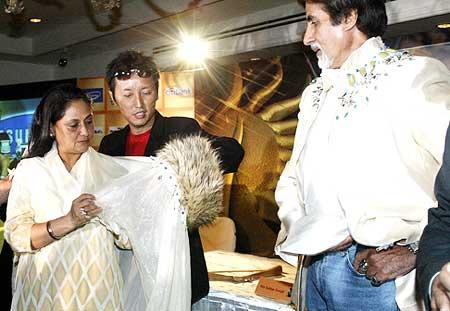 The fifth International Indian Film Academy Weekend, which will be capped by the IIFA Award ceremony, kicked off today in the Lion City, Singapore.

IIFA brand ambassador Amitabh Bachchan flew into the city with his wife Jaya. He announced the details of the weekend which includes the world premiere of Indian films and a celebrity football tournament.
 
Mani Ratnam's Tamil drama Aayitha Ezhuthu is scheduled to premiere along with its Hindi version Yuva at the weekend.
Other films like Musafir, Dil Maange More, Rakht, Lakshya, Tango Charlie and Sarhad Paar will also be showcased during the weekend.
The IIFA Forum, to be addressed by Singapore Arts and Information Minister Lee Boon Yang, will discuss globalisation of Indian cinema. Filmmakers like Shekhar Kapur, Karan Johar and exhibitor Shravan Shroff are expected to be part of the discussion, says Sabbas Joseph, director of Wizcraft International Entertainment.
The weekend will conclude with the IIFA Awards ceremony. Bollywood stars Shah Rukh Khan, Saif Ali Khan, Vivek Oberoi, Preity Zinta, Ishaa Koppikar and Shahid Kapoor are slated to perform on stage.
Sony Entertainment Television will broadcast the awards function across the globe, along with Doordarshan and Media Corp TV in Singapore.

The annual IIFA Weekend was launched in 2000 at The Millennium Dome at UK. It was later held in Sun City, South Africa (2001), Genting Highlands, Malaysia (2002) and Johannesburg, South Africa (2003).

Singapore Tourism Board Deputy Chairman and Chief Executive Lim Neo Chian says, "Today marks the beginning of a glamorous and glitzy weekend extravaganza, where our friends of the Indian community will be treated to a myriad of enriching and unique experience that Singapore has to offer."
"Likewise, fans of the Indian film community in Singapore and around the world will be treated to an unforgettable
weekend with the stars as they spot their favourite celebrities at red carpet events, post-awards parties or just enjoying the many unique sights and attractions across the Lion City," he adds.
PTI
Photograph: Roslan Rahman/AFP/Getty Images