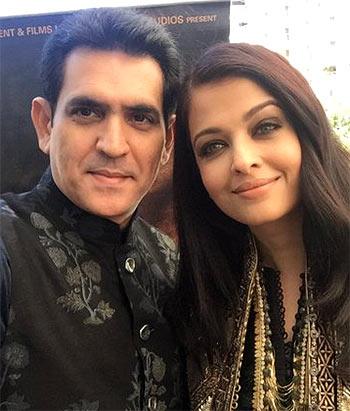 'She isn't the same Aishwarya, who walks the red carpet at Cannes. She doesn't look like that at all in the film. That is half the battle won from my side.'
Sarbjit director Omung Kumar tells us why he likes transforming his actors.
Omung Kumar, who made his directorial debut with the National award winning biopic Mary Kom, is back with his second venture.
Sarbjit, another biopic, stars the gorgeous Aishwarya Rai Bachchan, looking *very* different, as well as Randeep Hooda and Richa Chadha.
Omung tells Jahnavi Patel/ Rediff.com why he made Sarbjit, and why he cast Aishwarya.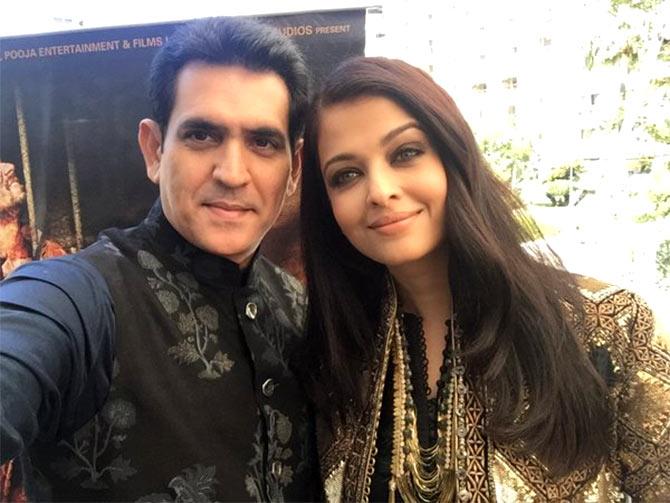 IMAGE: Omung Kumar and Aishwarya Rai Bachchan. Photograph: Omung Kumar/Twitter
You have made two biopics, Mary Kom and now Sarbjit. What was the inspiration to make this film?
I wanted to make something clutter-breaking, that hasn't been seen before, and that's why I made Mary Kom.
After the film was done and when I won the National Award, my producer Sandeep Singh came to me with Sarbjit. This film was to be made four years back when Sarabjit was still alive. Dalbir Kaur (Sarabjit's sister) and Subhash Ghai were trying to get him back.
When the news about his death in jail came out, the movie was called off.
Last year, when this came to me, I thought I wouldn't make another biopic.
Sandeep asked me to read the script and I did, but didn't think it was anything great.
But when I saw Dalbir Kaur's videos, I was stunned. I wondered why I was saying no. If you see her videos and see how she talks in front of the media, you can't look anywhere else.
Then I went into details of what had actually happened. This is somebody's story that is so powerful that if I wouldn't do it, somebody else would.
I didn't care about being labelled as a biopic director; I had to tell this story.
Mary Kom was fun and it was about her celebration. Sarabjit is a family story, a story of a brother and sister, a story that for 23 years if somebody is trying to get the brother/husband/father out, it's a huge thing.
Through this film, we think, there should be realisation and hope.
If through this film, anywhere in the world, if even one percent of people, who are stuck, are freed, that's the success of this film.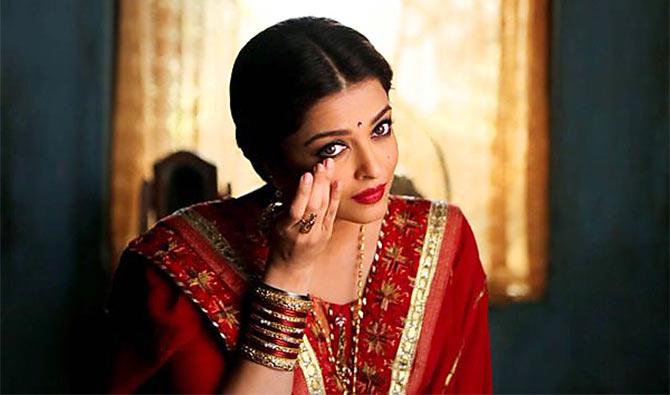 IMAGE: Aishwarya Rai Bachchan in Sarabjit
Why did you choose Aishwarya Rai Bachchan as Dalbir Kaur?
I wanted a strong character. I wanted to give path-breaking actors the best roles of their lives. I wanted an actress who could get your eyeballs.
When you see Dalbir Kaur, your eyes won't move and the same is with Aishwarya.
Yes, when people think of Aishwarya, beauty comes to the mind first. But she has done films like Provoked and Raincoat. She has done fantastic roles throughout her life but her beauty stands before, that's the problem.
Here, if you see the film, you won't see Aishwarya. She isn't the same Aishwarya, who walks the red carpet at Cannes, she doesn't look like that at all in the film.
That is half the battle won from my side. I like transforming an actor in every film.
How did you go about her look?
I chose Aishwarya because she's a matured actor, a director's actor. You put her in any role and she will blend into it. She can be a 22-year-old as well as a 60-year-old.
If we use prosthetics, it will give skin problems. I was doing a lot of back and forth scenes -- in the mornings, I would do scenes where she's 35 years old, and in the evening, she would be 50 years old. So we played with the make-up. When we age, there are pigmentations so we played accordingly.
I like freckles so I put them and made her age. I put a til (beauty spot), changed the eye colour.
When you are stressed, you age faster. We gave a neutral look, clothing and padding helped and suddenly, we had a new Aishwarya. When she used to come on the sets, nobody knew she was Aishwarya.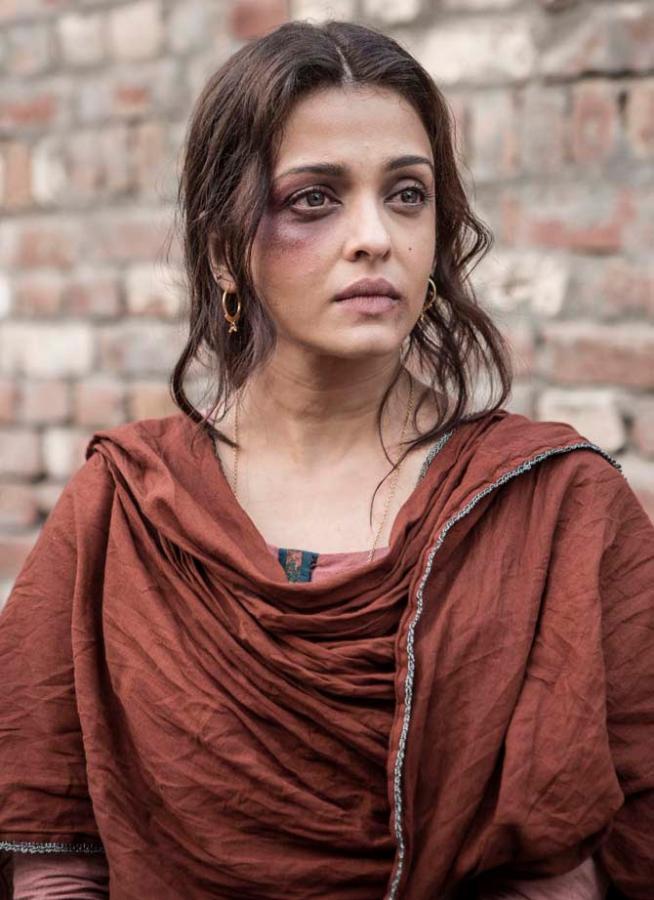 IMAGE: Aishwarya Rai Bachchan in Sarabjit
What is Aishwarya's greatest strength and weakness as an actress?
I was told that there are so many weaknesses but there's nothing, no weaknesses at all.
She just surprises you with every second scene that she does. She has gone into the Punjabi lady's role so beautifully, getting the accent right. She became my Dalbir Kaur.
She had not met Dalbir Kaur before (the shooting). She didn't want to get influenced by her because, obviously, they don't look alike. So it was the thumping that I wanted to get out of her. She knew that this is her Mother India for life. I know for a matter of fact that this is her best role.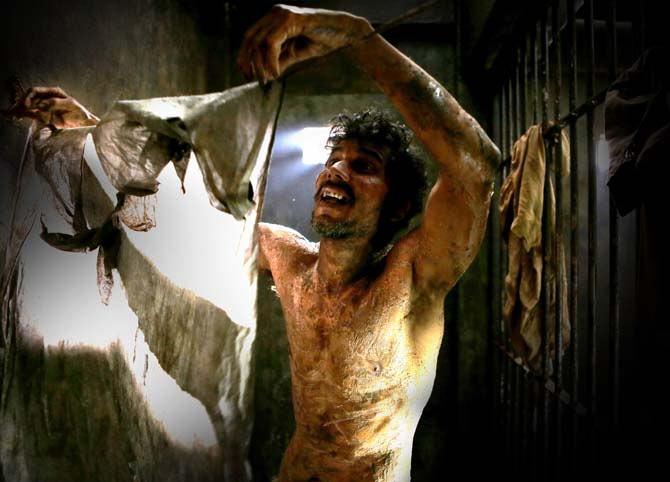 IMAGE: Randeep Hooda in Sarabjit
How did you cast Randeep Hooda?
Randeep Hooda is a fantastic actor.
Whatever role he has done in his life, he has always blended into it. But in this, it is more than that. It was a challenge.
When he came to meet me for the first time, I told him I want to see your bones. I told him to reduce in such a way that it looks like a drastic transformation. And he was game for it.
I was supposed to shoot in Punjab but the plan changed, so he had only 30 days to lose the weight. He lost 18 kilos in 28 days which is phenomenal.
He went onto become Sarabjit, in the house while doing his things, just lying in one corner. I told him that 6x4 ft is his area, that's it and you just have to walk here, continuously in and out, that's it.
We made it dark there.
He asked for chains and I gave him chains. He used to wear it on his hands and legs and sit. He was very dedicated.
He used to go to the bathroom and write letters to me thinking of me as his brother. I don't know what they are as he hasn't given them to me yet.
I had lost my brother just a month before I started shooting this film. So that is another tragedy that I went through in this film.
Randeep said, 'Don't worry, I am your brother.' So it is that zone which we went into.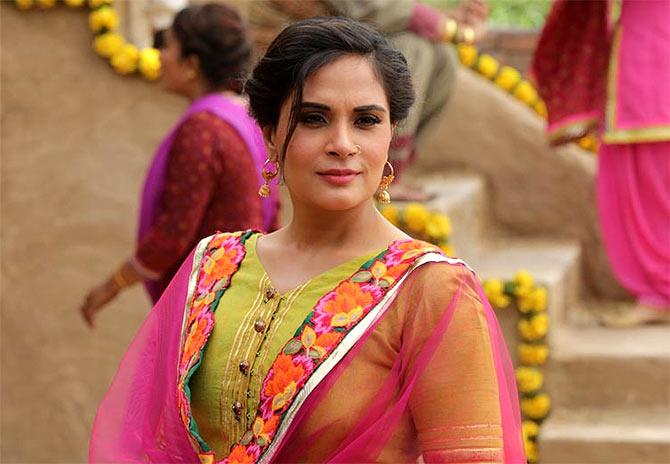 IMAGE: Richa Chadha in Sarabjit
What about Richa Chadha?
After Masaan, I wanted her to work in this film because I wanted that straight looking face.
If you look at Sukhpreet (Sarabjit's wife), you'll see that her eyes are hollow. Her eyes talk and that's why I wanted her to play that role.
She'll say one Punjabi dialogue and you'll know that she's into that role and the skin of the character. She is such a character that I didn't want to give dialogues because Sukhpreet talks with the eyes.
First she is full of life and then the colours go off. She will make you cry in that film. I guarantee that.
Before the film, I briefed her that this is where you're going to make me cry as I know what is going to happen at a particular dialogue.
When she was acting, people were crying.
Did Sarabjit Singh's family have any suggestions for the film?
This is the family's story and it is from their point of view. Dalbir Kaur had come here and she sat with me and we rewrote the script.
Nobody had gone into the detailing before. I become the audience, the family member.
If you're seeing a family member for 18 years, how would it be?
Where were you all sitting? How did you open the door? What kind of smell did you get? How did you find the corridor of the jail -- was it dirty or mucky? When you were walking, how did you feel when you first stepped into Pakistan? When the door opening and you first saw your brother, how did you feel?
I asked about all this and the pain. Nobody had asked Dalbir all this before.
We don't know much from Sarabjit's point of view as we just has three photographs, a small video and the letters. Those letters give us insight into what had happened inside.
After 18 years, somebody is telling him that tomorrow your family member is coming and he is shocked. He is going to be hanged till death in six days.
The family knows that too and have come to meet him for the first and last time and they got the visa for four days only.
How is that moment going to be and how fast will the heart beat? That is how I have gone into details.
Dalbir was on the sets, has seen the edits and has loved it.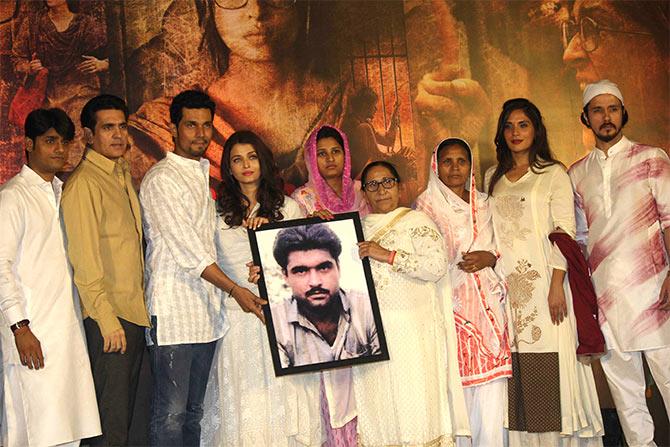 IMAGE: Omung Kumar, Randeep Hooda, Aishwarya Rai Bachchan, Sarabjit Singh's daughter Poonam, sister Dalbir and wife Sukhpreet, Richa Chadha and Darshan Kumaar. Photograph: Pradeep Bandekar.
What was the most difficult thing while shooting this film?
The entire film was difficult. The first meeting (between Randeep Hooda and Aishwarya Rai Bachchan's characters) was very, very difficult.
I had briefed everyone separately.
It was Aishwarya and the family's first day on the set and the jail scene was the beginning of the film. I had shot a couple of days before with Randeep Hooda.
I briefed Aishwarya in a separate corner that you're the sister and he is your brother. After 18 years, the door is going to open, what is going to happen?
I told Richa that this is your husband; you haven't seen him for 18 years, what is going to happen?
'Karele khila dena' was the last thing you said. That's it, you don't remember anything else.
Kids haven't seen their father; one was three years old, and the other was only three months. How will they react?
When you watch the film, you'll know it's a huge scene -- you will cry with everyone and the dialogues will give you goosebumps.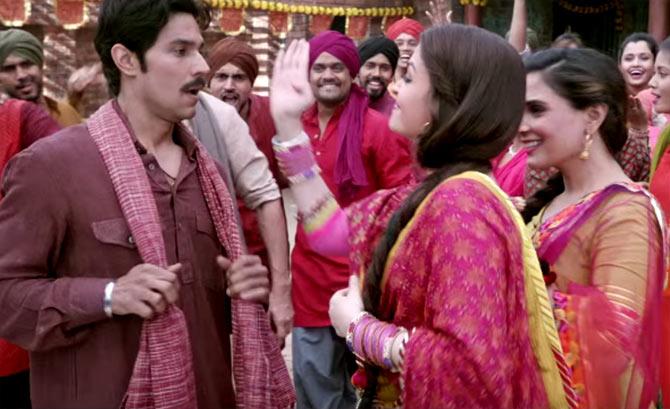 IMAGE: Randeep Hooda, Aishwarya Rai Bachchan and Richa Chadha in Sarabjit
Tell us about the film's music.
I wanted the music to have all genres. This is a Punjabi family, they do dhamaal.
That's a cinematic liberty but yes, the dhol is out for every occasion. There is bhangra, so that was a lip-sync song (Tung Lak) on purpose, so that I can show the colours and the craziness.
If you see my films, they are all colour-coded, you won't find any messed up colours.
Suddenly, after the incident, the colours fade from the face, body, make-up, clothes, drapes...
The music changes after that. There is the Rabba song for devotion, the Meherbaan song. Every song takes the movie forward.
Does this film convey any message?
Yes, it has a hope message. In the end, Dalbir Kaur is still struggling, she is still going ahead. She is fighting for one person from India, who her brother had said that think he is your Sarabjit, get him back.
Once you see the film, you will go and hug your family.
You will feel touched, emotional. The film is full of emotions.
It's a roller-coaster ride, it's not a depressing documentary film.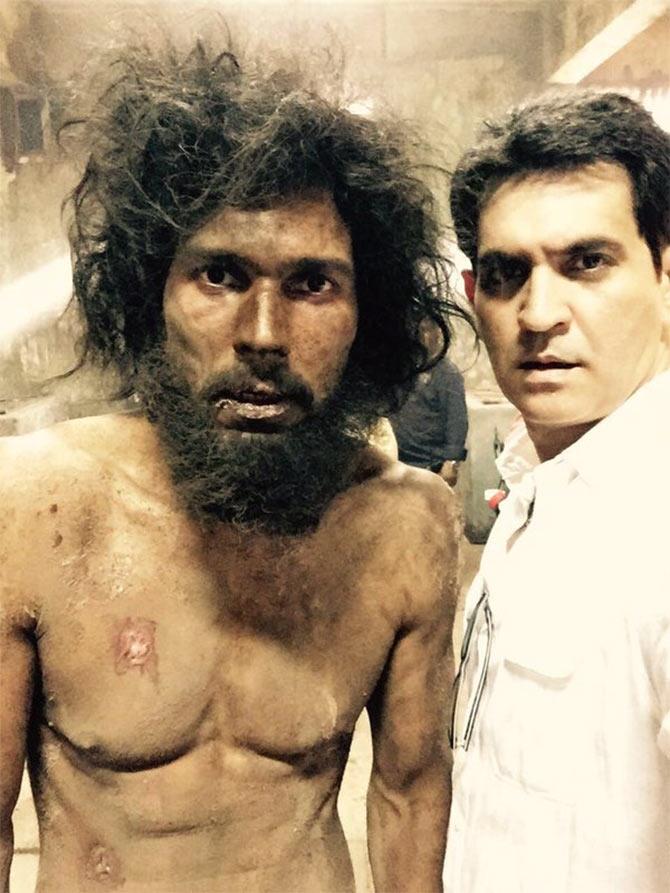 IMAGE: Randeep Hooda and Omung Kumar. Photograph: Omung Kumar/Twitter
You've worked with Sanjay Leela Bhansali and he is also particular about every detail. Did he influence you?
Influence, yes, because I have worked with him. But I was also like that. He plays around, and I am also like that.
I create a book like the movie. You'll see costumes and all in the book. I'll be printing it. I did that with Mary Kom too. I didn't print that but the details were there.
That book is ready even before the shoot.
My wife Vanita is a production designer, so she does the set detailing.
Would you like to make a film with a strong male lead?
My next film is a psycho-thriller with (producer) Bhushan Kumar.
I have signed a four-film deal which I will produce and direct -- I am directing one and producing three.
Do you feel the box office pressure?
The pressure is to make a good film which will sell on its own.
We know what the target audience is and how much business it should do.
If it's a profit on table, you know how much you've made in, that's when the 52 days fit in properly, you do it within budget so you don't have pressure on Friday.
Yes, A-lister actor always helps it. It has to be portrayed in such a way that it's a big film.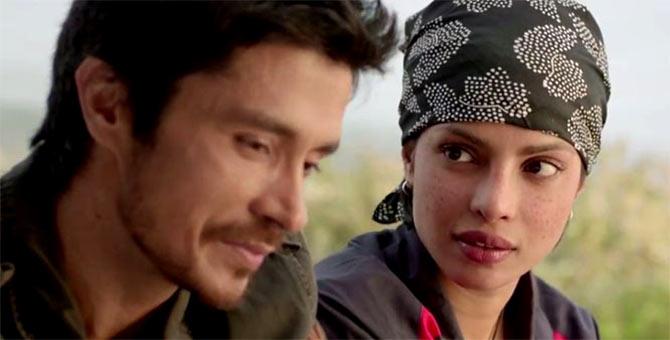 IMAGE: Darshan Kumaar and Priyanka Chopra in Mary Kom
How important are awards for you?
I was lucky enough to get a National Award with my first film.
Throughout my life, I have known other people who are talking about people winning awards after being in the industry for many years and I got it in my very first one.
I thought I got lucky. That's not the pressure I am going through.
When you make a film, the first few days of the first week are important. If people like the film, that's the first reward.
Everybody wants an award, sham or no sham. You want your things to get recognised. But you have to stay true to your film.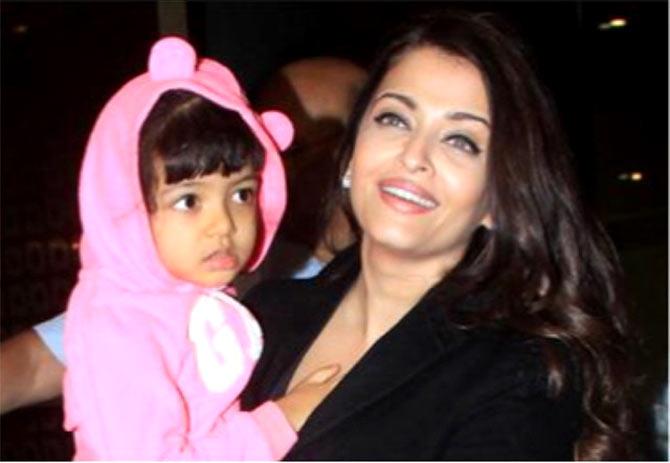 IMAGE: Aaradhya and Aishwarya Rai Bachchan. Photograph: Abhishek Bachchan/Instagram
We have seen Aaradhya accompany Aishwarya on shoots…
Yes, but never on the sets. She used to be in the vanity van, never on the sets.
Aishwarya is very professional and leaves the family out.