According to industry experts, television has lost the young urban viewer for English or Hindi shows. Urvi Malvania finds out what is making more and more of them turn to digital platforms like Voot and Hotstar.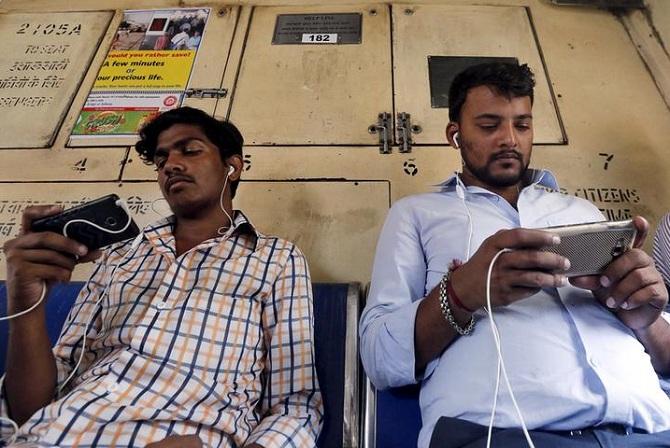 IMAGE: When it comes to digital platforms, the numbers show a clear bias towards reality shows, children's programmes and sports events. Photograph:

Shailesh Andrade/Reuters

.
It is almost a year since Viacom 18 got its digital platform running and almost two years since Star launched Hotstar. And the numbers, say the networks that are keeping a close watch on their audiences, are showing a clear bias towards reality shows, children's programmes and sports events.
Interestingly, the digital tilt towards reality has come about at a time when such shows (with some exceptions) seemed to fall out of favour with television audiences.
Online consumption of the non-fiction content on Viacom 18's Voot has soared. Not only did viewers sample such fare, they spent hours watching them and even came back for more.
"Viewers who follow Bigg Boss spend on an average one hour each day watching the show on the platform. This is massive and what's interesting is half of the consumption comes from exclusive properties like 'Unseen Undekha' and 'Cutless' (behind-the-scenes clips from the show)," says Gaurav Gandhi, COO Viacom 18 Digital Ventures.
The ad-supported over-the-top (OTT) platform launched in May 2016 crossed 1 billion minutes in monthly watch time within six months of launch, a feat Gandhi attributes to its library of reality content to a large extent.
"We are seeing maximum traction from reality tent pole properties like Bigg Boss, MTV Splitsvilla and MTV Roadies (among others)," says Gandhi.
Competitor Hotstar, which launched in 2015, has also seen a lot of traction from non-fiction content, but it has the distinct advantage of owning a diverse range of live sports properties. Apart from the ICC events in cricket, it holds the event rights for various countries' cricket boards like India (BCCI), Australia and England. In non-circket sports, it holds the rights to the Pro Kabaddi League (the second most successful league in India in terms of viewership), the Hero Indian Super League, and the Hockey India League.
It says that it sees a spike in viewership every time there is a major tournament or when there is a great knock by a player.
A recent 300-run knock by Karun Nair, for instance, and flashy play by M S Dhoni (India A vs England XI) after he gave up his captaincy bring in the numbers for the platform. Live sports, especially cricket, provide a huge impetus to content consumption, especially when India plays an interesting opponent.
For Hotstar, while the pipeline is heavily dependent on the sporting calendar, it does have enough legroom to create peripheral content in the form of clips and compilations.
For Voot, sports was never an option.
So, when it came to non-fiction, the network decided to take a different route in addition to providing the regular general entertainment channel (GEC) fare. It found audiences coming back for more when they added extra content that was not available on TV.
For Bigg Boss, this could be profiles of the contestants or unseen footage. Considering the show's latest edition does not figure in the top five shows on GEC's, according to BARC's weekly data, this has meant that the show has got a fresh lease of life, thanks to the OTT platform.
Interestingly, for both Voot and Hotstar, audiences are coming in not just to watch a show or a sporting event, but also to get a peep into the lives of their stars and sports heroes.
What does this mean for original content, the track that Netflix has adopted globally for its content library?
According to Gandhi, currently originals and kids' content contribute 15 to 17 per cent of the consumption on the platform.
He adds that creating original content for OTT platforms is not easy. "It cannot be a mirror of the TV content because the reason people want original content from digital platforms is due to the lack of relatability with Indian TV content in the first place," he says.
According to industry experts, television has lost the young urban viewer (for English or Hindi shows).
It is these viewers that digital platforms have to tap into and that calls for creating a whole new set of shows. However, original content is sticky and data has shown that once a consumer has sampled the originals, 85-90 per cent have seen the whole series says Gandhi.
Gandhi says that the studio has been watchful of its content. "The originals have been developed with such insights as well as the relatability quotient of the target audience. All of these are limited episode series with very tight story lines. The classic GEC style content model cannot be used in the digital space for creating original content."
The kids' library for Voot is strong.
"The prime time for kids' consumption is actually around 9 pm. With the parental pin (like a child-lock feature), the trust of parents in the app is very high. We now have over 600,000 users who have set up the parental pin and their kids consume 3-4 times the amount of content as against those who have not set up the pin," says Gandhi.
The only other OTT platform with a formidable kids' library is Netflix. However, Netflix is a fully paid service and it has not pushed the kids content in India as much as it has pushed its originals.
Voot says it is looking at building up its originals library and will add 8 shows a year, which it hopes that will add to its list of 100-odd advertisers.