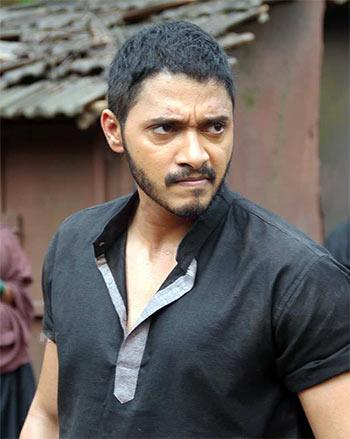 'I want people to get into the habit of paying money to see Marathi films. Otherwise, how will Marathi cinema earn revenue like Rs 100 crore?' Shreyas Talpade asks Prasanna D Zore/ Rediff.com
Shreyas Talpade is one nervous actor. His Marathi film Baji releases alongside Amitabh Bachchan's Shamitabh today.
"When I am asked how I feel about competing with Bachchan sahab, I tell them he is God. I cannot compete against God," says the actor. He will be seen in a Marathi film after an eight-year gap.
Shreyas and the cast of Baji were at the Rediff office for the film's promotion recently, when he found time to speak about a range of subjects related to the film.

How important was it for you to play the role of a Marathi superhero?
It means the world to me. The opportunity to play the first Marathi superhero is a big challenge. I consider myself very fortunate.
I want to thank Nikhil Majahan (the director of Baji) and Suhrud Godbole (co-script writer along with Mahajan) for considering me right for the character.
Whatever happens with the film, 10 or 20 years down the line whenever someone does a Google search for 'first Marathi superhero' it will flash my name.
It is almost 10 years since I did Iqbal. For that film, I had to get out of my comfort zone to prove a point.
Baji has given me a similar opportunity, to get out of my comfort zone and try out a different identity.
People have known me as Iqbal and as a comedian in films like Golmaal and House Full. But they haven't yet seen me do an action film.
So, I think I am very lucky to play the lead role of a superhero in Baji.
How hard did you work out to look like Baji?
It was difficult considering I am playing three-and-a-half roles in Baji, each having its own body language, its own attitude, its own physicality, its own voice.
To do all of these is not only satisfying but if you are a greedy actor like I am, you want to have some more.
The way I am portrayed in the first half, I had stopped working out. But the way I am in the second half, I had to again start pumping iron, which was very difficult because I had broken my shoulder and leg during the shooting of Baji.
But it's great stuff. One has heard stories about actors doing things like this for their roles and when one gets a similar opportunity it is very satisfying.
Shreyas Talpade and the Baji team tell us why we must watch the film. Video: Afsar Dayatar
People know you as a Bollywood actor. What is the transition like from Hindi films to Baji?
Marathi plays and Marathi television have given me my identity.
People know me as Nishant Mahajan from Aabhal Maya (a popular Marathi TV serial) or the blind guy in the Marathi play All The Best.
I always wanted to do Marathi films along with Hindi films but I didn't want to repeat the roles I did in Hindi films.
I want something new and fresh and Baji is a film for which any actor will give his right hand.
This language thing has become so blurred and non-existent that you have guys like Shah Rukh Khan, Ajay Devgn and Akshay Kumar wanting to be associated with Marathi films.
Akshay Kumar has already produced a film in Marathi called 72 Maeel (72 miles), Ajay Devgn has presented Viti Dandu and Shah Rukh is, I guess, planning to do something with Marathi films and so is Rohit Shetty.
The day is not too far when you will see them starring in Marathi films.
Sonakshi Sinha did Lingaa, Rana Dagubatti is doing Hindi films.
We recently sold the rights of Poshter Boyz (Read the review here) and soon the film will be made in Malayalam.
Abhi who baat rahi nahi … woh Marathi film karne ja raha hai, matlab kuch problem hai… woh heroine Telugu film karne ja rahi hai matlab lkoi problem hai… (Today, actors don't think twice or feel insecure to transcend the language barrier).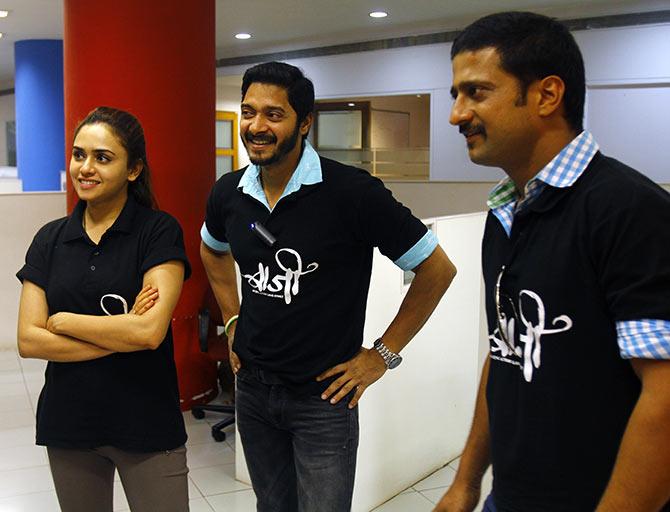 Image: Amruta Khanvilkar, Shreyas Talpade and Jitendra Joshi at the Rediff office. Photograph: Hitesh Harisinghani
Who is Baji?
Baji is more an attitude. Baji is a hero without any superpowers. He is more like Zorro or Phantom. Baji is something that each one of us has within; we just need something to trigger it.
When an extraordinary guy does something extraordinary, he is Baji.
The film is set in an imaginary village, in an imaginary time zone. Everything is hunky-dory in the village, till one day something happens and people in the village look to Baji as their saviour. But Baji hasn't come in a really long time to save them so people wonder if he will really come back and save them.
Who is he? What is he? What does he look like? All these questions will be answered when the film opens on Friday.
I had to get out of my comfort zone and do things like sword fighting, riding a bike in Maut ka Kuwa, doing all my stunts by myself, getting injured, riding a horse -- which I last did when I was in Class VI and went to Mahabaleshwar with my family and my dad made me sit on a tattu (pony) -- doing the climax sequence on a running train and playing these three-and-a-half characters.
I had a major accident when I was horse riding during an action scene in Baji. I fell off the horse and hit a cement column. I could have died in that accident, but that ride, the speed at which I was riding... I can never ever forget it in my life.
Name five Marathi manoos (men) who according to you are superheroes.
1. Shivaji Maharaj
2. Balasaheb Thackeray
3. Kusumagraj (Marathi poet, playwright and novelist)
4. Pu La (P L) Deshpande (Marathi writer and humorist)
5. Nana Patekar
The list can go on.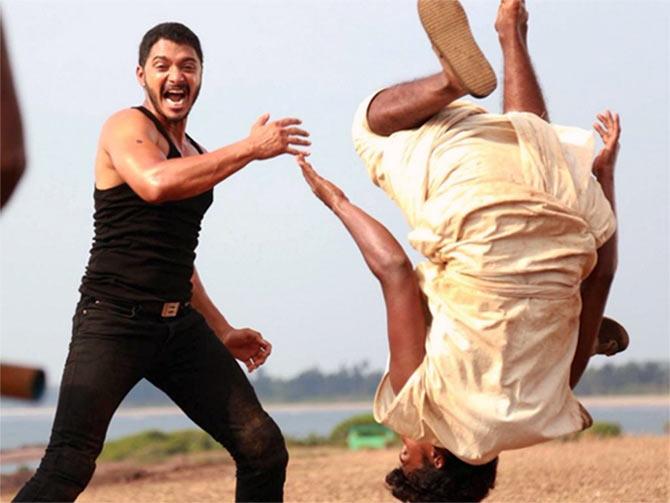 Image: Shreyas Talpade in a scene from Baji
When will the Marathi Manoos start dreaming BIG? Start dreaming of a Rs 100 crore film?
It is only when Marathi films start going global or pan-India that we can think of those numbers.
The Maharashtra market generates only limited revenue. Even for a Hindi film, the Maharashtra zone generates Rs 45 to Rs 50 crore with a super duper release.
A lot of these Marathi mandals and veterans who have settled abroad want to see Marathi films, but they want to see them for free. The younger generation abroad, though, doesn't mind spending money to watch a Marathi film.
The older lot, kabhi-kabhi aisa lagta hai ki woh hame wahan bulakar ehsaan kar rahe hain (they act as if they are doing us a favour by calling us abroad).
They say condescendingly: America main aao, picture dikhao! Kyun aau main, kyun picture dikhau muft main? Nahi dikhana chahta main apni film aapko muft main! (Come to America to show us the picture. Why should I go and let them see it for free? I don't want to show them my film for free.)
This happened with me during Poshter Boyz. This attitude really offends me. You want to see my films? Spend money and see my films. I have made a film with passion and effort and money, not for you to see it for free just because you have settled in the US.
I want people to get into the habit of paying money to see Marathi films. Otherwise, how will Marathi cinema earn the kind of revenue that we are talking about?
Will Baji make that beginning?
We will definitely try. There have been enquiries. The thing is we do not have a legitimate distributor abroad for Marathi films right now.
The Marathi population is divided across several pockets (in the US). We will have to figure out one place with a large Marathi population and have a legit distributor there who will start the whole process.
There are a couple of youngsters who have taken this initiative, but it won't happen overnight. It's a long process but the Marathi film industry is moving towards it.
Three reasons why people should watch Baji?
A film like Baji comes once in a while. It is not every day that you get to see a superhero action film in Marathi.
Baji is a big screen experience and not meant for viewing on mobile phones or laptops. Please do not buy pirated DVDs.
It is not just me acting in a Marathi film after eight years. The film has Jitendra Joshi, darling of the masses in Maharashtra, a phenomenal actor.
Amruta Khanvilkar, who is the rage with audiences as the girl who did Aata Vajle Ki Bara (a chart-buster song from the Marathi film Natrang). The glam doll has a completely de-glam look in Baji and people will start taking her seriously as an actress.
One of the major reasons to see the film is director Nikhil Mahajan, a young, budding bundle of talent, who thought of making a film like Baji in Marathi, when others wondered why he was not making this film in Hindi, Tamil or Telugu.
He had the conviction and the guts to make such a film in Marathi because Marathi youth want films that are fresh and novel. They want Marathi films to compete with Hindi films.
When I am asked how I feel given that my film is releasing with Shamitabh, and I am competing with Bachchan sahab, I tell them he is God. I cannot compete against God.
I am really very nervous and scared of the fact that my film is releasing with Bachchan sahab's film.
But then I feel if I have to compete, I might as well compete with God!