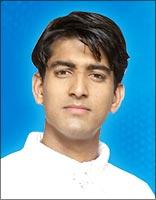 Aman Verma was right. "By the time one can release an album of one's own, most singers start greying." Which makes Indian Idol 2 Sandeep Acharya extremely lucky. His solo album, Mere Saath Saara Jahan, was out within a month of his being crowned. And yes, he's all of 22!

At the same time, dwindling interest over reality shows, stiff competition from Zee's Sa Re Ga Ma and the not-so-successful career growth of Indian Idol 1 Abhijit Sawant, has put a big question mark on the advantage of winning such shows. Perhaps, it was more than just a coincidence that Sa Re Ga Ma winner Debojit's debut album was launched just a few weeks ago.

What are Idols Sandeep and Karunya up to?


An indication of things to come was evident in the venue chosen for the album's release – a not-so-happening

college hall in a distant Western suburb of Mumbai. All ten finalists of the show -- including Karunya -- were present. And they all performed. The album was launched by Sandeep's favourite judge Farah Khan in the presence of his parents and other family members.

Sandeep Acharya, with his hair highlighted, face grease-painted and dressed in a Shahid Amir (designer for Saif Ali Khan and Fardeen Khan) creation, was looking cool – radically different from the Rajasthani youngster who had come for the show almost a year ago.

But the moment he starts answering questions, you realise – thankfully – that nothing has changed for this simple guy. "I have been hearing that, sometimes, the world changes for a human being overnight. It's only now that I realise what this means. The first time I went for a rehearsal for this album, I was nervous. I kept asking myself how I would be able to sing for a big music director like Sandeep Chowta. But he made me feel very comfortable and brought out the best in me. I am truly grateful to him," the singer admits.

Sameer has penned the lyrics for Mere Sath Saara Jahan, which has eight songs. Chowta has set tunes for three of the tracks, including a Rajasthani folk number. "It's amazing how Sandeep has brought out the essence of the song. Two songs have been tuned by Deepak Pandit and the rest are film numbers," explains the Indian Idol. The video for the title song has already been shot. Directed by Ruchi Narang, it stars Acharya himself.

As promised by organisers, Sandeep will be getting a Pearl Silver Maruti Baleno and zooming across Mumbai soon. The album will be in stores from May 25.

The concert will be telecast on May 27, Saturday, 8 PM on SONY.