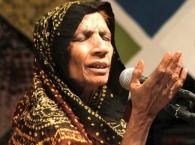 Legendary Pakistani folk singer Reshma, who mesmerised music lovers beyond borders with her soulful rendition of songs like Dama Dam Mast Kalandar and Lambi Judai in her trademark rustic voice, passed away in Lahore on Sunday after suffering for years from throat cancer.

Born around 1947 in Bikaner, Rajasthan, in a Banjara family, Reshma was under treatment after being diagnosed with the disease years ago and had been in coma for a month. She is survived by son Umair and daughter Khadija.

Reshma's tribe had migrated to Karachi shortly after partition.

Having received no formal education in music, she was only 12 when she was spotted singing at Shahbaz Qalander's shrine by a television and radio producer, who arranged for her to record the iconic song Laal Meri on state-run Pakistan radio.

The song was an instant hit, and Reshma went on to become one of the most popular folk singers of Pakistan, appearing on television in the 1960s, as well as recording songs for both the Pakistani and Indian film industry.

"Singers of that level and magnitude are
an institution in themselves and her passing away means a complete era has passed away. It is a huge loss," Shahram Azhar, lead singer of Pakistani band Laal, told PTI.
Some of her famous numbers include
Hai O Rabba nahion lagda dil mera
and
Ankhiyan no rehen de ankhyan de kol kol
.
Reshma, who has a massive and loyal fan following, was awarded several national awards including prestigious awards 'Sitara-i-Imtiaz' and 'Legends Of Pakistan' given by the President of Pakistan.
She was able to perform live in India during the 1980s, after India and Pakistan decided to allow the exchange of artistes.
Filmmaker Subhash Ghai used her voice in the film 'Hero', which featured one of her most famous songs
Lambi Judai
.
She was also invited to India to meet Prime Minister Indira Gandhi.
Former Pakistani President Pervez Musharraf, a music lover, had come to her aid and given her Rs 1 million to help pay off a bank loan. He also put her on a secured assistance of Rs 10,000 rupees per month.
When she was hospitalised in Lahore on April 6, 2013, the caretaker government led by Najam Sethi decided to pay all her medical expenses.