'I was like this is so crazy... this journey is so insane.'
What's a stand up comic who subtly rips apart Bollywood movies doing in a film?
YouTube sensation Kanan Gill makes his acting debut in Noor, which is based on Pakistani novelist Saba Imtiaz's Karachi, You're Killing Me!
How did this software engineer rule YouTube? How did Bollywood discover him?
Kannan lets Rediff.com contributor Rajul Hegde in on a few secrets.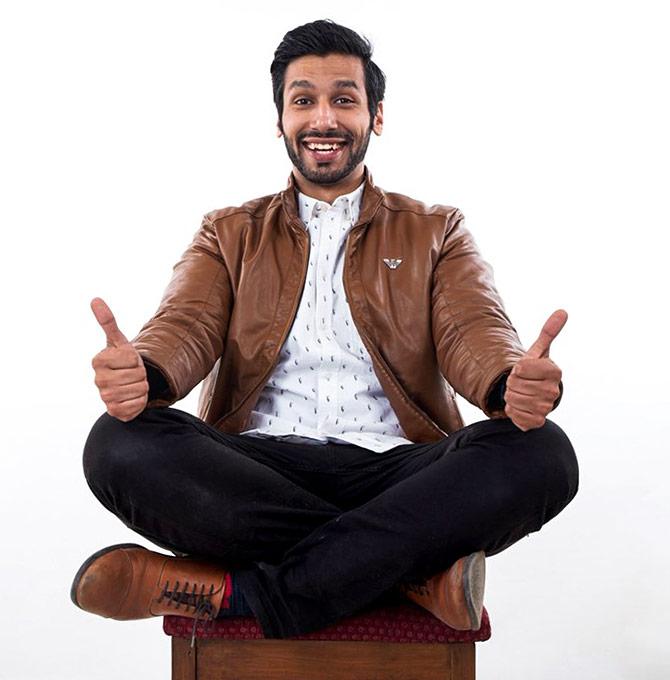 IMAGE: Meet funny man Kanan Gill. Photograph: Kind courtesy Noor The Film/Twitter
How did you become a comedian?
I always enjoyed writing funny stuff to make my teachers laugh in school. I used to play in a couple of college bands and write funny lyrics.
I really enjoyed making people laugh. Then someone told me I should become a stand up comedian.
While working in an IT company, I passed Urban Solace (a Bengaluru cafe) every day and spotted the stand up comedy and open mic nights show signs. I thought I should give it a shot.
One evening, I went in, did comedy and enjoyed it.
Later, I won a competition, Punchline Bangalore. The following month, I went to the Comedy Store in Mumbai and won another competition.
That sealed it. I decided I have to do comedy.
I continued to work for a couple of years, did stand up comedy whenever I could.
I finally decided to quit my job to do comedy full time, and it has worked out well so far.
Go on...
I was doing stand-up comedy, and then I and (IITian and fellow comedian) Kalyan Biswas Rath came up with this idea of Pretentious Movie Reviews.
When the videos got popular, I started getting movie offers, but none of them excited me.
When I read the script of Noor, I thought I should be part of this movie.
Did you get this funny side from your parents?
My dad is very funny, funnier than I am actually.
Comedy comes from observing people around us and subconsciously things come in.
For sure, from my parents (smiles).
So how did the transition happen -- from stand up to actor?
The casting people had seen some of my videos and live comedy shows. I was called for the audition.
Once I was through with the audition, I met (director) Sunhil Sippy.
When I sat with Sunhil, he mentioned comedy and comedians that I like. He then described the role to me. That's when I realised this is perfect. The character is like me.
I always thought I would be making a film at some point. But before I do that, I got a chance to be in one.
The character is like you?
I play Saad Sehgal, a very funny guy, always full of quirks, giving advice. My personality is like that.
This was what made me connect with the role. So it wasn't too much of stress, I quite enjoyed it. Unlike others, I don't have plans and goals.
If you have clearly set goals, then you are setting yourself up for failure.
But if there are no plans, then everything seems great.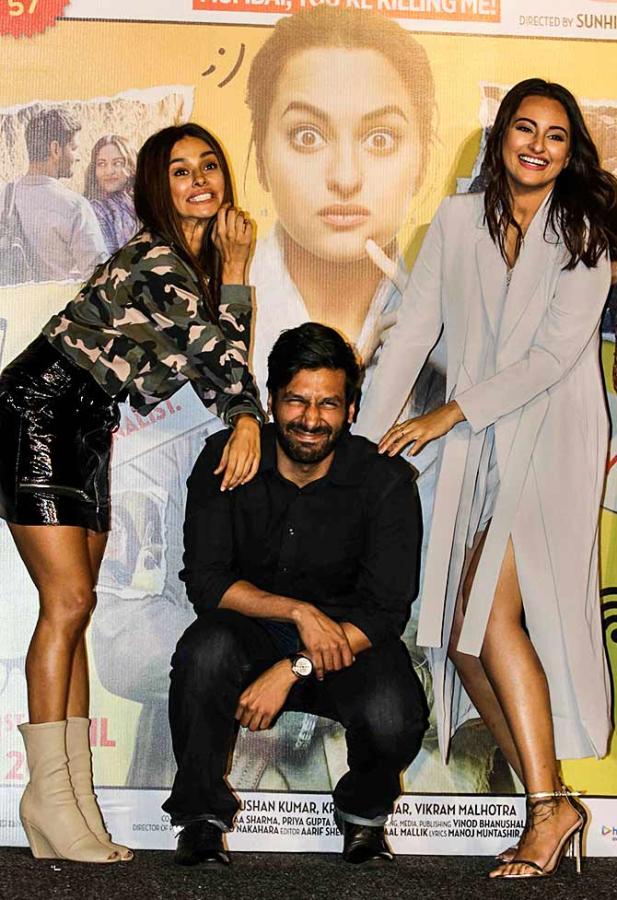 IMAGE: Shibani Dandekar, Kanan and Sonakshi get posy. Photograph: Pradeep Bandekar
Apparently Sonakshi Sinha recommended you for the film.
She had seen my review of Main Prem Ki Deewani Hoon a few years ago and tweeted that it was very funny.
During the film, we met for readings. She was very easy going.
The three of us, along with Shibani Dandekar, were very comfortable, laughing and joking on the sets.
We became good friends while shooting.
What was the shooting experience like?
I thought they would take a lot of time to shoot a movie, but it was pretty quick.
It was large scale. Just to see something on this scale was overwhelming and surreal.
It was a huge learning experience. I kept reminding myself that I used to write software four years ago, and now I am in a movie (smiles).
While shooting in London I had couple of wow moments. I was like this is so crazy... this journey is so insane.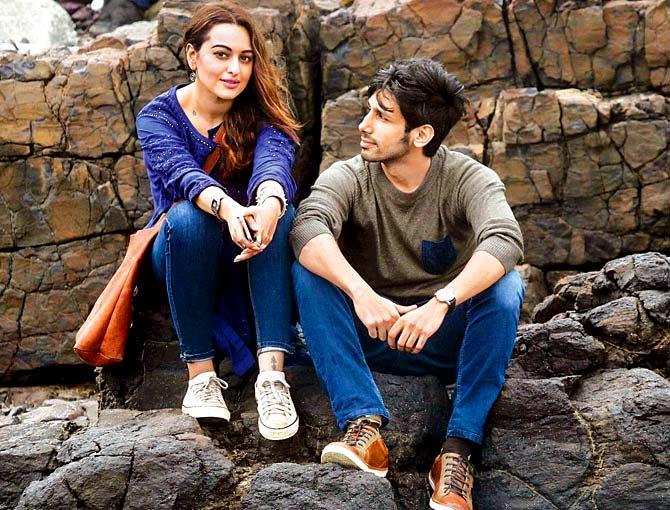 IMAGE: Sonakshi and Kanan in Noor.
Are you planning to review Noor?
I would not let anyone review my films before me. I will review my films the way I do others.
Did you receive any negative comments from actors for your reviews?
Surprisingly, no (smiles).
We made fun of the script, not people. That's the line we kind of drew in our reviews.
New actors -- mid 2000 onwards -- have come up to me and said they liked my work -- Aditya Roy Kapoor, Vicky Kaushal.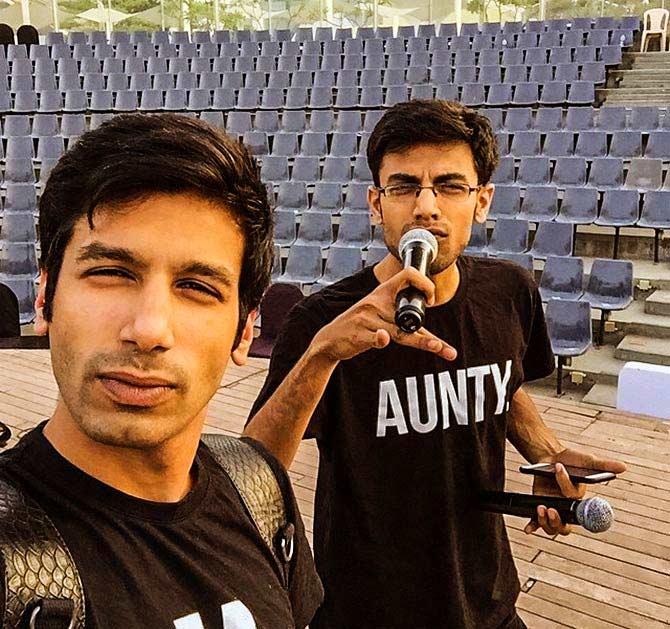 IMAGE: The Pretentious Movie Reviewers: Kanan and Biswa (Kalyan Rath). Photograph: Kind courtesy Kanan Gill/Instagram
How many comedy shows do you do in a year?
I have just finished an India tour. I do about 120, 150 shows in a year.
What next after Noor?
I have a comedy show coming up on Amazon Prime, which will be out in May.