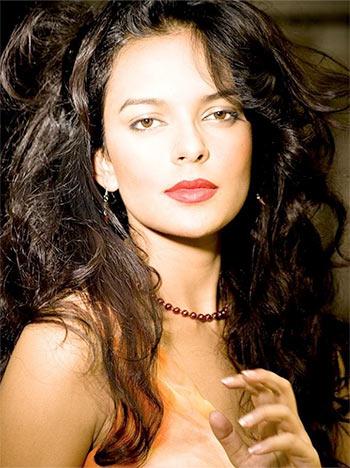 'My worst experiences in the film world concern money. After signing contracts, they don't pay. You always have to forget your last installment.'
'It is very difficult for an outsider to enter Bollywood. You must either have luck or a godfather. I have neither.'
Bidita Bag, who will next be seen in Kushan Nandy's Babumoshai Bandookbaz, discusses her big break.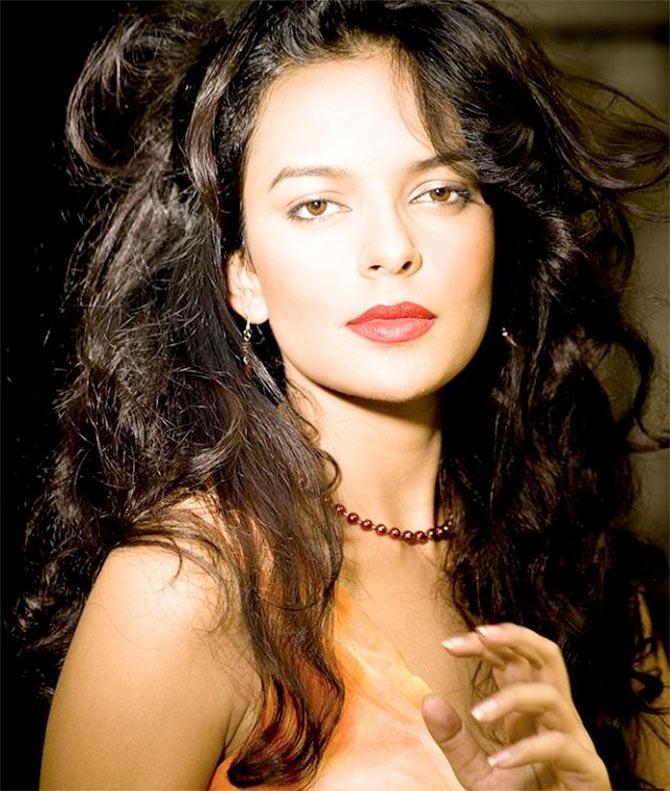 Though the gorgeous Bidita Bag is constantly travelling for work, that includes both modelling assignments and advertisements, she would describe herself as a model by compulsion. Acting, she says, is where her heart truly lies.
Her Bollywood debut, From Sydney With Love, sank without a trace in 2012.
The Kolkata girl recently got lucky when Chitrangda Singh opted out of Kushan Nandy's Babumoshai Bandookbaz. As Chitrangda's replacement, she stars opposite Nawazuddin Siddiqui.
Bidita tells A Ganesh Nadar/Rediff.com about her life, and her long and lonely struggle in the film world:
I sent some of my portfolio pictures to (director) Kaushik Ganguly. He called me after a fortnight and told me that a friend was making a telly film. He recommended me for that and I did it. The film was good but my acting was very bad. So I started watching a lot of movies in order to become a better actor. I am not a born actor, I had to work at it.
My first Hindi film, The River Flows (2010), was an NFDC movie co-starring Sanjay Suri. It was a bi-lingual, in Hindi and Assamese.
There was a long gap before I got my next film, and I survived those years by modelling. I have done a lot of TV commercials and print ads. I think have endorsed every jeweller in Mumbai. But I never do ads with celebrities because all the attention gets focused on them, not you. When your face is recognised in the modelling world, you get paid better. The way you market yourself sets your price.
It is very difficult for an outsider to enter Bollywood. You must either have luck or a godfather. I have neither. It took me seven years to make my presence felt.
I have done 10 Bengali movies. I have also acted in Assamese, Odia and Hindi movies.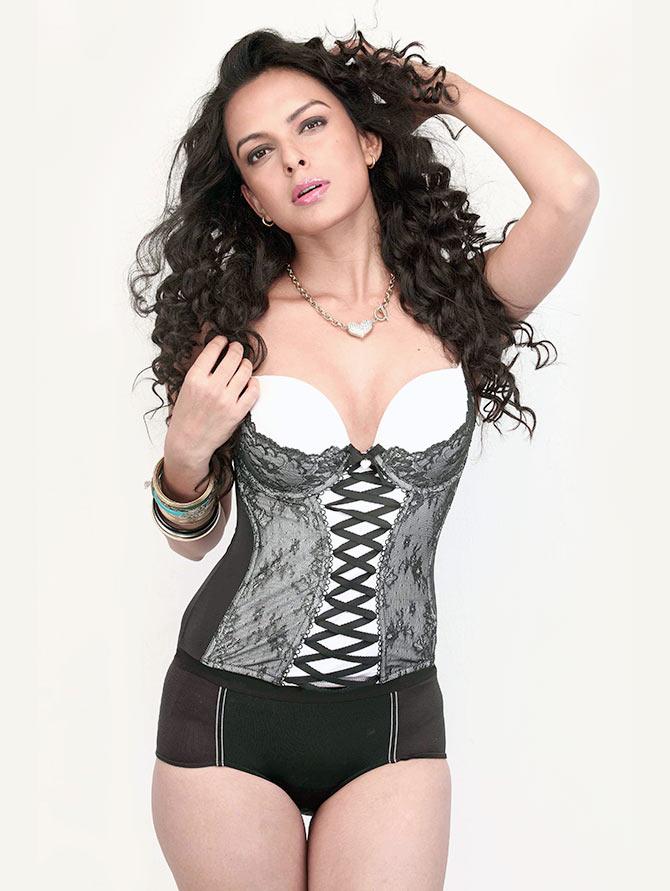 When I first came to Mumbai, I was very young. I used to live alone and I was very scared. I made some good friends who looked after me. They were especially caring when I went through depression (due to the fact that she was new to Mumbai and was struggling to find work). They would keep calling to check if I was okay.
My worst experiences in the film world concern money. After signing contracts, they don't pay. You always have to forget your last installment. I am going be stricter with my producers now.
I have had a few experiences of the casting couch. They never ask you directly, they hint at it. I always ignore it. It depends on how desperate you are. I come from a secure background and I'm not desperate. I have always got work because of my talent and hard work.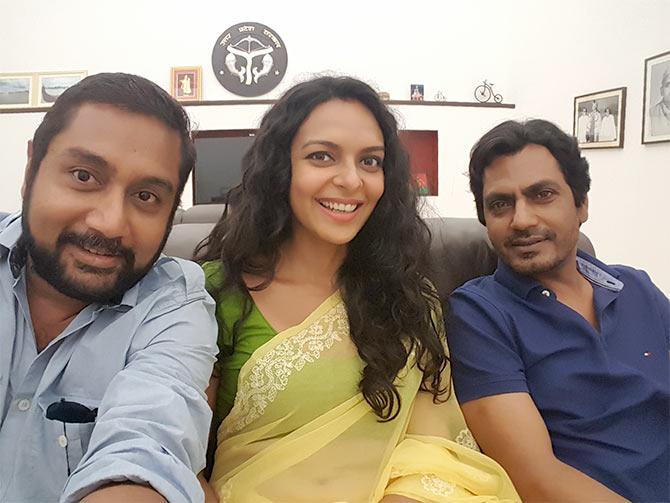 IMAGE: Kushan Nandy, Bidita Bag and Nawazuddin Siddiqui
Walking out of the movie was Chitrangda's loss. I got the role because she walked out. I hope, one day, I can thank her for it.
I really liked the script. You rarely get a chance to play a character like this and I grabbed it with both hands.
Kushan Nandy told me to read the script thoroughly and agree only if I was comfortable with doing all the scenes mentioned in it. 'The allegations she (Chitrangda) has made against me, she makes me sound like a rapist!' he told me.
I have done the same scenes and did not have any problem.
The scenes have turned out well. We finished the film fast because they were shooting for the second time and they knew the script very well.
I did not prepare for the steamy scenes but I watched a few videos of people from the lower social strata -- how they talk and react to certain situations. I imagined how they would make love and kiss. As Nawaz and my characters belong to the lower strata of society, we had to act like them. Their lovemaking is different.
Nawaz and I were cool during those intimate scenes. We treated them like any other scene in the film. We knew our characters and did what was needed.
My parents know about the scenes, and are okay with it. They asked me to be genuine in whatever I do.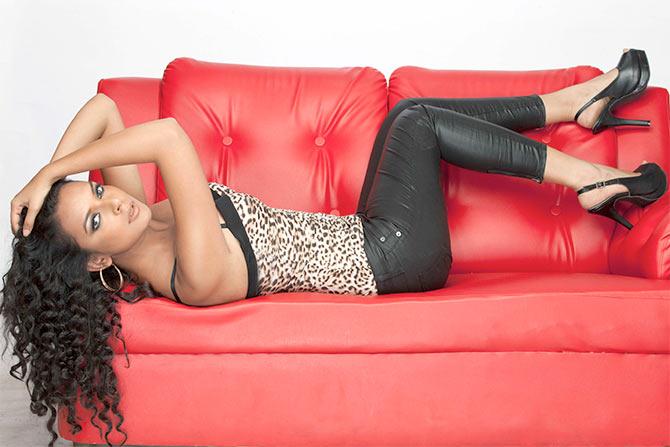 The was difficult for me, as I did not get a chance to prepare myself. The dialogues are in UP Hindi and I'm a Bengali. Besides, the film was shot in sync sound.
I had met Kushan Nandy for another audition. When his heroine walked out, many people recommended my name, including Anurag Kashyap.
Anurag had earlier offered me a role in Gangs Of Wasseypur. The script said there would be bedroom scenes with Manoj Bajpayee. He is such a big actor and I knew I would not be comfortable in bed (doing intimate scenes) with him. And I was only 18 years old then. So I did not go. I was scared that my family and friends will not like it. I thought nobody would marry me if I did such scenes. But now, at (24 years), I have become more secure now.
They also told me that the girl does not wear a blouse, as girls then didn't wear blouses in villages.
Reema Sen got the role and she's done it very well. I felt the scenes between Manoj Bajpayee and Reema Sen were more funny than sexy.
Even though I had refused his film, Anurag Kashyap recommended me for Babumoshai Bandookbaz because I had told him the reasons for my refusal. He did not take it personally; he understood me. He even invited me for the special screening of his movie.
I will act till I die. Look at Amitabh Bachchan, he is still acting and doing it so well. If I can establish myself as a good actress, then I will get enough offers to keep me going.
I don't want to retire ever.