Suraj Sharma reveals how delivering a Subway sandwich landed him Life of Pi and other fun stories.
Suraj Sharma made his debut in Ang Lee's Oscar nominated Life Of Pi before going on to play stellar parts in Million Dollar Arm and Umrika and a shocking stint in the television serial Homeland.
In real life, the 23 year old is a world away from his intense roles.
"I am pretty crazy, strange, odd," Suraj tells Rediff.com's Patcy N as he discusses his Bollywood break, Phillauri.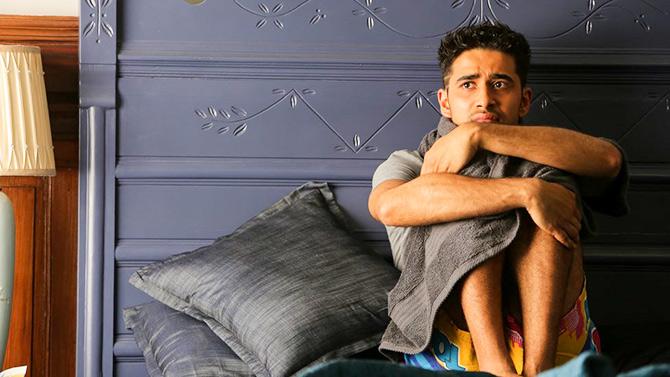 IMAGE: Suraj Sharma in Phillauri.
Finally, a Bollywood film.
Yeah. (Laughs.) It took time, but I feel I got the right one.
Why do you feel this is the right one?
I was looking for the right story and a challenging performance that I knew I could pull off without going overboard.
Sometimes you do get good stories, but the dates don't match up since I work only in my holidays.
I am studying filmmaking at NYU (New York University). So I can't do everything that is offered to me.
I got that chance in Phillauri. Plus, my character graph was good.
My character (faces) my generation's problems with commitment.
How many scripts do you get offered in a month?
Not just offers, I get scripts to read -- about 30 to 40 scripts a month.
After doing films like Life Of Pi and Million Dollar Arm, you are doing a film that promotes superstition. Your character marries a tree.
Yeah, that was so strange!
Before this film, I didn't even know there is a thing called 'Manglik.'
I got even more surprised when I learnt it's very common in Delhi where I grew up.
So I checked with my friends. Out of the 30, 40 people I knew, only three knew about this.
People hide these things, but anyway, it was so weird getting married to a tree!
Would you do it in real life?
I would do it yaar, there is no harm in covering all your bases.
If there are enough people who tell you that something will go wrong...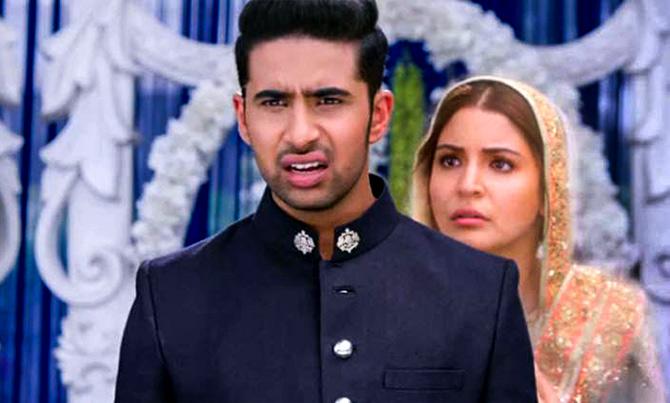 IMAGE: Suraj Sharma and Anushka Sharma in Phillauri.
Despite the identical surname, they are not related :))
What was it like marrying Anushka, the ghost?
I never married Anushka, I married the tree! (Laughs.)
Anushka is amazing. She's a powerhouse. As a producer, she is bang on.
She's nice and professional, a tremendous actress.
You never feel a sense of oddness or awkwardness or distraction.
You are with her in the moment and it really works.
I was completely flabbergasted to see how easy it was working with her.
You are a Malayalee, a Sharma from Kerala. How is that?
Yes, but I don't know Malayalam. I can understand it a bit.
I grew up in Delhi.
My maternal grandfather has that surname. I don't know why since he is from Thalassery, Kerala.
Phillauri has a lot of VFX, just like Life of Pi did.
Both are so unbelievably different. There's just one minute of similarity in a scene. Other than that, the VFX in both are different.
Making Anushka's ghost possible was a task.
They used so many methods like different kinds of pulleys and harnesses. It was very difficult for her to act.
She had to be in all kinds of difficult positions. Yet, she was so brutally real.
What was the last Bollywood film that inspired you?
Udta Punjab. I thought it was a brave and different film.
I would like to do a role like (what) Shahid Kapoor did. That is the kind of vibe I enjoy.
IMAGE: Suraj Sharma in Life Of Pi.
At what age did you get interested in acting?
I was not interested in acting. I never did theatre.
My brother was interested in acting. He went for an audition of Life of Pi.
I just went there to give him a Subway sandwich and they thought I was auditioning as well, so they took me inside.
I was asked to read the line. I was so awkward and read it very awkwardly too.
After six months, they selected me.
I thought I would just go and check out what it was. I never thought I would get it.
You are studying filmmaking now. Do you want to become a director?
I would like to write and direct someday but I want to understand films, as I was never a film buff.
I was a bad football player.
I thought training in acting (would not work because) I could lose whatever bit I had in me.
So I want to learn and understand films and a course on filmmaking would help me achieve that.
After my course, I will start acting again. Later, I will think of directing.
What are your forthcoming films?
Burn Your Maps by Jordan Roberts will release in the next couple of months. Right now, it is travelling to film festivals.