'Only bachelors go ahead in life.'
'See Modiji, Rahul Gandhi, Amit Shah, Baba Ramdev...'
Rakhi Sawant, as uncensored as they come.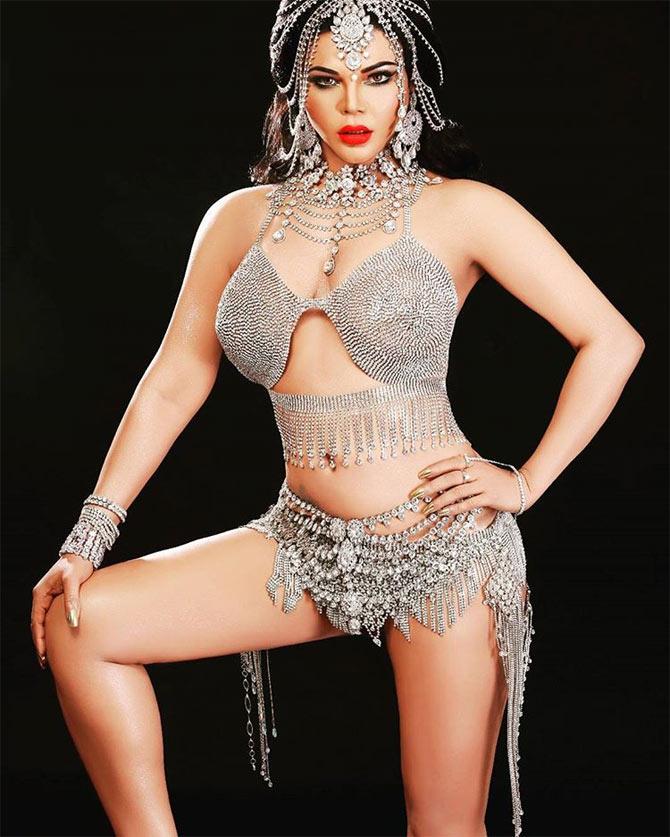 Rakhi Sawant is full of quotable quotes.
With her bold and bindaas attitude, Rakhi talks about Bigg Boss, Sunny Leone, Narendra Modi and Mayawati.
And she promises that her new Web series Rakhi In Khaki will be even bolder. Rediff.com contributor Rajul Hegde turns on her recorder.
Where have you been?
I had met with an accident while performing for a show in Colombo. I tripped and hurt my head, as there was too much artificial fog.
I had to shave my head and undergo an operation. I couldn't come out in public without hair.
I lost partial memory after the accident. I couldn't recall a person's name! I had become Lady Ghajini (laughs).
But I am fine now.
It took one-and-a-half to two years to recover. I had put on weight during this period. I had to reduce and have come back in dabbang style.
Were you depressed?
I can never go through depression but I put people in depression (laughs).
When I came to the industry, I belonged to the lower middle class or lower than that.
By God's grace, I have everything now, more than required.
Would you like to go to Bigg Boss since many ex-contestants are doing that.
I want to go inside the house and take Swamiji's class.
Why is this old man commenting on women's characters? Who is he? Is he a judge?
I would love to steal his clothes and make him walk nude in the house.
I will throw his clothes outside the wall, let him go search for them.
I might cut his hair when he is fast asleep.
Don't know which cave they picked this Baba from!
Who do you think is playing it smart in Bigg Boss?
Commoners and Celebrities are playing equally well.
Lopa and Bani are playing well and taking a stand. Manveer and Manu are also playing well.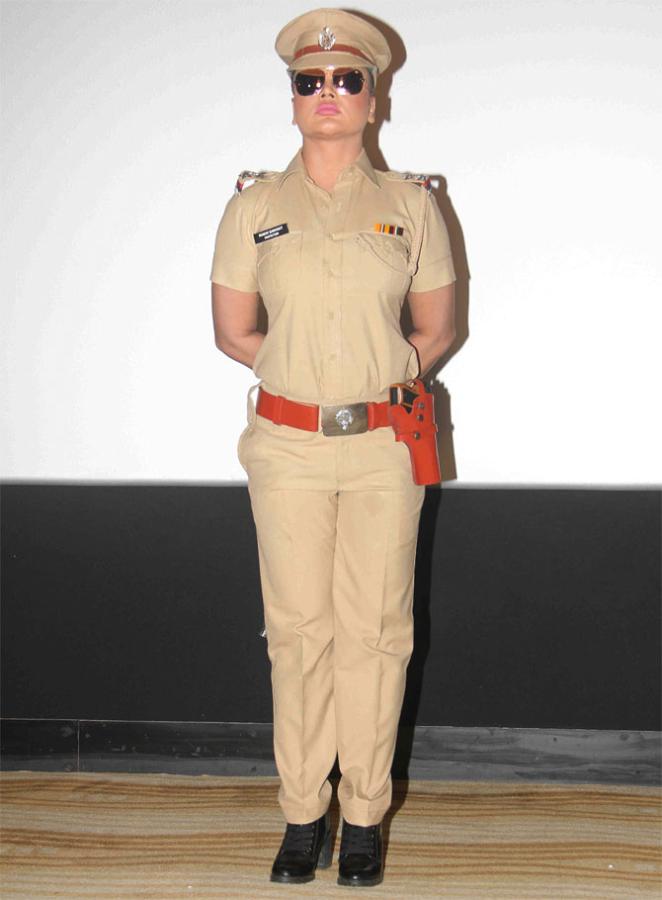 What's different about your show, Rakhi in Khaki?
I have never got a chance to show off my acting skills. In this show, I will be able to do both, comedy and acting.
And there is a social message at the end of every episode.
I have always been known as an item girl. We got 600, 700 theatres for my last film, Ek Kahani Juile Ki.
It didn't do well in Mumbai, but it worked in other places.
You are playing a police officer and giving gaalis on your show.
I use gaalis in real life also.
If I am playing a policewoman; I will mouth gaalis while taking on an offender. They (the police) have a kadak nature.
Will you take digs at celebs in your show?
I am not making fun of anyone, but I will do something in Rakhi style.
When people make fun of me on their show, I don't say anything.
People say so many things about me like I am a drama, that I do anything for publicity.
I will do things till the media supports me.
Who have you taken digs at?
Karan Johar, Ekta Kapoor, Salman Khan, Shah Rukh Khan, Aamir Khan, politicians, swamis, the casting couch...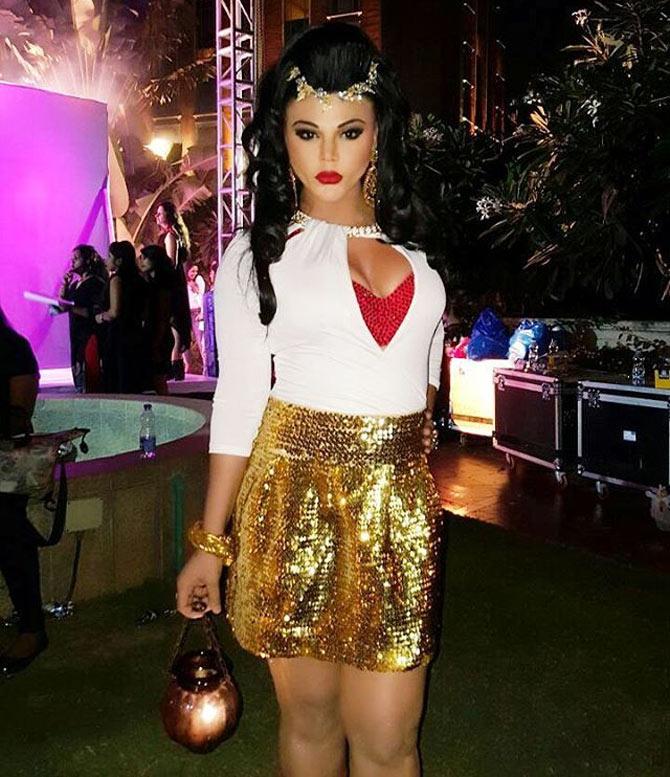 How did your mother react seeing you in police uniform?
My mother was in tears.
My father had thrown me out of the house because I could not fulfill his dream of becoming a police officer.
He wanted me to go to Nashik to train as a policewoman. My whole family is in the police force. But I became an actress and an item girl. That broke his heart.
Why do you wear so many rings?
One is for Prime Minister Modi, one is for Baba Ramdev, one is for Amit Shah, one is for Arvind Kejriwal, one is for Rahul Gandhi and one is for Ekta Kapoor.
I wear rings for success like Ekta Kapoor.
There is so much competition that these rings will help me get good shows.
I had an accident. I was without work for two years and was in a mess. I lost my memory. I have got back, thankfully.
Every time you talk about Sunny Leone, you call her a porn star. Why do you say that when she wants to shed that image?
She is a porn star. I can't call her a Bharatiya nari, right?
If she is not a porn star, what is she?
Even we didn't have money, we didn't go to America and do nude stuff on television.
Do you think my body is not good?
I don't want to do all this.
Why do I need to do sex on TV for a living? This is not fair. No Indian should do this.
I can't do such things. Now she is acting with big stars.
I have named my assistants Sunny and Leone in Rakhi in Khakhi.
We live in such a beautiful nation that no matter how big an actress she is, she had to learn Hindi here.
She was roaming nude in the West, but Indians gave her food, saris and money.
I am an original!
Any marriage plans?
I don't want to settle down in life.
Only bachelors go ahead in life.
See Modiji, Rahul Gandhi, Amit Shah and Baba Ramdev...(Amit Shah is married to Sonalben Shah.
During the 2.0 launch, Karan Johar asked Rajinikanth's Chitti who was the queen of Bollywood and he named you among Madhuri Dixit, Aishwarya Rai Bachchan, Katrina Kaif...
Am I not among the top actresses?
I am a discovery of Shah Rukh Khan. I was selected through an audition for Main Hoon Na.
Thank you so much Rajinikanthji. I have always said in my interviews that he is my favourite actor.
I respect him. I am going to do an item song with him. Both of us will wear lungis and dance!
I am getting lot of work in the South.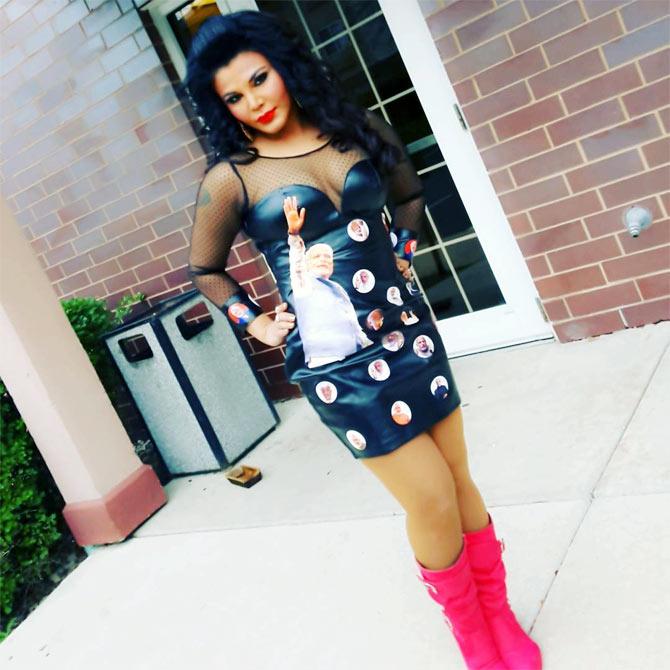 What made you wear a dress with Mr Modi's pictures on it?
I was in the US representing India for Independence Day. Yes, I had worn a dress with Modiji's pictures.
I really respect Modiji. I just put his pictures on my dress. This is not a crime.
Do you expect me to put Obama or Trump's pictures?
If I get an opportunity, I will wear a sari or salwar kameez with Modiji's pictures.
Ramdas Athawale announced that you would be pitted against Mayawati in the Uttar Pradesh assembly election.
Yes, I will contest against Mayawati. I don't have money for the elections, but I will win their hearts my dancing. I have only this talent.
Last time when I stood for elections in Mumbai, I got tired folding my hands.
This time, I will show my talent and say if you need vikas (development), vote for me.
Mayawati is a powerful leader.
Yes, I know Mayawati is a big personality, but I will make her lose in the elections.
I can always try my best to win.
People love me in UP. They will vote for me.
Why will I get scared? If Mayawati was indispensable, how did Akhilesh Yadav win?
I don't have money. I made a party in seven days and got 2,500 votes the last time. That's a big thing.
I did not buy votes by distributing money to the people.
People, who have been in political parties for the last 10 years, cannot manage even 250 votes.
I should have contested against Donald Trump. Hillary could not shake him; I would have won easily.