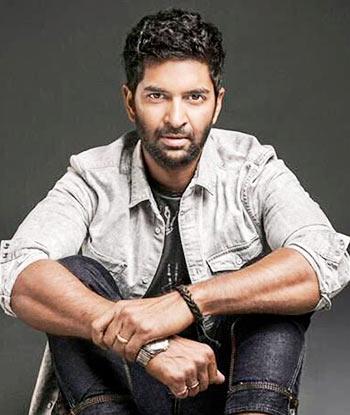 It's been a rather busy week for actor Purab Kohli. His television serial, Nikkhil Advani's POW -- Bandi Yuddh Ke, hit the airwaves on November 7.
And then, there's the Shujaat Saudagar-helmed Rock On II, which releases this Friday. The original Rock On was a phenomenon that added new dimensions to its cast and made Purab a known face. The sequel takes the story forward from where it ended in 2008.
Rock On II, however, proved to be a huge challenge for the actor, who found it difficult to slip back into the skin of his character, KD, "Eight years ago, I was a completely different person," he says.
On the personal front, he is looking forward to his daughter's first birthday next month.
Inaya, his "love child" with his fiancee, Lucy Payton, has changed his world, "It is a gift I wish upon everybody, especially if it's a baby girl."
As he celebrates this exciting new phase in his life, Rediff.com contributing correspondent Rajul Hegde asks him a few questions.
How is fatherhood treating you?
It is a gift I wish upon everybody, especially if it's a baby girl.
Right now, I am thinking how soon I can run out of this interview and go home, before she goes to sleep.
You start thinking in that direction.
When you have a child, you stop living for yourself.
Mothers think fathers are useless but we as fathers are not that useless.
Lucy (Payton, his fiancee) points out that none of her friends's husbands have had such a strong relationship with their baby in the first year.
Inaya (his daughter) and I have good connection and we have a lot of fun together. She looks out for me and has a glint in her eyes when she sees me.
Was there pressure from the family to get married before the baby was born, since a child of out wedlock is considered taboo in our country?
My mother was the most concerned.
When Inaya was conceived, we weren't married; it didn't really matter to both of us.
Lucy called me and said, "We are having a baby" and my first reaction was "Wow!"
There was pressure and my family wanted us to get married before the baby was born. But I was adamant I would not do so because I didn't want our baby to feel we got married because she was coming.
Her coming into this world has transformed both our lives for the better.
She is really our love child. She has increased the love between Lucy and me and made me love my life more.
I don't want her to ever feel it was not meant to be.
It was meant to be in every possible way.
She was a force of nature that nothing could stop from coming in this world.
Are you planning to get married any time soon?
We have signed papers already but we will have a big celebration next year in September, probably in London.
We want Inaya (born on December 22, 2015) to stand on her feet and hold the flowers while we take our vows.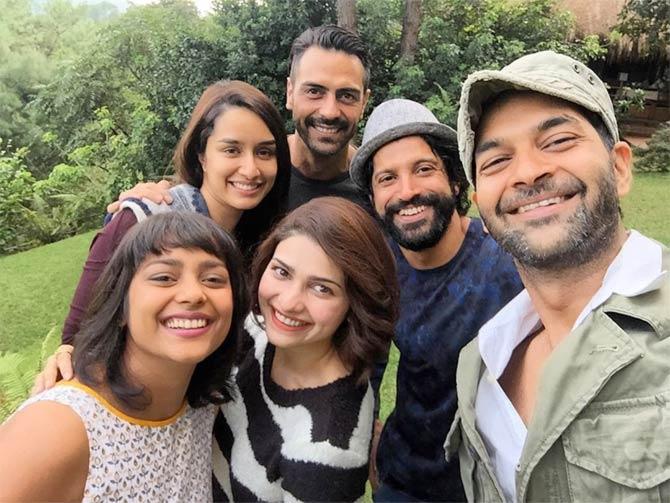 IMAGE: Shraddha Kapoor, Arjun Rampal, Farhan Akhtar, Shahana Goswami, Prachi Desai and Purab Kohli. Photograph: Purab Kohli/Instagram
KD, the character you play in the original Rock On!!, received lot of accolades. How challenging was it to continue with the character in the sequel?
It was extremely difficult because of the kind of actor I am; I bring a lot of myself into the part. Eight years ago, I was a completely a different person so I found it extremely hard to get back into the zone KD was in then.
The director wanted me to retain a lot of characteristics that KD had in Rock On!!.
Arjun's (Rampal) role is flipped in Rock On II but KD's character remains same; he's the only character who comes with certain elements from the past.
KD is a lovable character; he wears his heart on his sleeve, loves performing and making music with his band and friends.
In Rock On!!, he was naturally that person; in part II, he is holding on to being that person, making sure his friends are still there and making music. He can't let that part of his personality go.
How easy was it to welcome Shraddha Kapoor to the band?
It was quite refreshing. Shraddha is an extremely beautiful girl with a wonderful smile. She is sweet, bubbly, sings very nicely and adds that flavour to the film.
Also, it's nice to have female energy around.
We all spent 45 days shooting for the film in Meghalaya. We were playing our instrument in real life so, most evenings, we would end up with jam sessions... It was pretty enjoyable.
In fact, I feel Farhan, Arjun and I bonded a lot more this time around.
Did you expect Rock On!! to be successful?
Not at all! Not me at least.
Some smart people at Excel (the producers) were confident it was going to be big.
I didn't know what a successful film was before Rock On!!
When I saw the complete film for the first time, I was like, "Wow! I am in this film."
I had no expectations for Rock On!! and I don't have any expectations from the sequel either (smiles). But there is a hope that you have worked hard and people will see the film and appreciate it.
All the films I did after Rock On!! and before Rock On II -- from which I had expectations -- didn't do well.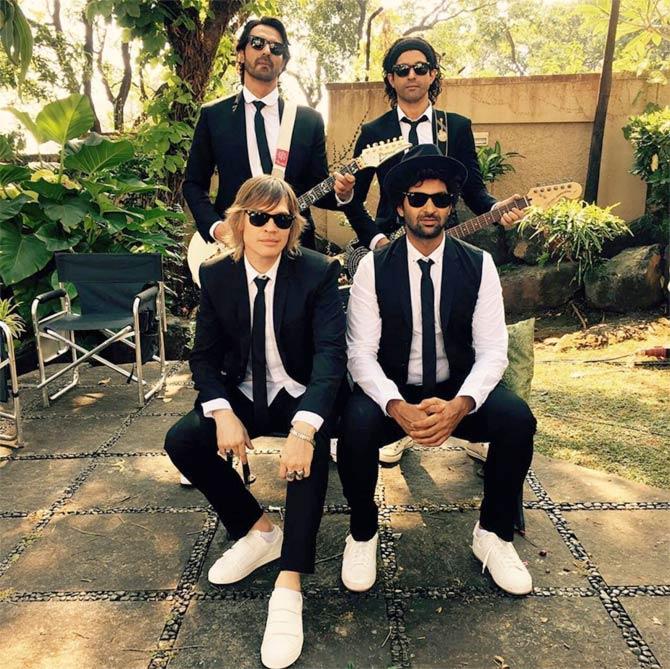 IMAGE: Arjun Rampal, Farhan Akhtar, Luke Kenny and Purab Kohli. Photograph: Purab Kohli/Instagram
Did you look at Rock On II as a fresh film or did you do it for the sake of nostalgia?
Rock On!! is a huge cult hit film and it did a lot for me.
The phone rings, they say they are making a sequel and you agree to be part of it. The script does not matter; you say yes because it is engraved in your DNA.
There are a few characters, like KD and Mazhar (from the television show, Hip Hip Hurray), who I am identified with.
I think it's more of loyalty to the brand that you want to be part of it; you would be stupid not to be part of it.
They have worked on an excellent story line, keeping in mind the characters of the first Rock On!! and the journey they may have had in the last eight years, and in including the new characters.
It's an intelligent script.
Did you miss Luke Kenny (who dies in the original Rock On!!)?
I know Luke quite well because he is an old friend; we worked in Channel V for many years. I definitely felt his absence in Rock On II.
We have one lovely flashback song when Luke is alive; it was nice to have him back on the set for it.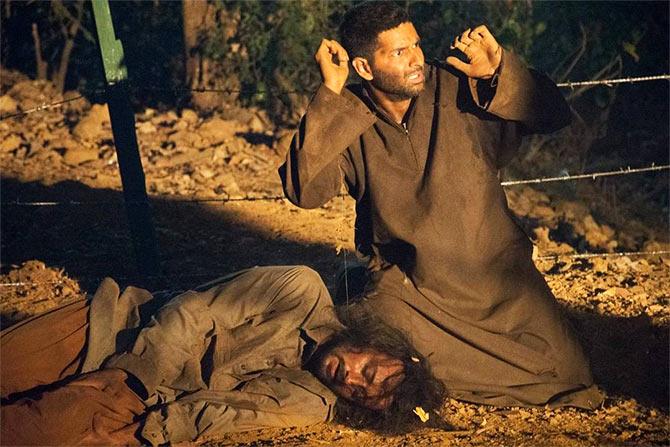 IMAGE: Satyadeep Mishra and Purab Kohli in POW -- Bandi Yuddh Ke
You are part of Nikkhil Advani's new television series, POW -- Bandi Yuddh Ke (POW is an Indian adaptation of the hugely popular Israeli television drama, Hatufim, remade as Homeland). What kind of research did you do for the role?
I met the Army's Sikh regiment. Though I am a Punjabi, I learnt to speak Punjabi fluently. l spoke to a psychologist to understand the mental state of a person who has been tortured for years.
Do you believe a finite series will work well on television?
A lot of people who work in television -- directors, actors, producers -- are hoping POW does well. If that happens, it will change the face of Indian television because I don't think any channel has ever attempted something like this.
It will open up content; more promising content will get approved. Right now, everyone is making things for TRPs.
There is a big hope that POW will rescue the television industry.
We wouldn't have got the prime slot if it didn't have an intense story.
Over the last couple of years, I have got calls for short formats of 26-40 episodes. I was interested in some of the stories but it didn't work out because of date issues.
I was looking for a show like POW for a while.
I did Sense8 for Netflix a couple of years ago, but Netflix was not in India then.
During Airlift, I asked Nikkhil, 'What next?' He replied, 'A TV show, POW.'
I asked him how I could get in.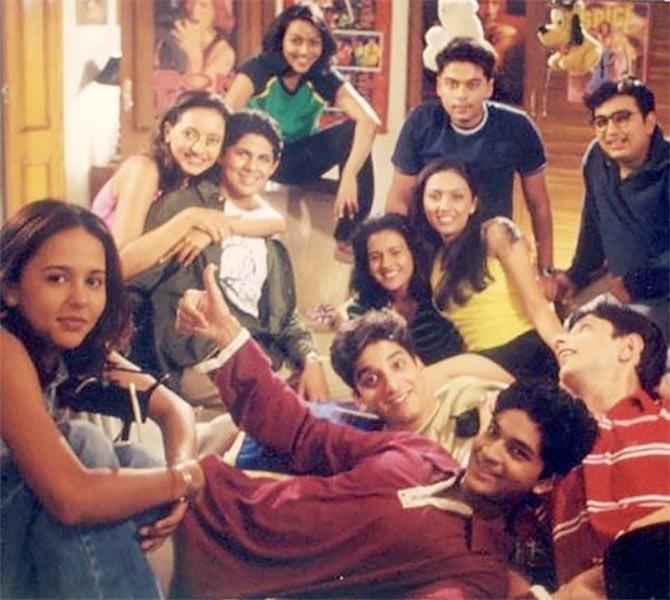 IMAGE: The team of Hip Hip Hurray. Photograph: Purab Kohli/Instagram
You started you career with the television show, Hip Hip Hurray. Since you have returned to the small screen, will we continue seeing you there?
Yes, if I get something substantial.
But I can't do a show where I have to play a character for two years; I will get bored.
I am not cut out for those kinds of roles. That's the reason I prefer doing films. I get to play different roles in every 4-5 months.
Do you foresee problems in the filming and release of the film, Noor (starring Sonakshi Sinha, it is based on Pakistani author Saba Imtiaz's novel, Karachi, You're Killing Me, which follows a Pakistani journalist's misadventures in Mumbai)?
The story is based in Mumbai. An Indian writer and director has worked on the film.
I think the author is based in US, not Pakistan.
It's not even a period story; it's the a story of a journalist in a setting that could be anywhere in the world.
I don't foresee any trouble.
Let me ask you what you asked Nikkhil Advani: What next?
I am doing the Sense8 Netflix show, it's coming up with its second season in December. And then there is Noor in April.