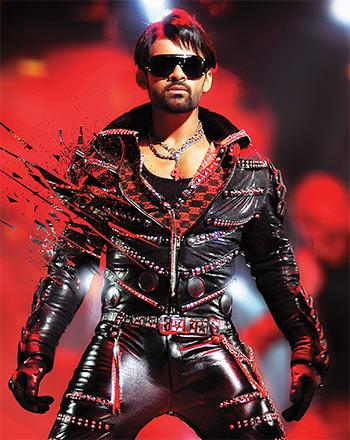 Sai Dharam Tej's first Telugu film, Rey, directed by YVS Chowdary, has been considerably delayed.
In the meanwhile, his second film, Pilla Nuvvu Leni Jeevitham, released last November.
Rey is finally releasing on Friday, March 27.
Sai Dharam, nephew of Chiranjeevi, talks about Rey, his debutante co-star Saiyami Kher and his future projects.
Are you happy and relieved that Rey is finally releasing?
Yes, I am very happy and much relieved, more so for YVS garu (director YVS Chowdary).
How did you come to sign Rey?
I was playing cricket at a friend's place and YVS garu saw me and asked me if I would act as a hero.
I told him my family is taking care of it. He asked who my family is. I told him I am Chiranjeevi's nephew.
When I was on an acting course in Vizag, under Satyanand, YVS garu contacted my uncle Kalyan (Pawan Kalyan).
With the consent of my uncles, I got to do Rey.
What did you like about the story?
Basically, it was the characterisation. It was a loud and vibrant character who initially looks negative but there is a gradual change in him as he becomes goal-oriented and hence focused.
He works hard. I liked that.
What were your preparations for the role?
YVS garu gave me some references of films of Will Smith and music albums of Chris Brown to understand the body language.
Then we discussed how to go about it. That was my preparation for the role.
Is Rey set in the West Indies?
The first half is set in the West Indies, while the second half is set in the United States of America.
The film's shooting went on for a long period of time (it was launched in Dasara 2010)...
It was shot over a year. Just after we began the shoot, I fell down during a song sequence and was out of action for three-four months.
Then YVS garu was busy producing Nippu (which released in 2012).
We started after that and shot it in one year. So by 2013, it was complete.
Did you have to do any difficult dances/stunts in the film?
The climax song is an eight-minute long sequence which was shot over 35 days.
There was a lot of preparation for it. We practised for 25 days.
Choreographer Prem Rakshit and director YVS garu worked extensively for it.
What are the highlights of the film?
The climax song, the interval songs and the other songs, the hero's characterisation are the highlights!
The film has comedy and the navarasas. It is like a full meal!
Saiyami, your co-star, is also a newcomer. What was it like working with her?
We worked together for a long time - two years altogether – so we became friends.
She is fun on the sets. Whenever there was a lunch break, we both went off to play cricket!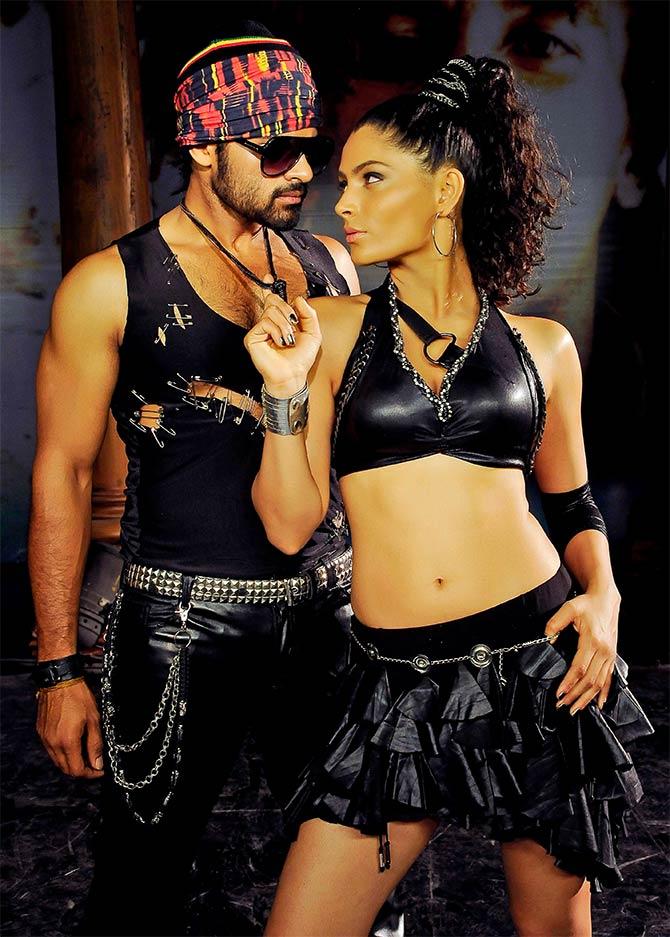 Image: Sai Dharam Tej and Saiyami Kher in Rey
Why was this song on Pawanism added recently?
YVS garu saw Chennai Express, where director Rohit Shetty had paid tribute to Rajnikanth with a song.
He was impressed with it and did it here for Pawan Kalyan.
Have your uncles Chiranjeevi, Naga Babu and Pawan Kalyan seen the film?
None of them has seen it. For that matter, neither have I, after I dubbed for it.
How do you feel as the day of release is nearing?
It's like the first day of school!
Your second film Pilla Nuvvu Leni Jeevitham, which released first, fetched you acclaim...
I feel great. I received some feedback regarding my hairstyle, dressing and my acting in some sequences, which some felt was amateurish.
I will work on the negative aspects to better my acting.
Your third film is Subramanyam For Sale...
The shoot is going on. It will go on for another two-and-a-half months.