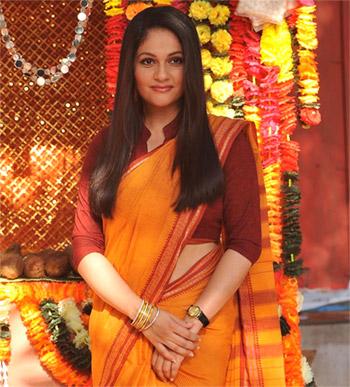 'I did not face the camera for two-three years. I was busy and happy even when I was not acting.'
Gracy Singh tells us what she's been doing.
Gracy Singh, who has been a part of some of Bollywood's most loved movies like Lagaan and Munnabhai MBBS, gave up her movie career to pursue her dancing dream.
The actress made a comeback with Kamal R Khan's 2008 film Deshdrohi but it tanked and Gracy disappeared again.
Now, the 35-year-old actress, who shot to fame with the 1997 television serial Amanat, returns to TV with the upcoming mythological show, Santoshi Maa. Gracy will play the title role. The show will air from November 30, Monday to Friday, at 9 pm on &TV.
Gracy talks to Rediff.com contributor Rajul Hegde about her new show and what she's been doing all this time.
What brings you back to television?
I think it's everyone's love that I am back on television (smiles). I always wanted to do a show which has a message or makes a difference to the society.
When this offer came to me, I instantly agreed because I was looking to return to TV with a show like this.

What connected you to this show?
I have been performing classical dance dramas of devis in my dance troupe, which I started six-seven years back. I have enacted nine devis on stage, including Santoshi Maa. So there was an instant connect.
I felt this part of Santoshi has not been explored on television.
The makers might even incorporate my dance in the show; we've had discussions about that. Portraying a goddess on the small screen is extremely challenging but also satisfying.
I am a believer myself and given the competitive environment we are in, I don't let negativity affect me. I take time off to relax and enjoy and be content with what I have achieved. That's what the show is also about.

What have you been doing all this time?
I was making and directing dance ballets and classical shows. I did not face the camera for two-three years. I was busy and happy even when I was not acting.
I have joined the Brahmakumari organisation. We preach spiritual messages and this show is also themed around mythology, so the subject is close to my heart.

Since you are a classical dancer, did you ever think of taking part in a celebrity dance reality show?
I have watched a few shows, which are good. I had got many offers but competition in reality shows don't interest me.
I enjoy live performances and getting an instant reaction from the audience.
Also, I would like to promote Indian classical dance form because it's like a meditation which requires lot of focus which is good for both mind and heath.

Do you follow any shows on television?
No.
I used to follow Devon Ke Dev Mahadev in bit and pieces as I had heard good things about the show. Actually, I got the inspiration from there to do spiritual kind of show like Santoshi Ma.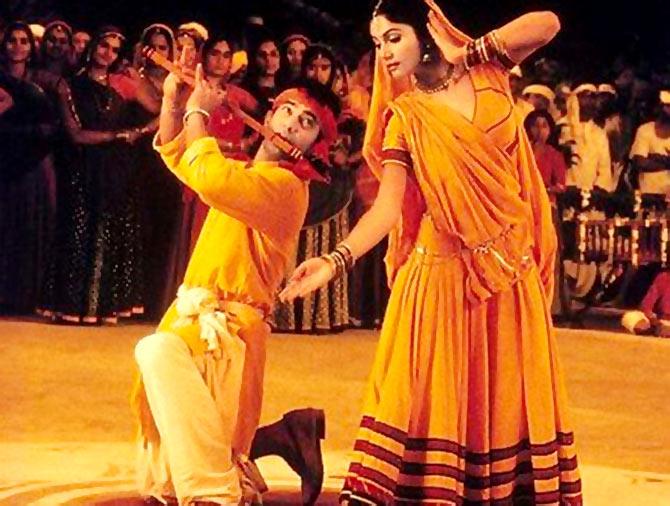 Image: Aamir Khan and Gracy Singh in Lagaan
You were part of big films like Lagaan, Munnabhai MBBS, Armaan and Gangajaal but nothing good after that. What went wrong?
I was never too ambitious. I was fine with whatever I chose to do. It was very chaotic around me and I wanted peace with myself.
Also, my childhood ambition was to have a dance troupe and a career in classical dance. I gave my first stage ballet performance in 2006, continued in 2008. I want to concentrate on one thing at a time. Now I have selective and talented dancers in my troupe.
I did get film offers after that, like one Bengali, few Telugu and Punjabi films. I have done two-three Hindi films which are yet to release.

Tell us about them.
I play a nun, someone like Mother Teresa, in this movie called Gandhi the Hero. The story is written and directed by Miraq Mirza.
We have finished a major part of the film. It is about his moral teachings, values and how the youth of today can incorporate those in their lives to create a better society.