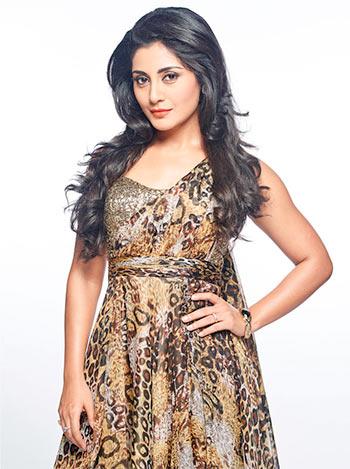 'I did not come on Bigg Boss for visibility.'
'I haven't worked for the last three years. Now, I want to work on a different level; I'm thinking of directing.'
Rimi Sen is finally out of Bigg Boss!
After weeks of no-show on Bigg Boss 9, Rimi Sen has finally been evicted.
The actress was 'desperate' to leave the house but surprisingly, when Bigg Boss offered the contestants a chance to exit, she preferred to stay back.
Her lack of interest in the tasks and in the show did not go down well with host Salman Khan as well, and he made his opinion quite clear. But she still did not change, and remained, in Sana Khan's words, like a 'dead fish' in the house.
Rimi Sen talks to Rediff.com contributor Rajul Hegde about her stint on the show.
What reactions have you been getting outside the house?
I have been getting mixed reactions from people. Some said I did the right thing and others said it was wrong. But I am glad that I am out of the house. It's no less than a jail.
The two to three weeks that I spent there taught me to value relationships and my freedom. I never wanted to push my limits or stay in the house till the end and win the show. I was in the show for the experience. I was just relaxing, without getting into arguments and fights. I was living like how I would live in my own home.
You were aware of the format of the show but you did not make an effort to be enthusiastic during the tasks.
The fact that I had gone into the house to stay with 13 strangers was a task in itself. I participated in all the tasks except one, and did them only till I was comfortable. My attitude was not to win; I did it for fun.
On the show, you said your 'bank balance is increasing.' Was that a strategy, like the contestants said?
I came in without any strategy.
Actually, I got tired of saying I want to go home. So to make myself happy, I said at least my bank balance is increasing while I stay inside house. Had it been any other game show, it would have surely required me to work rigorously. It wasn't the same in Bigg Boss, as they take care of all the contestants.
Why didn't you leave the house when Bigg Boss gave you a chance?
I didn't want to take any dramatic step by leaving the house. I wanted to be evicted through the normal procedure.
Everyone asked me why I didn't leave the house but Bigg Boss had mentioned that whoever disrespected the show should leave from the main gate. I never disrespected the show. Whatever I used to do was in fun. Or else, they would have directly asked me to leave the house.
Were you on the show for the visibility?
I did not come on the show for visibility. If there is no work, I just disappear. It doesn't matter to me. Visibility is my last reason to hog limelight.
I like to work behind the scenes.
I haven't worked for the last three years. Now, I want to work on a different level; I'm thinking of directing. For that, one requires brains, and not about how you can survive without food and water.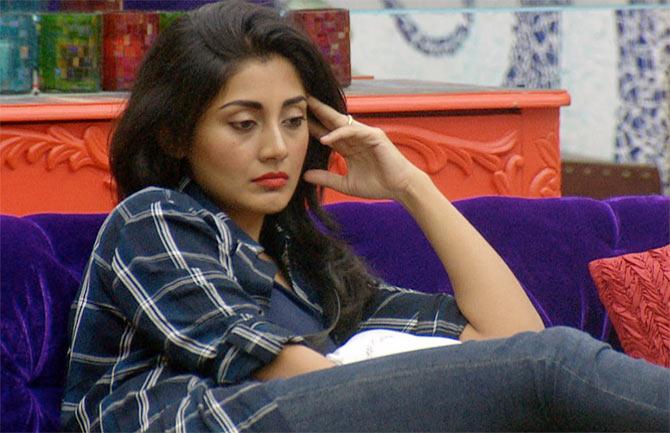 Image: Rimi Sen appeared bored through most of her stint in Bigg Boss 9
There have been reports that you were paid Rs 2 crores to be part of the show since they wanted a Bollywood face.
I don't want to discuss figures. I rejected the show for last three years but yes, this year they gave me a very good incentive. I don't know if they wanted a Bollywood face but I know (Bollywood actress) Minnisha Lamba was a part of the show before. Bollywood is not so open to coming on the show but slowly, they will come as well.
Who is your favourite contestant in the house?
Kishwar Merchant has a good chance of winning. She has leadership qualities and takes correct decisions.
Prince is cute, so he may also win.
Is there any housemate you don't want to meet again?
Mandana (Karimi) and Rochelle (Rao). They would talk all day and my ears would hurt! I wanted to run away from them.
Are you open to more reality shows?
I am done! I have had a reality check.
But on second thought, I will probably consider Khatron Ke Khiladi.