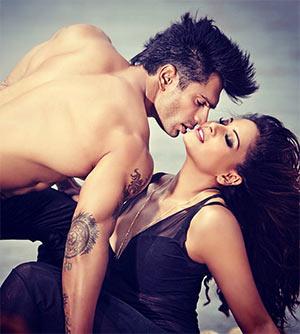 'I was working with a lady, who is dressed in a miniscule dress, and there are so many people around. If I screw up, I will end up making everyone uncomfortable.'
Television star Karan Singh Grover talks about his debut film Alone, and his co-star Bipasha Basu.
After playing a romantic doctor in the television serial Dill Mill Gaye, Karan Singh Grover will now romance Bipasha Basu in the film Alone.
Karan discusses his new film, and its intimate scenes, and his rough personal life, as Sonil Dedhia/ Rediff.com listens in.
Alone is your debut film. Are you nervous?
I am nervous as well as excited. I feel privileged to be asked to do this film.
Whether it is television, films or theatre, the media have been merging. Big superstars are doing television shows and television actors are getting into films and doing well.
Everyone is open to new people coming in with new ideas and fresh stories.
As a television star, is it difficult to act in a movie? Did you have to unlearn certain things?
There was a lot of unlearning. I don't know how long a serial will last and how long I will play that character. But with a film, you know the beginning and the end.
Also, television shoots last for 17-18 hours a day, so you become the character in real life too.
Initially, it was a little difficult to adapt, but slowly I got into the scheme of things.
You have a chiselled body in the film. Were you instructed to get the six packs?
It wasn't a requirement to be in the shape that I am in, but I thought it is my debut film and if I don't look my best, I will not be able to live with it.
I am shooting with Bipasha Basu, who is, according to me, the hottest actress on the block. So I had to look my best (smiles).
Are you a fan of horror films?
I love horror films. Shining and In the Mouth of Madness are my favourites.
In Hindi, Bhoot was freaking scary; it reminded me of the Hollywood film Omen.
Have you encountered any supernatural experiences in real life?
I had supernatural experiences when I was a kid. They were very disturbing. I don't want to talk about it.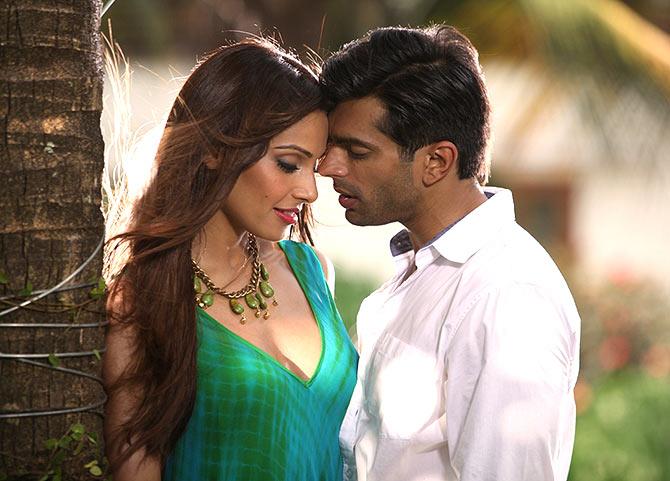 Image: Bipasha Basu and Karan Singh Grover in Alone
There are some steamy scenes with Bipasha and you in Alone. Did that make you feel uncomfortable?
I was quite comfortable doing the intimate scenes but I went through a series of emotions because I was doing that for the first time, and that too opposite Bipasha Basu.
I didn't want retakes because of me. I was working with a lady who is dressed in a miniscule dress, and there are so many people around. So if I screw up, I will end up making everyone uncomfortable.
Bipasha was very supportive and made me feel comfortable. I never felt awkward with her. She is immensely beautiful, and I am always in awe of her. She has a heart of gold.
You have been linked with Bipasha. Does that affect your relationship with her?
No, I choose not to get affected by what is being said about me.
One has freedom of speech and if a person feels a particular way about anyone then I can't say much about it. I just ignore it.
You are doing well professionally but not so much in your personal life. You recently filed for divorce from your second wife Jennifer Winget.
Yes, Jennifer and I are getting divorced but that has nothing to do with my professional life. My personal life isn't connected to my professional life.
Unfortunately, the whole whirlwind that is happening in my life has come at a time when I am kick-starting my Bollywood career. I cannot do anything about it.
When was the last time you spoke with Jennifer?
Jennifer and I are not on talking terms.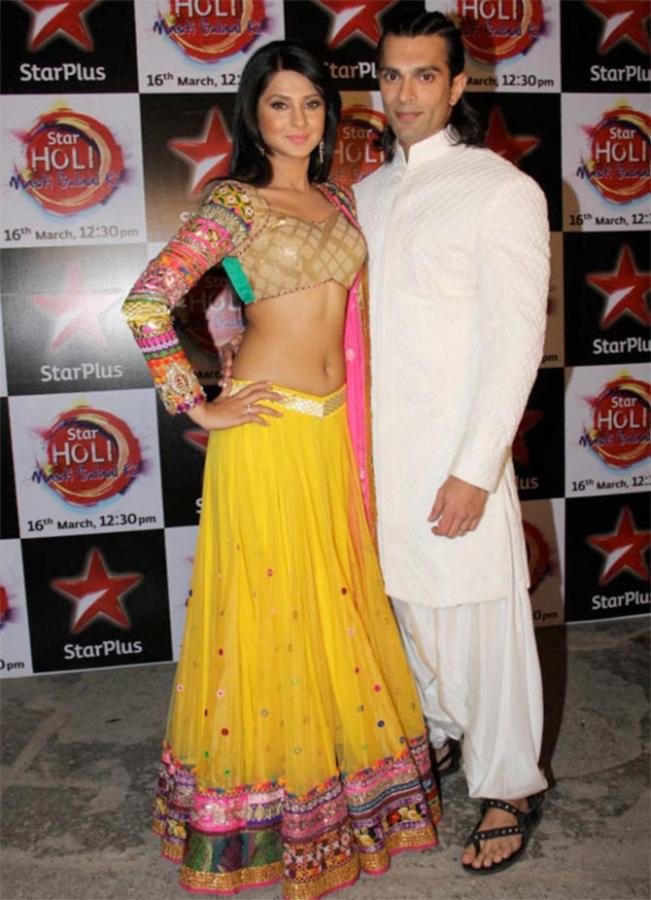 Image: Jennifer Winget and Karan Singh Grover
Will you be more cautious about relationships now?
I am actually thinking very strongly to not be in any relationship. I have faith in relationships, but I want to stay away from that for some time.
What are your future projects?
As of now, nothing is on the cards. I have a three-film deal with Kumar Mangat. I would love to do action films and comedy.