'I have some more things to do on this planet that will make me happy.'
'Just because I have become a grandfather doesn't mean I am ready for retirement.'
Boman Irani gets ready for a new phase in his life.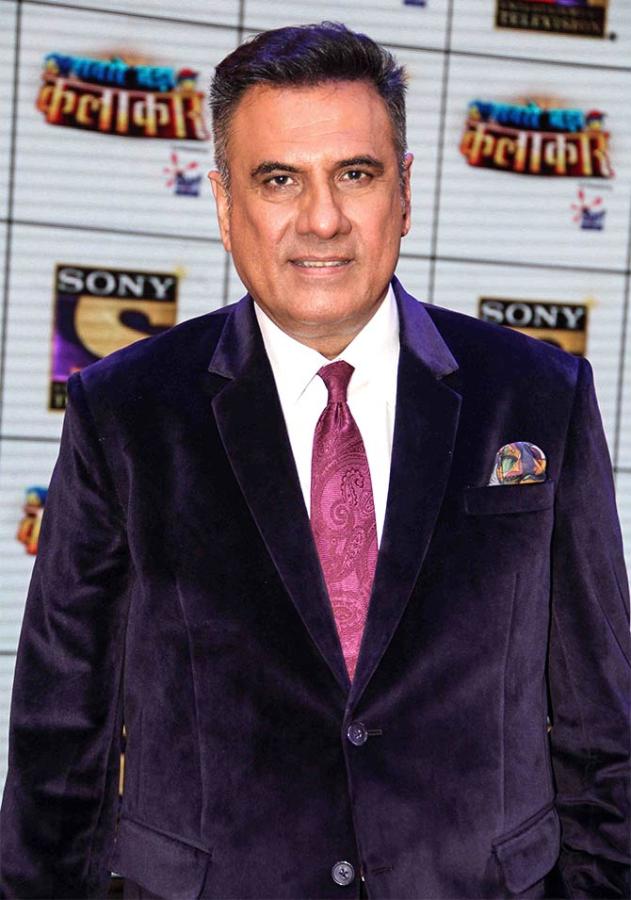 IMAGE: Boman Irani. Photograph: Pradeep Bandekar
Boman Irani is all set to judge children in a reality show called Sabse Bada Kalakar along Raveena Tandon and Arshad Warsi. This will be his television debut.
Boman tells Rediff.com contributor Rajul Hegde who his favourite kalakars are, and which of his films he's really proud of.
Who is the Sabse Bada Kalakar of Bollywood?
Well, I have had my heroes and inspirations over the years.
When I was a youngster, Balraj Sahni was and still continues to be my greatest inspiration. It kind of hurts me when sometimes the press asks me who (he was)? He was one of the finest actors to have graced the screen.
I am very close to his son Parikshit Sahni because I get to learn a lot about him.
I was watching a film called Anurag in a theatre. Suddenly, a hand-written slide popped up that Balraj Sahni was no more. My god, the entire audience started yelling! That was a great loss. Calling him a kalakar is not right.
Dilip Kumar, Amitabh Bachchan, Naseeruddin Shah and Shah Rukh Khan are all rounders.
I am very impressed with this young man, Ranbir Kapoor.
These are the people I am looking forward to working with.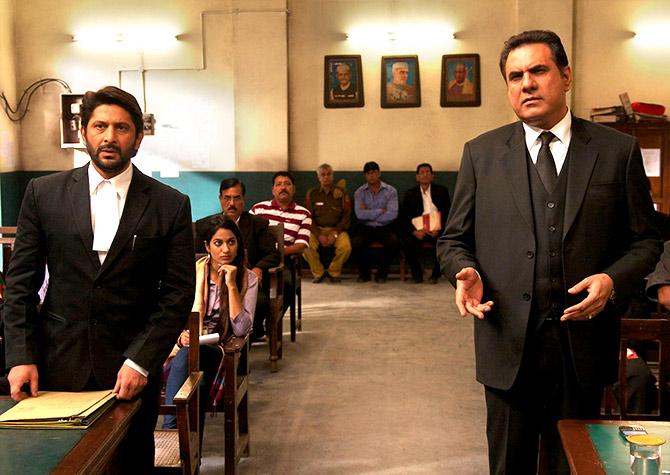 IMAGE: Arshad Warsi and Boman Irani in Jolly LLB
How was it to re-unite with your friend and Munnabhai and Jolly LLB co-star Arshad Warsi, who is also a judge on the show?
Arshad is a happy person and great fun to work with. I like people who have positive energy.
Is it difficult to judge children on a reality show?
People think it's difficult to talk to children but I don't think so.
Children understand certain things better than stubborn adults because they are open to learning.
If you tell a child something, they will apply it.
Plus, I don't think it's only about finding actors. The top 10 kids may not become actors. We don't have to force them to become actors. This is an experience for them.
These children are so energetic, I don't feel tired at all.
This morning, I said in one of my comments, what kind of lucky people are we? We are being paid to sit on nice comfy chairs, in an air-conditioned room, and watch such beautiful things happen in front of us. I don't think there is a job that can get luckier.
We are the luckiest people in the world to experience good acting, good children and lovely stories that come from the parents. There are tears sometimes, we will get to see what hardship is about, where people have come from or what they have gone through. These are life's experiences. I am very lucky.
Will the parameter be different for judging children?
We should judge them like anybody else, why should we judge them differently? Tell them the truth, let them know what honestly is because kids respond to that.
But be polite, don't say it rudely.
How were you as a child?
I was a quiet kid; never opened my mouth till the age of 10. Then something happened and I become a tyrant! (Grins)
I have always been a late bloomer. I was a waiter for a couple of years and a shopkeeper for 10-12 years. Then, I decided that the creative person in me should not be stifled.
So I started theatre at the age of 35, and acting (in films) at the age of 44.
I still feel that all my wishes have not been fulfilled. I have some more things to do on this planet that will make me happy.
My mother was a single parent, as my father passed away before I was born. She was both father and mother to us. I was not so inclined academically so when she saw the performer in me, she encouraged me to watch movies. She does that even today. (Smiles)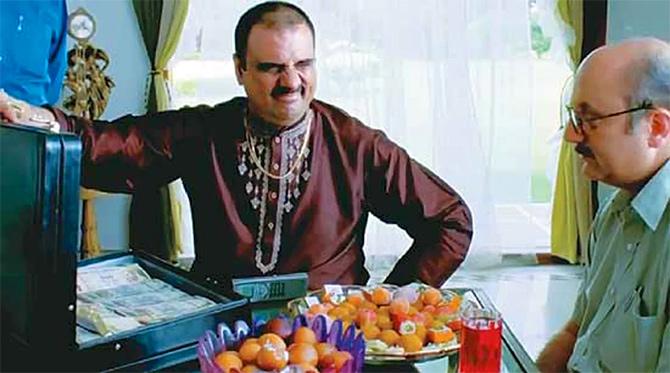 IMAGE: Boman Irani and Anupam Kher in Khosla Ka Ghosla
You have done some brilliant films. Which is the closest to your heart?
Munnabhai is very close to my heart because it set me off on a journey. I know I could have done better in that film because I was raw and just going with my instincts then. It was special because I made a good friend in Raju (Rajkumar Hirani, director).
Khosla Ka Ghosla was very important for my career because it was a challenge. Till then, I had played only anglicised characters who lived in South Mumbai. I wanted to break that audience perception that I was comfortable in only that.
I met so many people at a party in Delhi; some of them were in Khosla Ka Ghosla also. They told me, 'Hum ne bhi audition diya tha Khurana ke role ke liye. Bura lagata hai.'
I asked why?
They said, 'Aap Parsi hai. Suppose there is a Parsi role and they give it to us, how would you feel?'
I said yes. Imagine a biopic of Ratan Tata given to someone else. I would have said I will do it.
So I promised them that I would work hard and not make them feel let-down as a Delhiwala. That was a challenge and closest to my heart.
Everybody loved your character Dr Viru Sahastrabuddhe in 3 Idiots.
I was surprised by that.
By then, my relationship with Raju was like ghar ki murghi dal barabar! Raju was excited about other things, not me. While playing Dr Asthana, he would say nice things but he did not say one encouragement during this film (laughs).
When the film released, I was in Bangkok with my mother, at a dolphin show. I had forgotten about 3 Idiots.
Parikshit Sahni called me and told me that his daughter from Singapore told him that she had a wonderful feeling about my character. I won't say what she said because praise embarrasses me. But she said something very lovely. I started crying.
Then I realised something good had happened.
Today, I realise that children also identify with this character because it's a spiteful one. They imitate him.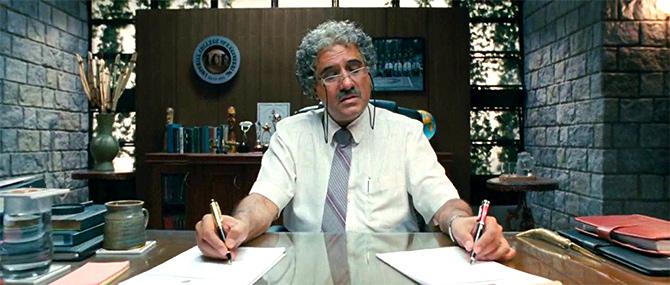 IMAGE: Boman Irani in 3 Idiots
Director Raju Hirani has announced the third installment of the Munnabhai series. Are you a part of it?
Of course.
During the making of PK, I told him if there was no big role for me, make me do anything. So I had these three little scenes, where I stand in the background. I didn't mind it.
I am not in Sanjay Dutt's biopic, but there is a clip of Munnabhai MBBS that plays in that film, so I will be there as Dr Asthana.
You are an inspiration to many, as you started acting at the age of 44.
If that's an inspiration, then I hope that I can inspire people by even doing something different at 57-58.
I started learning writing at the age of 54, whether it's good or bad I don't know. But I have invested time and learnt from scratch -- understanding what is to be done, putting it on paper and then directing it. If I direct a film at 57 or 58, that should hopefully be inspiring.
Just because I have become a grandfather doesn't mean I am ready for retirement.
What next?
I am doing Dharma Production's Drive. It will be directed by Tarun Mansukani.
I did not have any release last year as I took time off to write.