'I have been tagged the next superstar for a long time, but I have not reached that stage.'
'So it's very important to accept your failures, not be in denial.'
'Those films happened because I chose them.'
'Nobody put a gun to my head and asked me to sign them.'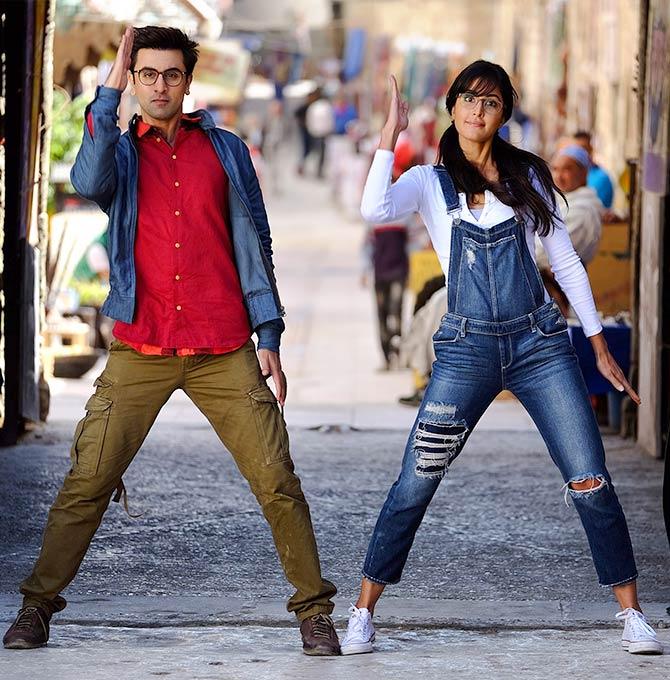 IMAGE: Ranbir Kapoor and Katrina Kaif in Jagga Jasoos.
"When I am not shooting, I grow a beard. I feel too lazy to shave," Ranbir Kapoor explains his unshaven look as he settles down to discuss Jagga Jasoos with the media.
He speaks softly throughout, and makes sure to answer every question systematically.
Directed by Anurag Basu, Jagga Jasoos also stars Katrina Kaif.
Ranbir discusses his failures, his father's controversial tweets and why Jagga Jasoos's release got delayed.
Rediff.com's Patcy N listens in.
Jagga Jasoos has taken over three years to be made. Was it tiring?
Even if it had finished in three months, it would have been tiring. Because it took three- and-a-half years, it was mentally tiring because of the patience it required.
I had worked with Anurag Basu on Barfi!, so I was prepared for his working style.
Barfi! took two years, so this is his usual time.
But he does a lot of work for you; he prepares his actors with the camera, music etc.
I have had a good creative collaboration, so I was very excited to work with him again.
He works very hard, and is very passionate and inspiring on set.
He is always doing something new and challenging you.
He doesn't like rehearsals, so everything is improvised.
The situation is always out of the ordinary and you always surprise yourself as an actor.
But yes, it did test our patience, we did get frustrated, lost hope and tried to shelve the film.
We lost interest at some point, but I think what kept us going was Dada's persistence.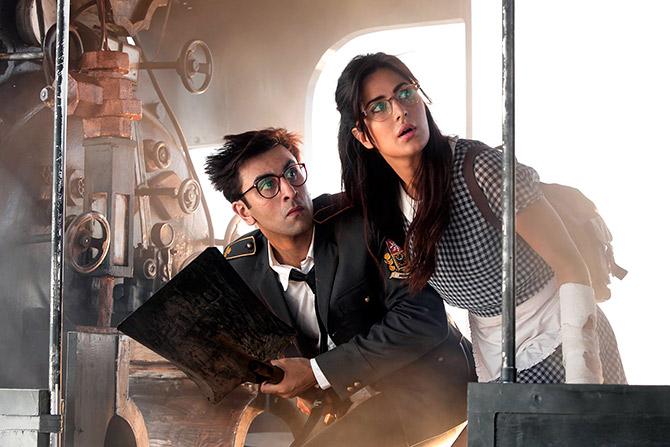 IMAGE: Ranbir and Katrina in Jagga Jasoos.
Anurag Basu doesn't give actors a script.
Yes. Actors are insecure, they need to know kya ho raha hai, main kya kar raha hoon, mera graph kya hai... but Dada doesn't work like that.
Saurabh Shukla and I had worked with him before, so we were prepared for this.
I think it was harder for Katrina because she was new to it.
It was not a challenging, intense, role.
It's a happy film, a positive film, so as a character, you don't have to work that hard.
Dada understands the Indian audience, the musical formats, performances and so many things that I blindly trust him.
The Indian audience is not used to musicals. Were you sceptical?
No. Actually, there was excitement that this is a true blue musical and adventure.
It encompasses the Disney prototype of movies like Sleeping Beauty, Bambi, Beauty and the Beast, Jungle Book... they are musicals, emotional, entertaining, they have family values...
This film is like a live action cartoon.
Dada made the film to appeal to children and a universal audience.
Of course, the risk factor is high because nobody has done that before.
But it's also exciting to break new ground.
We may fall flat on our faces, we don't know, but it is exciting for me as a producer and an actor to be a part of this film.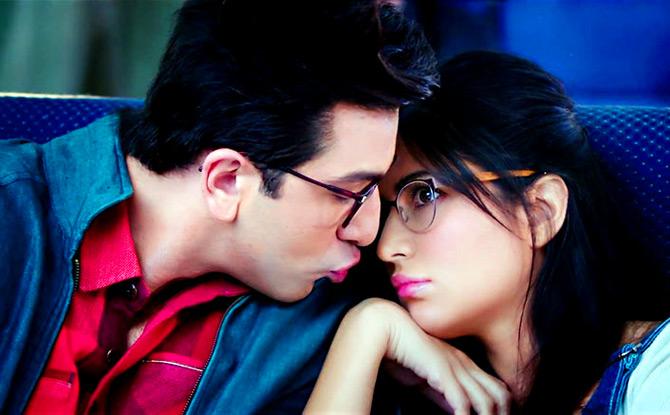 IMAGE: Ranbir and Katrina in Jagga Jasoos.
Was stammering in Jagaa Jasoos difficult?
I have done that before in Ajab Prem Ki Gazab Kahani.
Now when I see that, I cringe because it wasn't good.
Dada makes it easier with his characterisation.
I had to do lot of work for it. I worked with acting coaches to get the stammer right.
Because the film took so long, the character became second nature.
I could do it better.
Have you ever done jasoosi (detective work)?
As a child, when my parents would fight, my ears would be at the door to know kya ho raha hai.
When you grow older, you do jasoosi on your girlfriends.
More than an actor, I am a film fan.
I am most interested in what is happening in the industry -- like what is Rajkumar Hirani making, what is Amitabh Bachchan or Shah Rukh Khan doing...
I am interested in trade news.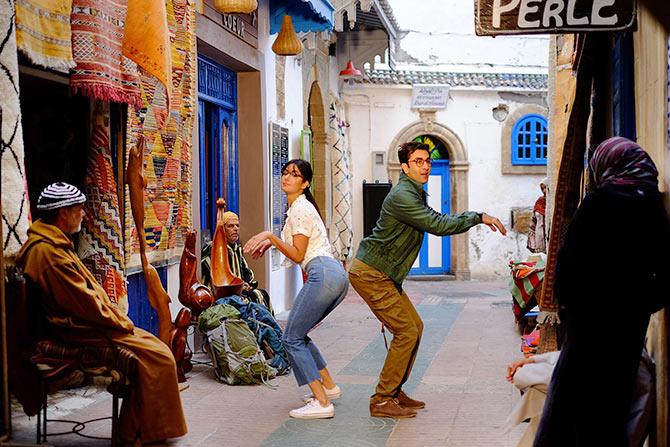 IMAGE: Katrina and Ranbir in Jagga Jasoos.
What made you produce Jagga Jasoos?
Initially, it was reported that you were planning to revive the RK Films banner.
Why didn't you make this film under the RK banner?
I will do that when I direct a film.
Anurag Basu's contribution to this film is way more than mine, so it's only fair for me to co-produce this film with him.
I did not want to take the entire credit of producing this film and that's why we started Picture Shuru Production for Jagga Jasoos.
We have made Jagga Jasoos like a franchise film and want to do other films related to this character and this format.
But it all depends on whether the film does well.
When do you plan to direct?
Before I became an actor, I went to film school because I wanted to be a director.
Then, I became an actor and found some success in it.
Every year, I say that I will direct a film in two years...
I can't direct until I have a story to tell.
I am not a writer, that's another shortcoming of mine.
I don't want to direct for the heck of it.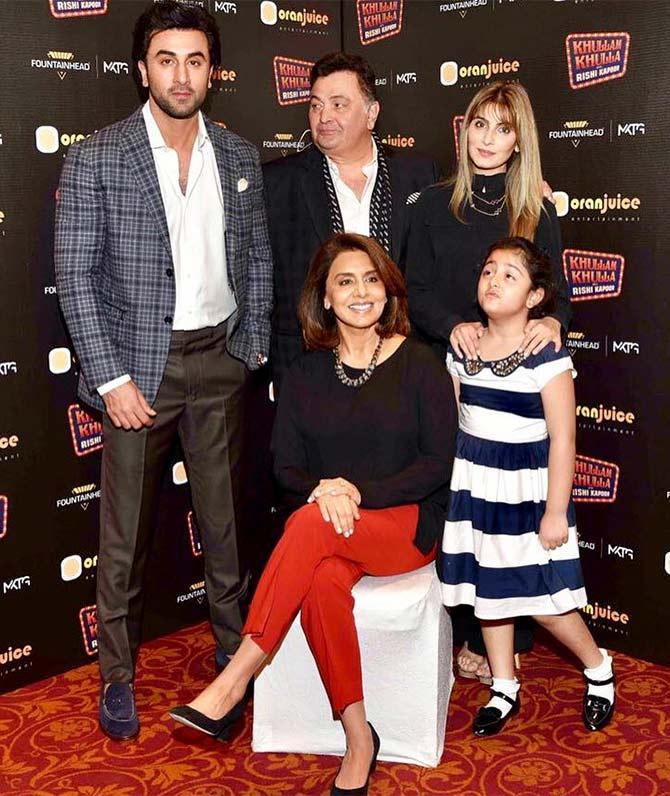 IMAGE: Ranbir with father Rishi, mother Neetu, sister Riddhima Sahani and niece Samara. Photograph: Kind courtesy, Neetu Kapoor
How did you parents react to your first production?
My father was completely against this process. He would take my case every time.
He would say, 'You are producing a film, you are not responsible. Why is it taking so long? Other people's money is involved. It's your own reputation and your money...'
I am an actor and that is my skill set.
I don't have the skill set of a producer to control things. That's a job I don't do well.
I am not the type to tell a director to finish a film in 50 days.
I understand filmmaking is hard and has a certain pace.
Eventually, when the audience sees the film, it doesn't matter how many days you took as long as the film is good.
Having said that, I think Jagga Jasoos was made in a fairly responsible way.
But it was a hard genre for Dada.
(Composer) Pritam also had a hard time because he had to understand the genre and give music which should be engaging and simple for the audience to understand.
At the same time, it should take the story forward.
How involved is Rishi Kapoor in your career?
Not at all.
He takes care of the financial side of my career because I don't understand that.
But creatively, he has never involved himself.
He pulls me up because I do a lot of risky films.
He wants me to do more Hindi masala films because that is the school of thought he has come from.
But if I follow that, I will fall flat on my face.
I have my own perspective on life, my own point of view, my own preconceived notions about certain things.
I follow my instinct.
Whenever I have tried to go by formula, like say Besharam, I have fallen flat on my face.
It's not something that comes naturally to me. I take riskier parts which are not heroic, but the deeds are heroic.
Those are the roles I connect with.
I like playing the underdog; I don't like playing larger-than-life heroes.
My mother is a healthier creative partner; I give her every script I get.
She has interesting things to say about them, not that she influenced me to take them up.
My father is over critical, so I don't think he can operate or plan my career.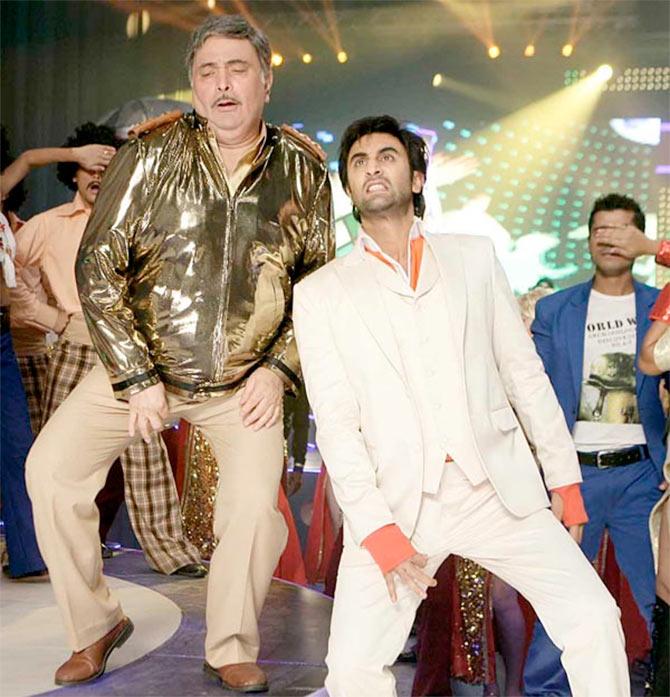 IMAGE: Rishi Kapoor worked with Ranbir in Besharam.
Do you think nepotism exists in the film industry?
Of course, it exists.
I am here today and I have got opportunities because of my parents, especially my father.
My father got opportunities because of his father (Raj Kapoor) and his father got opportunities because of his father's father (Prithviraj Kapoor).
If my children choose to be actors, I would like to give them a platform as well.
I will give them education and support them to follow their dreams.
It is my family business for the last 85 years.
Nepotism does exist and it may be unfair to those who are probably more talented than us.
For example, if (Argentinian footballer) Lionel Messi's son wants to become a football player, you want to watch him play because you want to see if he has his father's talent.
If anyone is accomplished in any field, you would want to see if his kin is as good. There's a curiosity about them.
Comparisons will be made.
I don't want to be a cry baby about the comparisons and the expectations.
I have been given a lot and I am very grateful.
I am grateful for the fact that I get to do what I love, grateful that my parents have given me a platform... but after that, it is your talent, your vision and your hard work.
Thankfully, I am not being compared to my family. I have my own style.
My father did not have (a certain) style.
There are certain actors who had a certain style and their sons tried to follow that.
But my father has always been a spontaneous natural actor, so you can't compare us.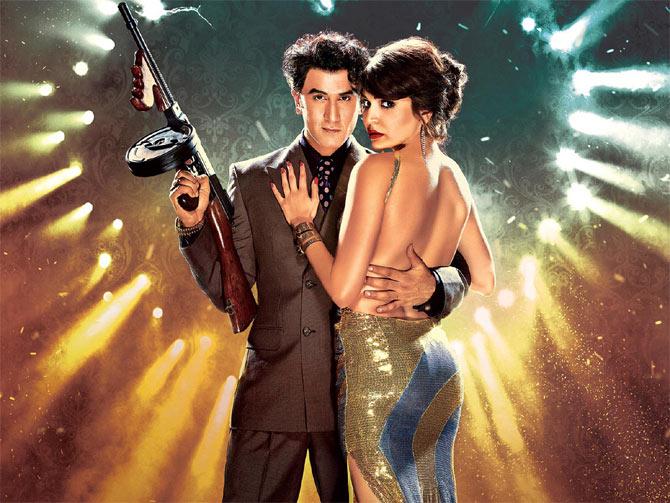 IMAGE: Ranbir and Anushka Sharma in Bombay Velvet.
When Besharam and Bombay Velvet failed, were you getting enough offers?
Yes, you are as good as your last film, but like I mentioned earlier, I got tremendous support.
People like my work. They understand my intention as an actor.
Premier filmmakers like Karan Johar, Rajkumar Hirani, Imtiaz Ali and Anurag Basu come to me.
So yes, I accept the failure, I have understood it.
It was a hard time, but also an important time.
The first few years of an actor... when they start, they are so young, they go with the flow, they get fame and adulation, and they don't think.
But when you reach a certain point, like say 10 years into your career, that's when the saturation point comes in.
How do you take it to the next level?
I have been tagged the next superstar for a long time, but I have not reached that stage.
So it's very important to accept your failures, not be in denial.
Those films happened because I chose them.
Nobody put a gun to my head and asked me to sign them.
When successful films have come to me, I have really not been affected.
I think with every hit film, every actor says, 'Phew bach gaye!'
I have survived for 10 years in this industry, and hope to survive for the next 15, 20 years.
I want to do good work. I wanted to become a superstar in this country.
Now when I have finished 10 years of my career, I admire the efforts of the Khans, Akshay Kumar, Ajay Devgn...
They have been delivering for so long, constantly reinventing themselves, giving their audience entertainment.
That is really admirable and very hard.
Do you feel bad when your films do badly?
No, I don't feel bitter at all.
The media has been amazing to me. They made me a star even before I deserved it.
My first film (Saawariya) was a disaster.
When I did good work, they applauded me.
So when I do bad films, they have the right to criticise me.
I know they have certain expectation from me.
Only a certain section of the audience liked Tamasha; the larger section did not connect with it.
When you make a film, you are not trying to impress five people. It is for the country.
A lot of people liked Rocket Singh: The Story Of A Salesman, but it didn't do well.
So I learnt very early in life that one cannot question the audience's taste.
Have you ever felt comfortable to display your vulnerable side on screen?
I have always had a natural inclination towards those parts.
I am an introvert. It's very hard for me to express myself in real life.
But cinema is my outlet. I have a purpose and a reason, so I find it easier to express myself emotionally.
I don't fear judgement.
I fear judgement in real life.
I have always been like that since I was a kid.
My mother always told me that if I got scared or if I saw a snake, I could never express it.
I would just feel a chemical imbalance in my body.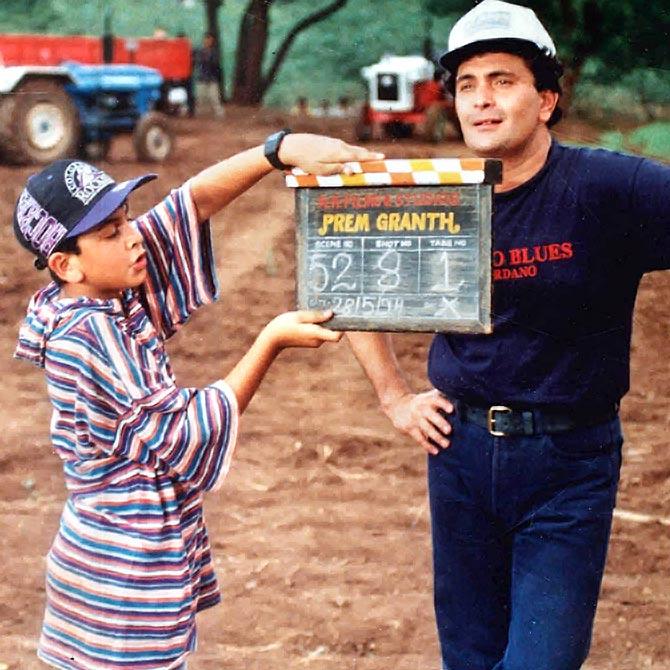 IMAGE: Ranbir gives a clap for dad Rishi on the sets of Prem Granth. Photograph: Kind courtesy, Neetu Kapoor
Your father is so vocal on Twitter.
I read them (Rishi Kapoor's tweets) only when there is a controversy (laughs).
My father is a very honest person. He says it how it is.
There are very few people who are not hypocrites.
He believes he is a normal citizen of the country -- he doesn't fear judgement whether it's a political statement or on entertainment, sports...
If he has a point of view, he will say it.
He gets into a lot of trouble. There is a constant morcha outside his house.
People troll him, hate him, my mother is constantly fighting with him, throwing him out of the room, he has to sleep in the other room!
But that's how he is. You just have to accept him the way he is.
He does not come from a negative space to hurt anyone's feelings.
He is just trying to express himself.
I admire that, but I can never be like him.
What made you take up the biopic on Sanjay Dutt?
Sanjay Dutt has been so honest about his life. He admits his mistakes.
We are not portraying a Gandhi-like character. We are portraying a fraud.
He is someone who is loved and disliked.
He is very controversial, but he gives his life so honestly to make a film on it.
It's very brave.
If I was in his position, I don't think I could be that honest about it.
I would make myself look like nice.
We are touching every aspect of his life -- from age 20 to 60.
It is different from Rajkumar Hirani's other films because he is attempting a biopic, which can be dark, but he makes a film for the universal audience.