The amazing Shraddha Kapoor on Rock On 2, acting as Dawood's sister and why she thinks journalists are unfair sometimes.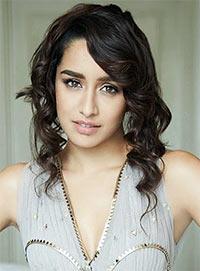 Shraddha Kapoor would love work with the Khans and is patiently waiting her turn.
But for now, she's super excited about her musical with Farhan Akhtar -- Rock On 2.
Shraddha, who has carved a niche for herself thanks to hits like Aashiqui 2, Ek Villain, Baaghi, ABCD 2 and Haider, tells Rediff.com Contributing Correspondent Rajul Hedge about what she loves about Rock On 2.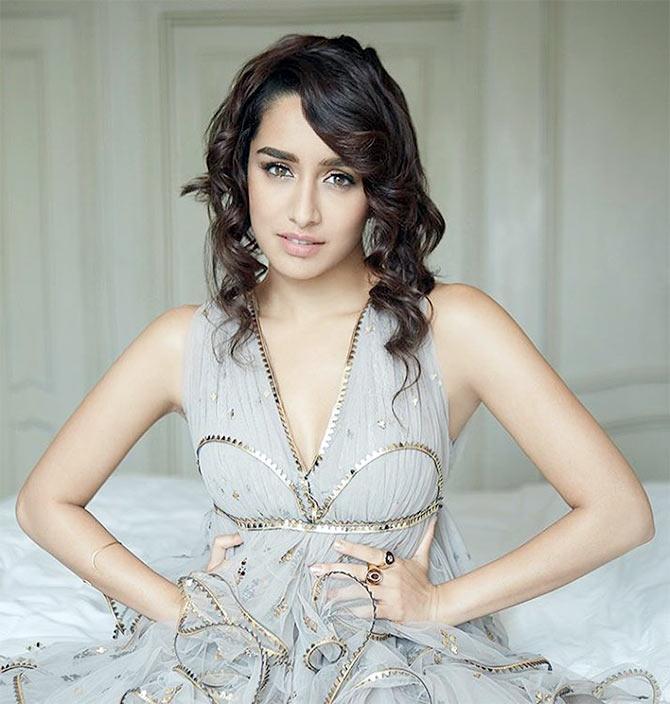 IMAGE: Shraddha Kapoor. Photograph: Kind courtesy Shraddha Kapoor/Instagram
Everybody is impressed with your song Udja Re in Rock On 2. Was it challenging to sing?
Udja Re is the most difficult song that I have sung in my life.
When I was a kid, I would train with my Nana -- classical singer Shri Pandharinath Kolhapure. He's no more, and I really regret not training more with him.
I did not continue with the training while growing up.
For Rock On 2, I was trained by Samantha Edwards, who is a jazz singer and vocal coach. She has a divine voice.
I had to hold my breath for long spells and take those leaps in the lines.
I had to be able to do that and didn't think I could.
Shankar-Ehsaan-Loy pushed me.
They were amazing and guided me throughout this experience.
You are a new addition to the cast.
All the characters have conflicts, but somehow, everyone's conflict is connected.
My character, Jiah Sharma is a keyboard player, programmer and singer. She carries baggage with her, but I cannot talk about it.
It's an intense film. I hope people like me in it.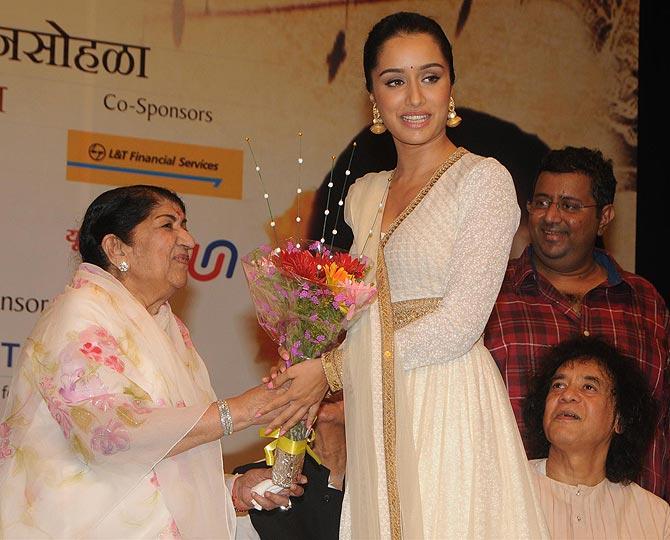 IMAGE: Shraddha honoured by grandaunt Lata Mangeshkar at the 25th Master Dinanath Mangeshkar Puraskar in Mumbai. Photograph: Pradeep Bandekar
Who has been your inspiration as a singer?
My very own grand Mausi Lata Mangeshkar.
Actually, she has been a bigger inspiration for my mom.
My mom (Shivangi Kolhapure) has the voice of an angel, which a lot of people don't know. She sounds like the younger version of Lataji. But she, of course, devoted her life for our (Shraddha and her brother Siddhanth's) upbringing.
Sometimes my mom and I just sing over a cup of tea.
She asks me to sing a different raga after her and I try. It's fun.
Will you sing for other actresses in the future?
I am happy singing for myself, but never say never for anything!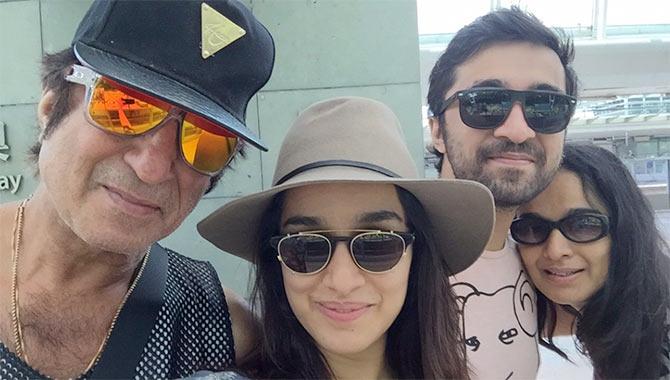 IMAGE: Shakti Kapoor with daughter Shraddha, son Siddhanth and wife Shivangi Kolhapure.
Will you come out with an album?
I don't know. I have written and recorded two songs in English.
I performed one of my songs at a Bangalore concert recently. Right now, I am caught up with lovely movies.
How has your family reacted to your fame?
It's nice to see them feel proud.
Sometimes, randomly, my father sends messages late at night saying, 'Hey, I am really proud of you.' That feels great.
I hope I keep getting those messages. Today, I got one from my friend who doesn't say nice things to me. I felt good.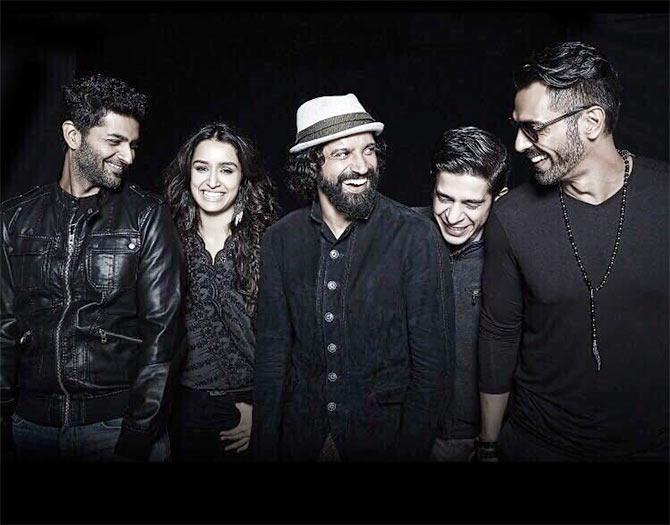 IMAGE: Purab Kohli, Shraddha Kapoor, Farhan Akhtar, Purab Kohli, Shashank Arora and Arjun Rampal. Photograph: Kind courtesy Arjun Rampal/Twitter
How was it working with Farhan Akhtar, Purab Kohli and Arjun Rampal? Would you like to be directed by Farhan?
I would definitely want to be directed by him!
Dil Chahta Hai was one of my favourite films.
I loved Lakshya.
He is so passionate as an actor.
He is so talented as a writer, director and producer.
'It is sad that when an actor is giving an interview, the headline is related to the link-ups.'
'It's unfair and makes me feel like all the effort is wasted -- the fact that I spent 66 days shooting for the film and 77 days preparing for it is something I want to share, maybe that needs acknowledgment.'
Working with Purab, Arjun and Shashank has been amazing.
Shashank and I were the two new entrants in the band. Purab, Arjun and Farhan knew each other well; they have that bond from the first Rock On. But they welcomed Shashank and me with lot of warmth.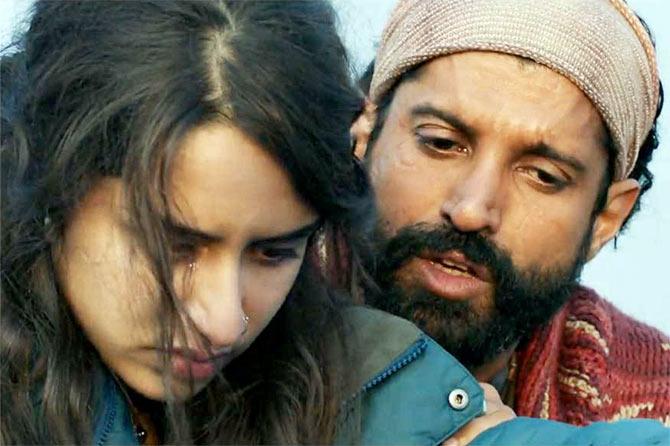 IMAGE: Shraddha Kapoor and Farhan Akhtar in Rock On 2.
How do you handle link-up rumours? The most recent one was with Farhan.
I wonder where these things come from. Are reporters writing to get eyeballs?
It is sad that when an actor is giving an interview, the headline is related to the link-ups.
It's disrespectful for the actor who is giving so much time.
We give our lives to our films.
We give interviews so that we can talk about our films. It's unfair and makes me feel like all the effort is wasted -- the fact that I spent 66 days shooting for the film and 77 days preparing for it is something I want to share, maybe that needs acknowledgment.
At the end of the day, we are also humans.
We have parents and are answerable to them. I wish there was more responsible journalism.
You need to be empathetic toward actors.
The family pacifies me by saying it's a part and parcel of this profession. But I feel bad when such articles appear.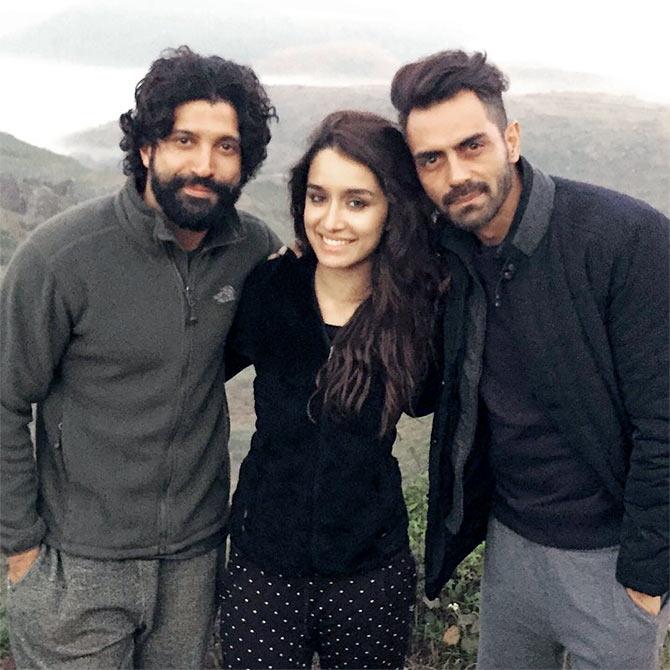 IMAGE: Farhan, Shraddha and Arjun after a whole night shoot in Shillong. Photograph: Kind courtesy Arjun Rampal/Instagram
Tell us about shooting in Shillong.
Everyone must visit Shillong in their lifetime. It's so beautiful and green. The air is so pure. They hardly have any tall buildings.
They have cute little villages, which are very clean.
The experience in Shillong was out of the world because we got to see the place and visit the homes of the villagers. Their houses are so clean.
Shillong is the rock music capital of our country. So it was nice that we got to shoot there.
Which was your favourite song as a child?
I would sing Pani Pani Re from Maachis. I sang it for a (Jamnabai Narsee School) annual function.
I got the third prize, but wasn't happy about it.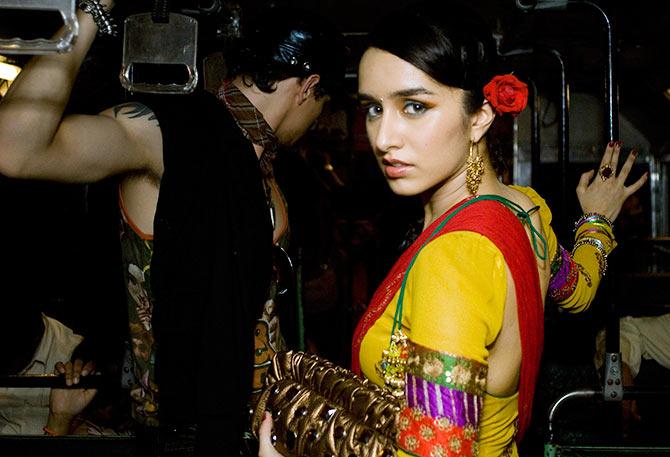 IMAGE: Shraddha in her debut film, Teen Patti.
Your debut film Teen Patti did not do well. Did you ever doubt about making it big in the industry?
There was a moment when nothing was going right.
I am blessed with a great support system at home.
When your confidence is low, they bring it up.
I know my films have done really well, but I also know that my run may not be forever.
Will we see you in a Marathi film?
It's amazing that Marathi films are doing so well.
Unfortunately, I have not seen the ones that have done well. I would love to do a Marathi film if I get a nice script, but I have to polish my Marathi.
You play the title role in Haseena: The Queen of Mumbai, Dawood Ibrahim's sister. Do you regret not meeting her?
I wish I could have met her. It would have been nice to know how she was. It's the story between a brother and a sister, which not many know about. I will watch footage and try my best. I will be meeting her family.