'I want to go back to India after my success here.'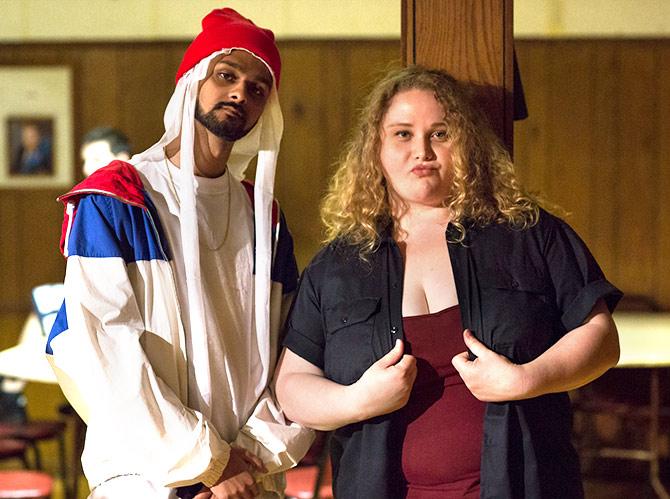 Siddharth Dhananjay wants an O-1 visa.
The 24-year-old Thiruvanathapuram-born, Jakarta-raised, Iowa-educated, actor has a major indie film coming up in the US.
Fox Searchlight's Patty Cake$ has already been the darling of the Sundance, SXSW and Cannes film festivals.
The film -- a coming of age story about an unlikely groups of three friends -- Patti (Australian actress Danielle Macdonald), an overweight New Jersey waitress who dreams of becoming a rap star; her BFF Hareesh (Dhananjay), a pharmacist by the day, who shares Patti's dream and adopts a rapper name Jheri; and a mysterious African American man Basterd (Mamoudou Athie), who provides the technical support to the group and is also Patti's love interest.
We root for all three of them even when the film tends to follow a familiar track.
With its amazing soundtrack, terrific performances, Patti Cake$ is a warm hearted, entertaining film that should win a large audience.
For Dhananjay, a joke of sorts led to Hareesh.
While studying at Grinnell College, a liberal arts institution in Grinnell, Iowa, Dhananjay and two of his friends made a few videos that spoofed rap musicians.
The videos are still available on YouTube where the actor goes by the name of Dhananjay the First.
The videos were a hit, and Dhananjay was contacted by the team behind Patti Cake$, then a project at the Sundance Lab.
They wanted the young Indian to come to Park City, Utah, to audition with Macdonald.
Following the audition, Dhananjay spent a year in New York doing odd jobs at ad agencies, working on his OPT (Optional Practical Training) visa.
The visa expired after a year and Dhananjay moved to Bangalore.
Eventually, he heard from the film's team.
The project was on.
But for Dhananjay to work in the film he had to get an O-1 visa, given mostly to artists and other creative people.
When he failed to get the visa, the film's producers (they are also the team behind The Beast of the Southern Wild) managed to secure Dhananjay an O-2 visa, making a case that his work in the film was a vital support to Macdonald's character.
Hollywood and casting agents are already noticing Dhananjay in the film. But he has an Indian passport and without an O-1 visa, he cannot get any more acting work in the US.
Aseem Chhabra spoke to Dhananjay on the phone as he was promoting the film in New York, basking in the limelight.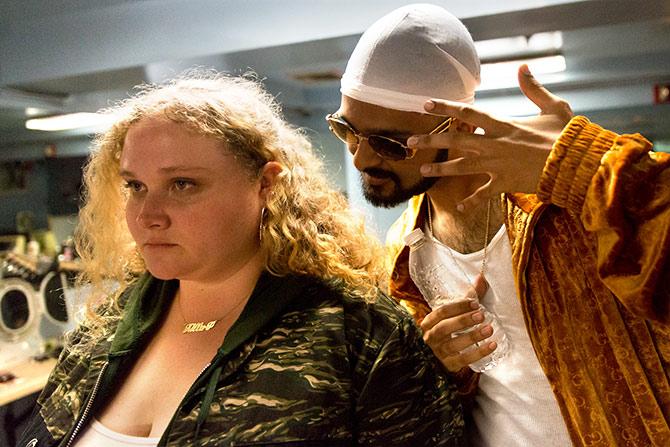 This is such a winning, happy film. You were really cool in it. Are you enjoying this overnight celebrity status?
Yeah, definitely. I am squeezing it out to the last drop.
No, but seriously. How many people land a major role in an indie film with Fox Searchlight, while they are in Bangalore?
What were you doing in Bangalore?
I was staying with my aunt.
I was basically faking trying to find a job because I was hoping this movie is going to happen.
I was hanging out with my friends. Just chilling.
What was the gap in the time period from when they auditioned you to the time when they said the movie was on?
I was about to graduate from college in the summer of 2014, that's when they called me to the Sundance lab.
I went there for a week. But I had no idea if the movie was going to be made or I would be cast in it.
I was then in New York interning at ad agencies until my OPT ran out and I had to leave for India. It was almost two years.
The film worked out. What does it feel?
You were leading a normal life in Bangalore and then this happened. This is what fairy tales are about.
Yeah, definitely.
I haven't even had the time to step back and think about what's happening.
It's just been one thing after another. So I am taking it one by one and having a good time.
This is a first time for me for all of these things. It's still very exciting to me.
I hope it's like this forever.
It was incredible being in Sundance and Cannes and have people love the movie as much as we did working on it. It was overwhelming.
I can't really watch the movie objectively at all.
I look at it as the fun time I had last summer.
I have this fake it till you make it attitude, pretending this is not the first time I am doing it. That's worked out for me so far.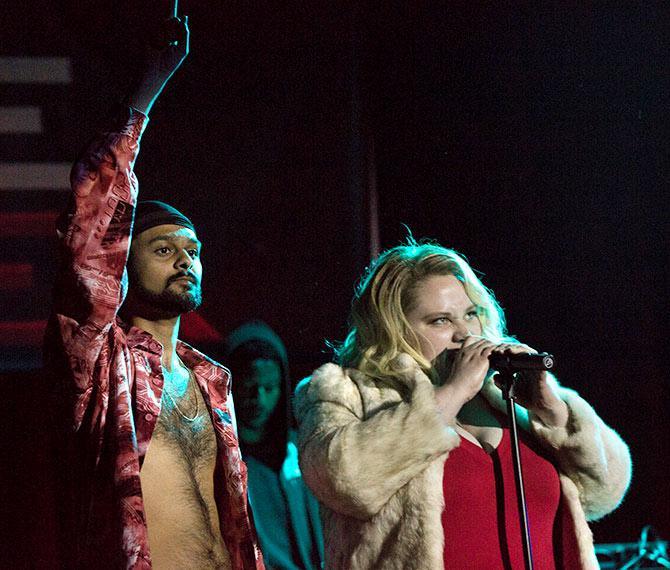 I saw the Dhananjay the First videos on YouTube. Those are really cool.
Were you a fan of rap music? How did you decide to do a spoof, instead of wanting to become a rap musician?
It was two of my friends and myself. We were always poking fun at rap videos and its fans.
We knew we weren't good enough like the other rappers. It was a smarter and easier to play off.
There wasn't must more thought to it.
We had the flow, got the beat and made the videos.
It was a fun thing we did on the side in college. We never thought it would become that big.
You stopped making those videos now, right?
Because we can do them when we are together. Now Matt is in New York and Lucas is in Chicago.
When we are back together, maybe we will continue.
You learned to become a rap singer and also got the New Jersey accent for the film.
Well, when I am here, I have an American accent.
When I am talking to someone from home, I have a normal Indian accent.
I didn't have much trouble putting on a New Jersey accent. That was easy for me.
Even playing the crazy rapper person was easy since I do that in the videos.
I think the challenge for me was finding the human being in Hareesh, the best friend who loves Patty.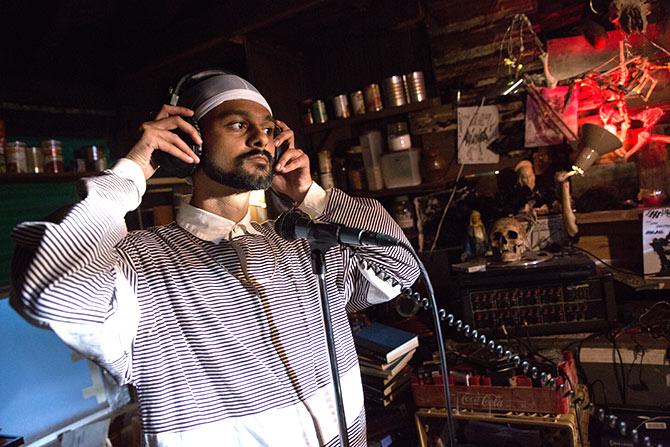 Tell me the experience of shooting.
It was 28 days. We shot it last summer.
In New Jersey?
The problem is that New Jersey as a state doesn't give much tax breaks.
So we shot all the interiors in New York. When we needed the exterior shoot, we went to Jersey.
After the 28 days, you were back in India?
Yes. Again I was chilling, which is perfect.
I was waiting for the film to play at Sundance.
Explain the chilling part. You had decided, this is it, you want to become an actor now?
Yes. While making the movie, I sort of realised I had not felt like doing anything else in my life.
I was working for ad agencies because I felt I had to do something and acting spoke to me really in a deep way.
You have signed up with an agency, Colin Stark Management. Are scripts and offers coming your way?
Well, I have been auditioning, reading scripts, and meeting casting directors.
The main thing is I need my O-1 visa. Nobody can employ me until I have an O-1 visa. That's my project now.
Which roles have you auditioned for?
I am going for everything.
I had never auditioned before, so it is a whole new experience.
Are they more South Asian, brown character roles?
People watch the movie and they say, this guy is a funny brown dude, so let's put him in that multi-cast sitcom where I am the token brown guy.
I don't want to do that, but all of those types of things get thrown at me.
These days some of the token brown guys are also getting good roles in sitcoms.
Look at Kunal Nayyar on The Big Bang Theory and Aziz Ansari on Parks and Recreation.
I think given my track record, I can be more selective now.
I have been given the luxury of my first film being so big. So I should be a little smart about it.
Yes, yes, you should aim high.
So you grew up in Jakarta. What do your parents do?
My dad is a chemical engineer and my mom doesn't work.
And suddenly, you are walking on red carpets. Did you get a tux for Cannes?
Oh yes! That's been the most fun part of it, the different outfits I get to wear.
Every event I wear a different thing. I am really into all of that.
Did you own a tux before?
No, it was just for Cannes.
Did you own it or were you renting it?
We got a stylist for the whole thing and I had to give everything back.
It's okay, since nowadays I only wear everything once.
Any plans to work in India?
I want to be a Priyanka Chopra in reverse.
I want to go back to India after my success here.
Have you met Priyanka Chopra?
No, I haven't.
What are the chances of working in India?
Do you know some people there or they will discover you when this film opens there?
I think a little bit of both.
I have a couple of friends in the Tamil movie industry.
I would love to do a Tamil movie. But these are just dreams.
Patty Cake$ just opened (in the US) and I am trying to do a good job.
My ideal life would be to live half the year in America and half the year in India. But it's all in my head.