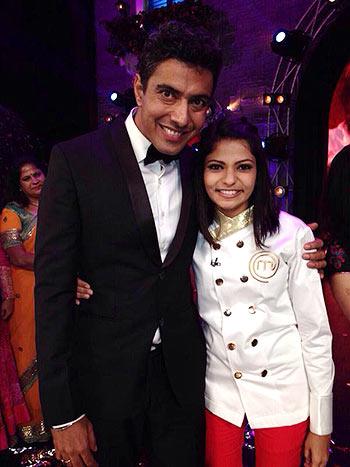 'The feeling has to yet sink in that I have won the title of MasterChef India,' Nikita Gandhi tells Rajul Hegde.
Twenty-one-year-old Nikita Gandhi from the UAE, born in Ahmedabad, is the new MasterChef India 4.
She takes home a sum of Rs 1 crore and the golden chef's coat.
Her winning dessert, Passion Fruit Amrakhand with White Chocolate Pistachio and Ghari with Raspberry Sauce, featured on the menu of Chef Sanjeev Kapoor's Signature Lounge, in Dubai recently.
The young Master Chef talks to Rediff.com contributor Rajul Hegde about her love of cooking and the show itself.
You are the youngest Master Chef India. How does it feel to win that title?
The feeling has to yet sink in that I have won the title of MasterChef India.
I barely slept at night and I was, like, is this real?
What kept you going and what do you think impressed the judges?
It is important to remain calm and composed in a stressful environment like the MasterChef kitchen.
It's also important to work in a clean manner given the time constraints. This is what helped me to focus better.
My aim was to do better every day. If I made a mistake, I made sure not to repeat it. That's what kept me going.
Do you think you had an edge over other contestants because you have lived in Abu Dhabi and the US and have been exposed to different international cuisines?
Yes. Living in Abu Dhabi had a big influence on my cooking, especially when it comes to finding flavours and creating combinations of different dishes.
I try to give Arabic dishes an Indian twist. When I went to college in the US, I learnt a lot of Italian cooking.
How would you sum up your MasterChef journey?
My MasterChef India journey started back in November.
I've learnt so much. Every day, every task was challenging.
I thought people would not vote for me because I have never lived in India before. But that wasn't the case at all.
We learnt new cooking techniques, things that one would only see in restaurants, but one wouldn't do at home.
Have you watched earlier seasons of MasterChef?
I am a big fan of MasterChef. I have followed all the three earlier seasons.
I've always had a passion for cooking. MasterChef seemed to be the best platform for someone like me who has not attended culinary school.
It was the right time to take part in the show. I've just come back from doing a course in business and finance in the US.
What will you miss the most about Master Chef?
I have got so attached to the sets I can't imagine not going back there.
I never imagined that I would survive in India for more than a week. These four, five months in India have made me realise that India is truly my home.
I still miss the clean streets and fresh air back home, but I can deal with it now.
I will miss the off-camera goofy behaviour of the judges (smiles).
What are your early memories of cooking?
I was born with an interest in cooking.
I first cooked when I was eight years old.
My earliest memory of baking was a disastrous one. I added a tablespoon of baking soda instead of a teaspoon, to a batch of chocolate cupcakes. It was soapy when I tasted it.
This first failure inspired me to get better through trial and error.
I loved watching mom in the kitchen when other kids my age would watch cartoons.
As soon as I grew tall enough to reach the kitchen counter, I started cooking when mom was out of the house. She was worried I would burn or injure myself but I wouldn't give up.
What do you like to cook at home?
My specialty is desserts. I'm known amongst my friends and family in Abu Dhabi for my desserts.
I enjoy making them the most, especially éclairs, with the chocolate and cream.
Which was the toughest task on the show?
The Chocolate Tokri task was the most difficult.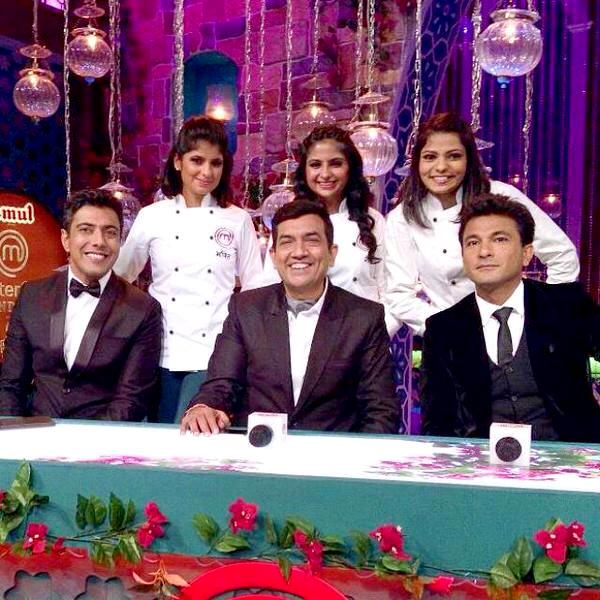 Image: Nikita Gandhi (extreme right) with fellow finalists Neha Shah and Bhakti Arora and judges (left to right) Ranveer Brar, Sanjeev Kapoor and Vikas Khanna. Photograph: Twitter
Who was your roommate? Are you going to miss her?
Karishma Sakhrani was my roommate; we lived together for four months.
I will definitely miss her. We gelled very well and she was rooting for me during the final.
I will definitely stay in touch with the MasterChef contestants.
Which was your most memorable moment on the show?
Mom's Day was the highlight of my MasterChef journey. Meeting my mom (all their mothers were allowed to visit the contestants) during the show was the most memorable moment for me.
What do you have to say about the judges?
All the judges were humble and patient. Chef Sanjeev Kapoor is not as strict as he seems on the show. He cracks jokes all the time.
Chef Ranveer Brar loves to correct mistakes, give advice and is a great photographer.
Chef Vikas Khanna flatters everyone with his phrases like 'amazing', 'brilliant', 'I love the idea' etc. He is a good singer; his favourite song is Main Tenu Samjhavan.
When we asked him to sing he would refuse but we always caught him singing secretly during the breaks!
What will you do with the prize money?
I want to make a career in this field.
If possible, I would like to invest my prize money in my culinary education.
I want to study molecular gastronomy and also gain some real-world experience in a professional kitchen.
I majored in business and finance at university so I would like to start my own restaurant one day.