'I have played 54 characters till now, and there was always some reference point, but in Raabta, there was none.'
Actor Sushant Singh Rajput, a sought after actor after MS Dhoni became a huge hit, is all geared up for Raabta. his next release.
Raabta, a reincarnation story, revolves around a couple played by Sushant and Kriti Sanon and is directed by Dinesh Vijan, better known as the producer of Being Cyrus, Hijack, Love Aaj Kal, Agent Vinod, Cocktail, Go Goa Gone, Lekar Hum Deewana Dil, Finding Fanny, Happy Ending, Badlapur and Hindi Medium.
Sushant, a television star who made his Bollywood debut in Abhishek Kapoor's Kai Po Che, spoke with Rajul Hegde.
Was reincarnation the reason for you to take up Raabta?
Reincarnation is something I don't believe in. Until and unless it is a very engaging story I won't do it. But then I also don't believe in war movies and yet I liked Interstellar.
I don't believe that animals can talk to each other, but I liked Jungle Book.
You knew I was not Dhoni, but you paid money to watch me. That is the power of cinema.
When I read the script, I would like to believe in the story apart from the fact that I can pull off the character in two hours and 20 minutes.
If we are successful in luring the audience into the story in the first 15 minutes, then we are sorted, then it's the story. You are not judging me anymore.
We give you a jerk by introducing the same guy in different avatars in Raabta.
I believe I have made sure that all the tools I know were used to create two diametrically opposite characters, so that there isn't an iota of similarity between these two.
There are similarities vis-a-vis the script, but these two characters are completely independent of each other as far as the body language, mannerisms, skills are concerned.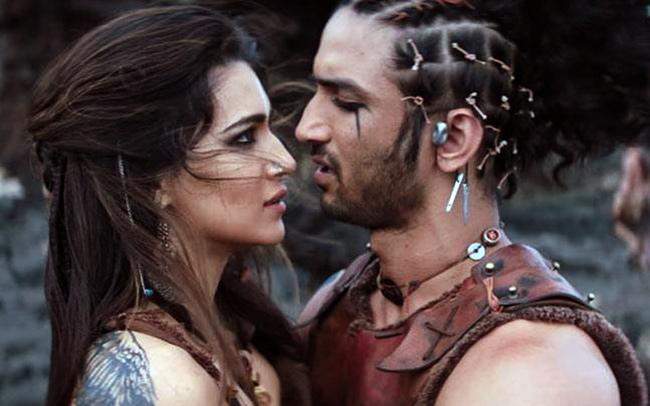 IMAGE: Kriti Sanon and Sushant Singh Rajput in Raabta.
How tough or exhausting was it to play two distinctive characters in the film?
It wasn't tough or exhausting because I like what I do.
When I was a kid I would play video games and get lost because it was commanding my attention so much.
This happens to me all the time when I do what I like.
I can't really say it was my hard work because I like what I do.
There were bruises, of course, but I had to pull it off with a convincing factor.
While I was preparing for cricket training (for MS Dhoni), my knees turned black and blue.
I could have played with a soft ball and had the same stunts in the film, but I wanted to convince myself first.
I had to play with a hard ball and whack those hard balls for sixes (smiles).
There was this one incident that gave me immense confidence just before the start of the film.
I was practising at the MCA (Maharashtra Cricket Association) with Kiran More, and Sachin Tendulkar was sitting there.
Sachin was watching his son play on the next wicket. It was the last 15 minutes of my practise; I could hit the ball wherever I wanted.
There were helicopter shots, and I went on hitting.
I was enjoying it because I always wanted to play cricket and I could never get into my school team.
Sachin walked down, he walked up to Kiran More and asked who I was representing, because at the MCA, only professionals who play for states are allowed.
Kiran told him I was an actor and I was playing Dhoni. Sachin didn't say anything, but the expression on his face was priceless.
Do people still call you Dhoni?
While I was watching the IPL final, people did call me Dhoni (smiles).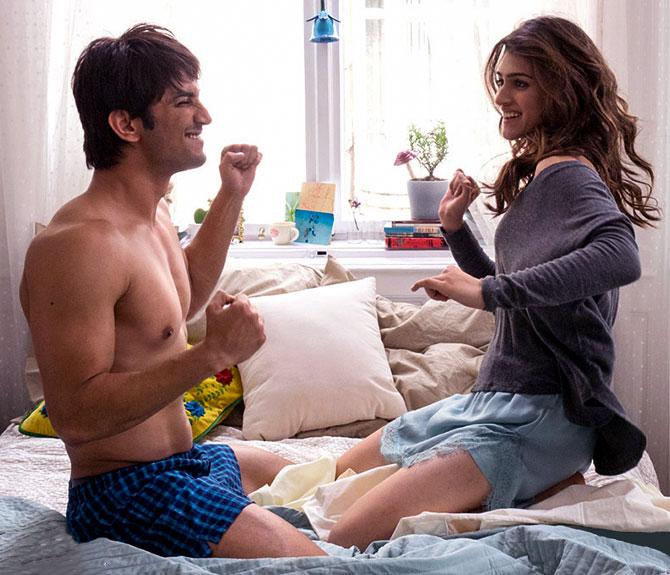 IMAGE: Kriti and Sushant in Raabta.
Your co-star Kriti Sanon says you having the traits of a chameleon. You can switch on and switch off with utmost ease when it comes to acting.
We confuse natural, spontaneous, actors with method actors frequently. There is always a method to even natural acting.
If you are just confident in front of the camera and are able to memorise your lines, are you an actor?
Of course, you are not an actor.
You are just a confident guy who can learn his lines.
If I am given a role, I give 10 different versions of how the role can be played, and then choose the most convincing one.
If you change your spontaneity from one film to another, then probably you are doing a decent enough job as an actor.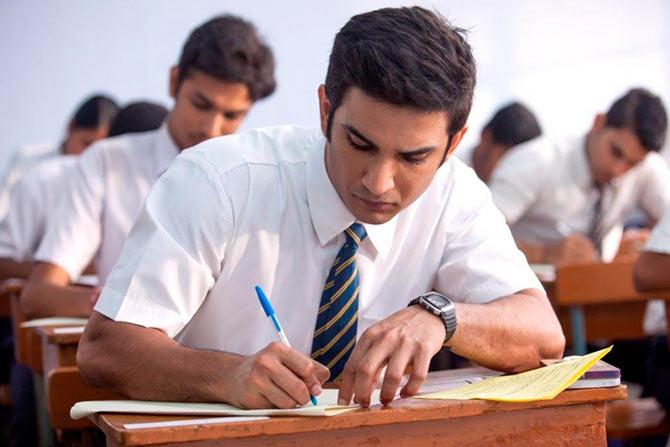 IMAGE: Sushant in and as MS Dhoni.
After Kai Po Che, Detective Byomkesh Bakshy! and Shuddh Desi Romance, do you think you needed a film like MS Dhoni?
No, I didn't, but everybody (else) wanted a big film from me. I was expected to probably, but I was not looking for it.
MS Dhoni was your first huge box office success. Does that raise expectations? Does how much the film earns at the box office matter to you?
I don't want to screw up my six months of hard work thinking about the weekend release.
I really worked hard, invested lot of time and enjoyed working on Byomkesh, but it didn't open well on Friday-Saturday-Sunday.
I was disappointed, but by Monday morning I was completely okay.
I worked equally hard on MS Dhoni and it did well.
So Friday-Saturday-Sunday is not in my hands, but the following Monday is (smiles).
I genuinely believe that an actor doesn't contribute (to a film's box office success) as much as we think they do.
If there is a great performance, it will only multiply with many numbers.
But there are many other parameters and it's just not acting which decides the fate of the film.
If something has to work for Raabta, what is it, if not for the actors?
I don't know. There is no formula for a film's success.
We only make sense in retrospect. When something has happened already, only then will everybody come with their knowledge and intelligence to try and explain it.
It is not cause and effect.
Effect happens and then we manufacture cause.
You maintain that illusion that we know everything.
Nothing guarantees anything.
There are many ways in which we can fail because we are already exposed to films like Interstellar, Gravity, Life...
We don't have that kind of money so we have to come up with different improvisations and technology in order to convince you.
With Chanda Mama Door Ke (Sushant plays an astronaut) it is the first time I will get a firsthand experience of something that I have never experienced before.
My friends, who were with me in college, wanted to go to NASA, but couldn't. I will be going there.
I am not analysing whether it will contribute to my performance, but yes I will get to experience it.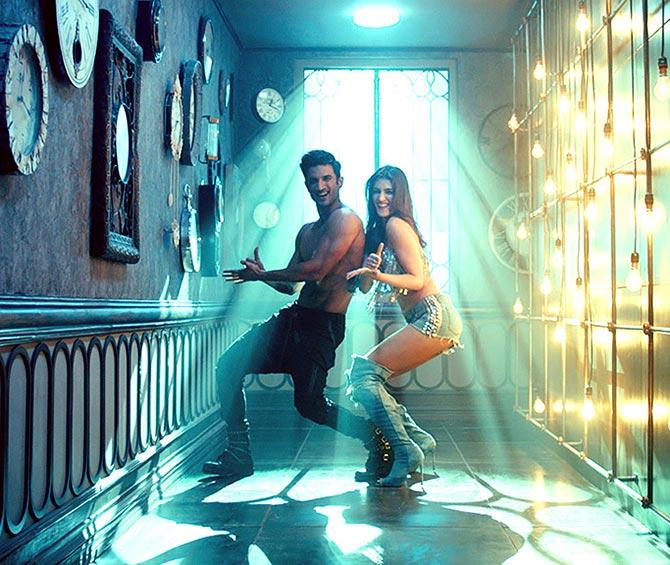 IMAGE: Sushant and Kriti show off their dancing skills in Raabta.
You were part of Shiamak Daver's dance group and on the dance reality show, Jhalak Dikhhla Jaa, but this is the first time, in Raabta, that you will get to show your dancing skills. Excited?
MS Dhoni could not dance neither did Bymokesh Bakshy.
Since my character in Raabta could dance, I got to do it. And I thoroughly enjoyed dancing for the film.
I think like a dancer even when I act because I started dancing before I started acting, and through dancing I started communicating with people.
I still have that inability to express myself.
The first character that I play in Raabta is a contemporary one.
I consider myself a very boring person in normal life. I try to be very excited, but I am not.
There are a few times when I enjoy myself, and this was that exciting version of me.
For four months I got to play that exciting version of myself and got paid for it.
The second high was the flashback character.
I have played 54 characters till now, including in theatre, and there was always some reference point, but in Raabta, there was none.