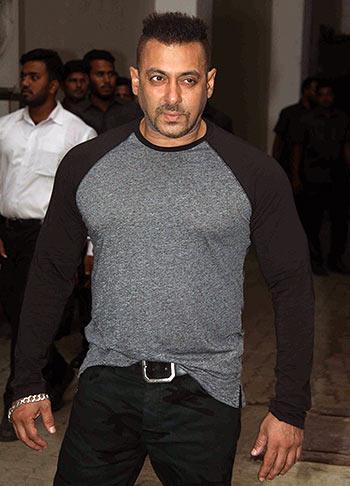 Bollywood actor Salman Khan on Thursday chose to keep mum on the "rape remark" controversy and jokingly said he should talk less as these days whatever he says gets misinterpreted.
The 50-year-old actor had courted controversy after he compared himself with a raped woman in an interview when quizzed about the gruelling shooting of his upcoming film "Sultan", drawing sharp reactions from all quarters.
"I will not take much time because nowadays the less I speak the better it is," said Salman in a jovial mood in Madrid while addressing the inauguration of the International Indian Film Academy awards.
The actor is yet to apologise for his comments despite many political parties and National Commission for Women demanded a public apology for his rape remarks.
Salman had to undergo rigorous training for the wrestling drama and in his interview to a group of journalists, he allegedly said that after shooting wrestling scenes, he use to feel like a "raped woman".
"While shooting, during those six hours, there'd be so much of lifting and thrusting on the ground involved. That was tough for me because if I was lifting, I'd have to lift the same 120-kilo guy 10 times for 10 different angles. And likewise, get thrown that many times on the ground. This act is not repeated that many times in the real fights in the ring," said Salman.
He added, "When I used to walk out of the ring, after the shoot, I used to feel like a raped woman. I couldn't walk straight. I would eat and then, head right back to training. That couldn't stop."
Realising what he said wasn't right, Salman added, "I don't think I should have said that."
At IIFA, the "Kick" star will perform in the gala night besides his cross-border drama "Bajrangi Bhaijaan" being one of the front runners at the award nominations this year.
The award ceremony, which has traveled to several continents over the past 17 years, will mark its 17th edition this year in the European city, which is hosting the three-day event.