`'It's not fair to blame the actor because he is not writing the film or the dialogue; he is not the one doing the lighting.'
'Actors are just following someone else's direction. He doesn't say I want to make a song like that or film a scene this way.'
Varun Dhawan tells us what an actor's life is really like.
IMAGE: Taapsee Pannu and Varun Dhawan in Judwaa 2. Photograph: Varun Dhawan/Instagram
There's something different about Varun Dhawan these days.
When Patcy N/Rediff.com met him for an interview in 2015, during the promotions for Badlapur, he was confident but still behaved like a newcomer. And he came alone.
Today, his bodyguard stands so close to him that they can probably smell each other's perfume!
Said bodyguard keeps everyone at bay, makes sure no one opens the door when the actor is giving an interview and even gets annoyed each time the door creaks.
As for Varun, he no longer behaves like a newcomer :).
The actor is raring to go with Judwaa 2, re-directed by his dad David Dhawan (Dhawan Sr helmed the original Judwaa, which starred Salman Khan, Karisma Kapoor and Rambha), co-starring Taapsee Pannu and Jacqueline Fernandez.
Are you prepared for comparisons with the original Judwaa?
It is obvious there will be comparisons.
When I decided to do this film, I came prepared for that.
I knew, as an actor, this would result in an incredible amount of buzz.
But to find out whether Judwaa 2 is good or bad, you have to go to the theatre on September 29 and watch the film.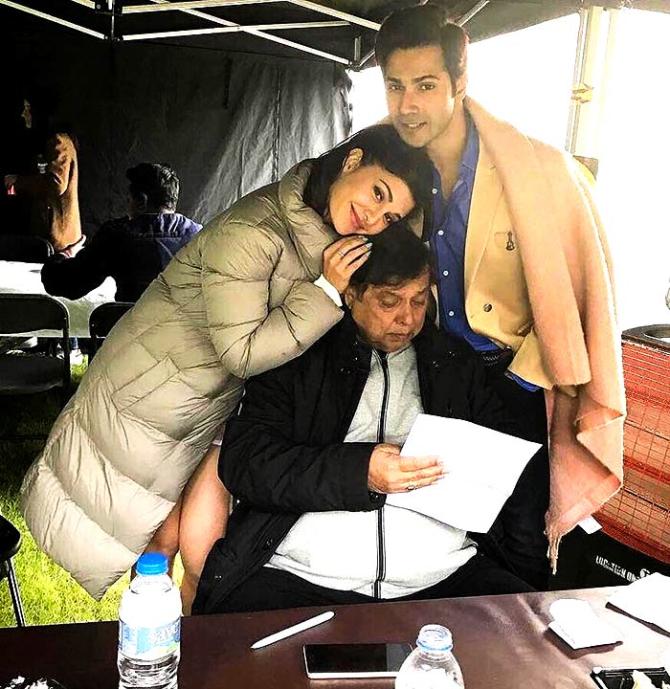 IMAGE: Varun Dhawan with dad David Dhawan and co-star Jacqueline Fernandez. Photograph: Varun Dhawan/ Instagram
Do you worry about the pressure of being compared with Salman Khan?
Comparisons with Salman Khan have been happening since the first day of my career.
What eventually matters is how many people buy tickets when your film releases on a Friday.
Both the actresses (Jacqueline and Tapsee) play different characters, their roles have changed. They react in different ways. Both are incredibly talented actresses. I got so much help creating Raja and Prem (the double role he plays).
Why has David Dhawan called it reboot, instead of remake?
This is a fresh approach to Judwaa. I have to play it on my own way because you can't use the same dialogue and the same circumstances. Things have to change.
In fact, we have changed a lot of things; the story is a little different.
If you are a fan of the original Judwaa, you will catch some similarities.
There are five or six iconic scenes, like the bathroom scene when Mala takes Prem inside the bathroom thinking he is Raja. Those will be here as well.
IMAGE: The famous bathroom scene in Judwaa with Salman Khan, Karisma Kapoor and Rambha.
Why didn't you think of a sequel? Judwaa is still fresh in the minds of people.
I agree.
It has been 20 years since the release. I am a 1990s kid and have grown up on this.
But you have to realise that time passes and there are children aged 15 and 16 who have not seen the original Judwaa. They are the new cine-goers.
Somehow, not many films have been made in this genre. This is the Indian film genre, this is not a film made in China or America. We haven't been influenced or inspired by them.
Manmohan Desai invented this genre and it has very successful films. If you are a cinema lover, you will know that. You have seen and loved those films, have grown up on them.
My father always says he's a fan of Manmohan Desai's movies.
There are many successful films in this genre but the moment there is a bad film, the other films in this genre also get criticised. You have to evolve. You have to change the treatment.
Do you think David Dhawan would have made Judwaa 2 without you?
It was Sajid Nadiadwala's idea to make Judwaa 2. He had been wanting to make the film before but it never got made then.
My dad had a conversation with him, which I was not part of.
I feel he would not have made Judwaa 2 with someone else.
But he would have not made Judwaa 2 with me when my first film had released because I was not a star then, and he only works with big stars. He always has.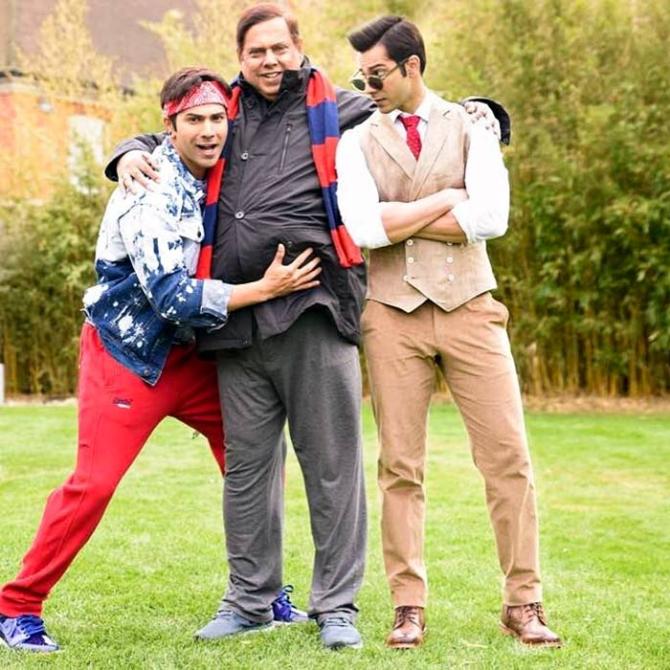 IMAGE: Varun Dhawan, two times over, with David Dhawan. Photograph: Varun Dhawan/ Instagram
Do you think Twitter decides the fate of films?
You cannot let Twitter decide that.
Look at this year. Advice dena sabka kaam hai (Everybody gives advice).
There is a need of newer ideas, newer treatment.
I saw Shubh Mangal Savdhan and really loved the bear scene. It was so funny.
In Bareilly Ki Barfi, they have done some cool things.
New filmmakers are making decent films and I think that should change some things. Instead of looking outwards, we should look inwards.
Do you think Bollywood gets affected by social media reactions?
Yes. At the same time, I don't think the big actors get influenced.
Social media makes you think.
I would actually reverse this question -- when you write something on social media, even you would think twice about the backlash. You cannot rely on social media's popularity for the opening of your film, as it does not translate (into tickets).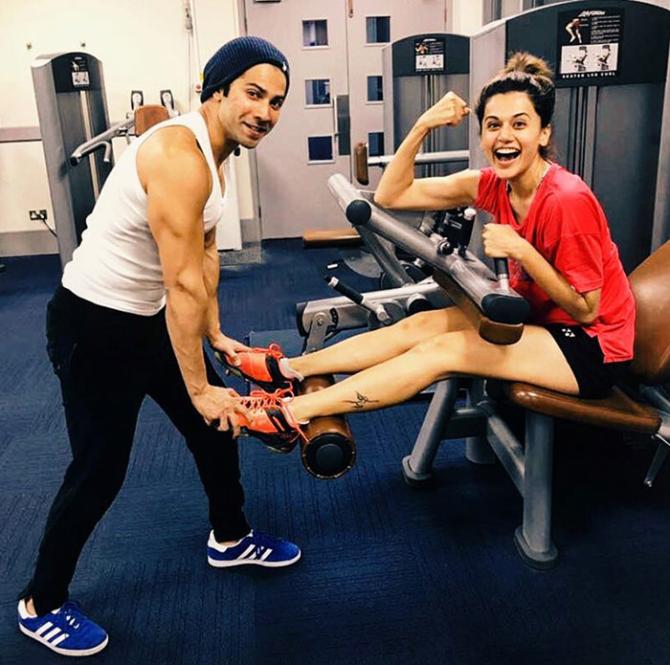 IMAGE: Gym budddies Varun Dhawan and Taapsee. Photograph: Varun Dhawan/ Instagram
There was a time when the audience would go to the theatres just to watch a song. Today, the entire song is out online before the film releases. Do you think that takes a toll on the film's box office fate?
That's a nice question.
If you see the duration of the Tan tana tan promo, it is 100 seconds. The Suno Ganpati Bappa is 110 seconds.
For Oonchi hai building, we went the maximum... with two minutes, 10 seconds.
It was planned from the beginning that we won't show too much, as everyone is watching it for free. We are going back to the past (promotional strategies) now.
Do you think we are too aggressive with movie promotions in Bollywood? In the south, films are promoted for just one or two weeks.
It is incredible how they work.
When I came five years back, promotions were a big thing. I have promoted my films like a mad guy for five years and enjoyed it too.
For Badrinath Ki Dulhania, we did a five-week campaign.
By the time we came to Judwaa, I realised there is a fatigue now and the translation of people standing in the crowd (during the promotions and) coming to the theatres is not what actually happens.
The translation of social media buzz does not really happen.
Films do well through word of mouth.
In today's time, content is the star.
The Judwaa 2 trailer made a lot of noise. After that, we have been doing selective and small promotions.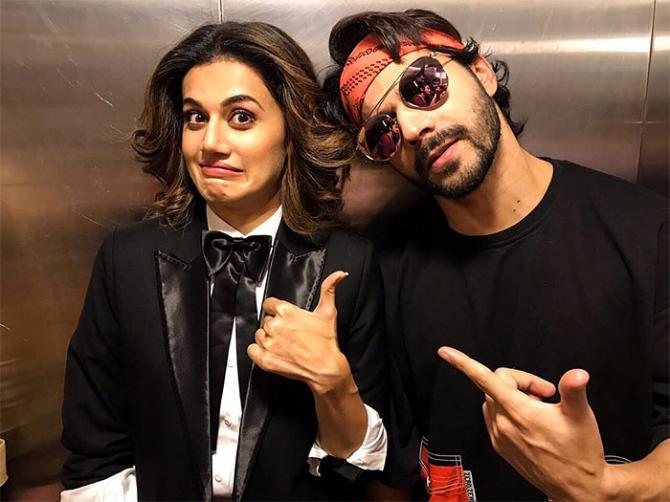 IMAGE: 'When Samaara meets Raja.' Photograph: Taapsee Pannu/ Instagram
How do the lyrics 'Suno Ganpati Bappa Morya, pareshan kare mujhe chhoriyaan' fit? How can Ganpati and 'pareshan kare mujhe chhoriyaan' come together?
It is matter of perception. There is no disrespect.
The translation is God, these people are troubling me. You have seen only one minute, 50 seconds.
There are more emotional lines to God (in the song); this is just one bit of it.
If you talking about this song, look at Hare Ram Hare Krishna. That song is such a hit that it came back.
Who is making these songs a hit? It is not just us.
When something is not liked by people, you cannot make it run, however big actor or producer you may be. The audience has to make it a hit.
The power is in the hands of the public.
Is it right to blame the director for failure of a film?
I am a director's son. If a director's vision is not interfered with, and if he gets to make a film the way he wants to, only then is it his film. So you should blame the director.
It's not fair to blame the actor because he is not writing the film or the dialogue; he is not the one doing the lighting.
I see a lot of actor-bashing because they are the face of the film.
Actors are just following someone else's direction. He doesn't say I want to make a song like that or a scene this way.
An actor is only giving interviews.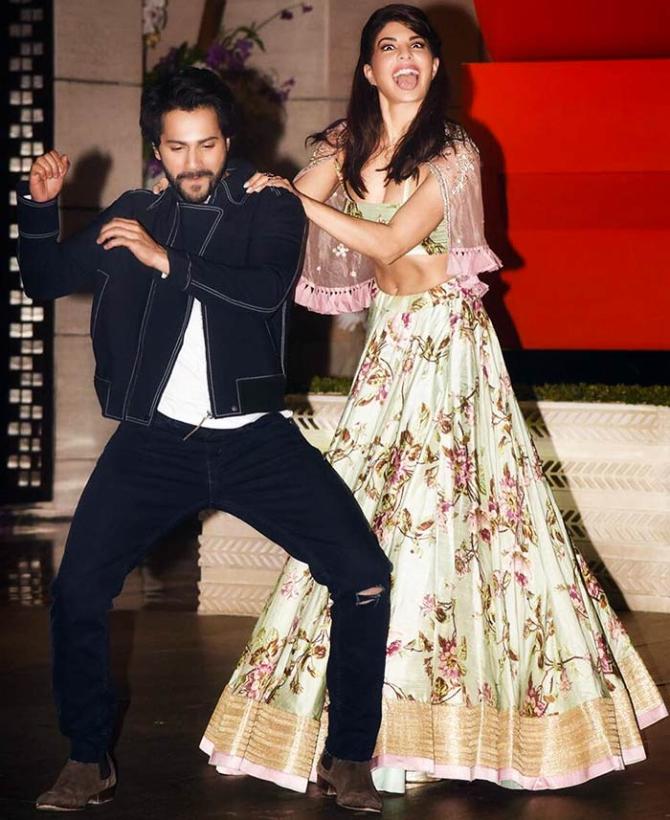 IMAGE: Varun has some fun with Jacqueline. Photograph: Varun Dhawan/ Instagram
When do you start shooting for October, Sui Dhaga and ABCD 3?
October will go on floors in October and that's a conscious decision.
After that, I will start shooting for Sui Dhaga. After that, there is something else.
ABCD 3 has been in the works for a long time. I would definitely like to work with (director) Remo D'Souza again.