'In college, everybody would say I was a good actress but these people would make me do only song and dance. And then I was given these not-so-big roles in movies. The roles were good but I felt I deserved better.'
'It's like a railway compartment which is really crowded and you have to make your own space, work harder for that seat.'
Divya Dutta makes her presence felt.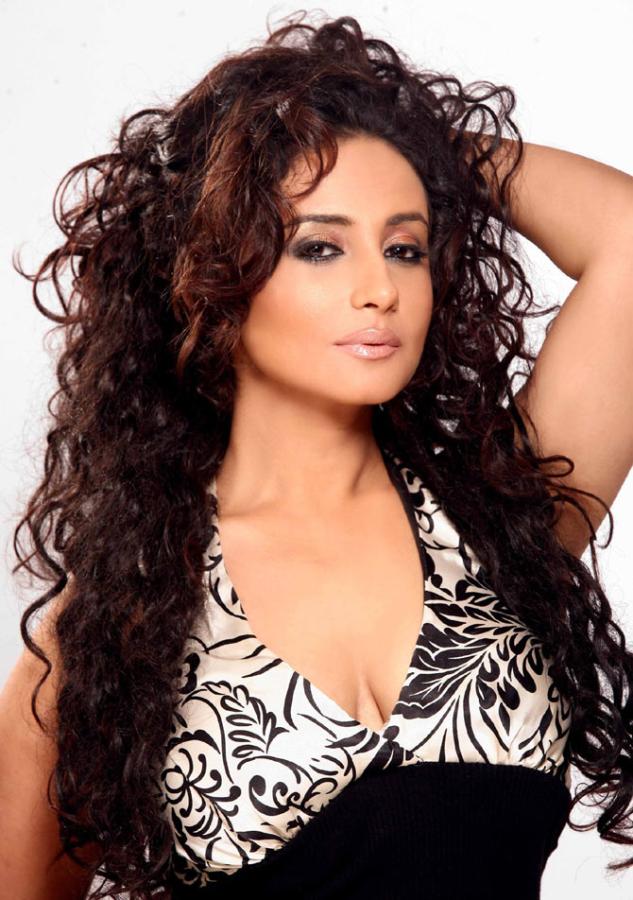 IMAGE: Divya Dutta
Divya Dutta is spreading her talent to other areas, besides acting.
She has launched her first book called Ma & Me and promises that there's more to come.
She's also ready with her new film Irada, an eco-thriller, starring Naseeruddin Shah, Arshad Warsi and Sagarika Ghatge.
Divya tells Rediff.com contributor Rajul Hegde about her beautiful relationship with her late mother Nalini Dutta, her movies and much more.
Tell us about your book Me & Ma.

Moms are very special to everyone but I had stronger bond than the usual.
She was my best friend.
There are so many things that every part of my life, whatever I have done, mistakes and achievements, she stood by me and was an integral part of everything.
There was so much I wanted to talk about -- be it my complexes or no confidence, suddenly she turned me into somebody, who was self-assured. I wanted to share that.
I miss her and her physical form but I know that she is around, giving me strength. There is so much I wanted to say after I lost her. As an actor, I do get brilliant roles and express myself with honesty but as a person, I wanted to share so much more.
Go on.
Every chapter in Me & Ma has an anecdote talking about a stage of my life.
It talks about how I was and how she left an impact on me. There are various roles, which I have played with her -- be it her daughter or best friend... and then be her mother as well.
I would do things which she used to do for me. As I grew older, she became my daughter.
There is so much I wanted to share. I took almost three months to write the book.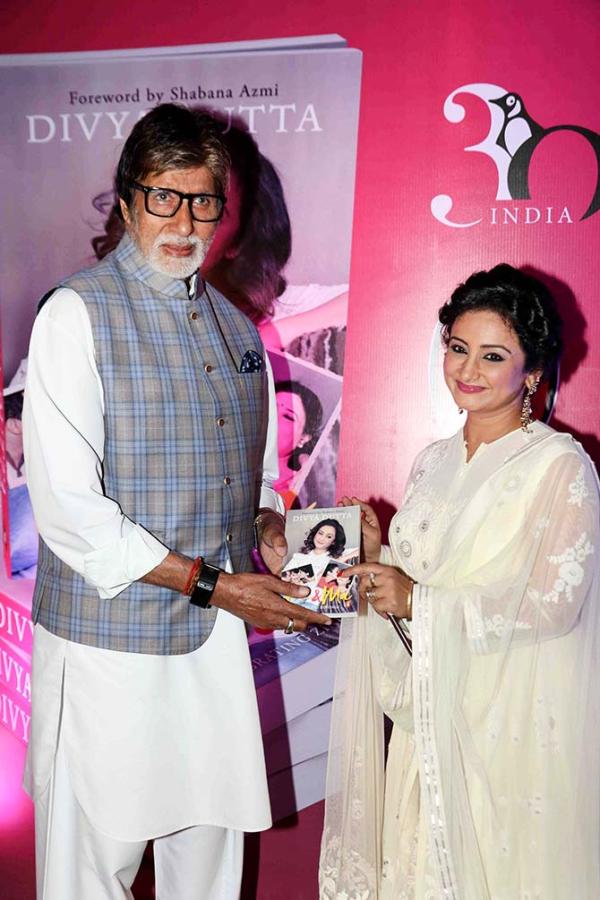 IMAGE: Divya Dutta and Amitabh Bachchan at the book launch. Photograph: Pradeep Bandekar
What are the greatest learnings from her?
She was a single parent, as I lost my dad at an early age.
She was a pretty woman and could have easily married again. But she saw so much completeness in her children.
She was a doctor and a poet. She would write poems and tear the pages. My brother and I would collect them and make a book out of it. That chapter is also in the book.
I wish I was as strong as she was. I am known as a strong person but I am not even 1 percent of her because she has seen the most difficult situations.
We have gone through terrorism in Punjab.
I have seen her taking care of two kids in the rural area single-handedly. Also, being a doctor is not easy. Yet, I have never seen her crib.
Amitabh Bachchan unveiled your book. What kind of equation do you share with him?
For me, when you talk about films, it's Amitabh Bachchan.
When I was growing up, I would tear my mother's dupattas and saris and make dhotis and dance on the Khaike Pan Banaraswala song. I would make the kids in my neighbourhood my audience and treat them with sweets.
In school, when people asked me what I wanted to be, I would say I wanted to be in films because Mr Bachchan is there.
My first film with him was Baghban. I was not a nice bahu to him in the film and felt upset. Mr Bachchan noticed it and made me comfortable by cracking jokes. As a newcomer, you don't forget these things. I have done four films with him but we have been in touch. And we keep meeting at various occasions and events.
When my brother asked what the book launch plan was, I said I would love it if Mr Bachchan unveiled it. So he said, what's stopping me from going ahead and asking him. And Mr Bachchan graciously agreed. It's a dream come true. It made my special moment even more special.
Is this book the first of many more?
I will write more books, this is just the beginning.
There is so much love pouring in, the response has been really beautiful. I am doing the best two professions -- acting and writing -- because you can express so much.
People compare you to Shabana Azmi and Smita Patil. Are you flattered?
What can I say? There are legends and I feel humbled.
During Chalk n Duster, I was doing this confrontation scene with Shabanaji. I was so nervous because I was doing a scene with someone whom I admired. After the shot, Shabanaji patted by back and said, 'Your eyes speak. You know how much it helped me in my scene!' It is such an amazing compliment. I was overwhelmed.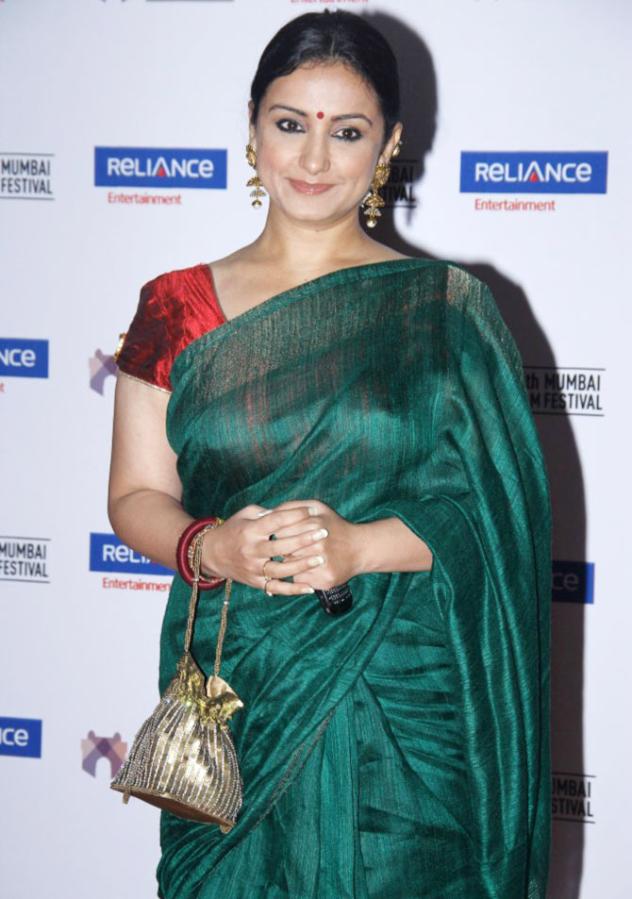 IMAGE: Divya Dutta. Photograph: Pradeep Bandekar
How important was it for you to make your own space in the industry?
I had to. I didn't have a godfather pushing me there. I started with multi-starrer films with songs and dance sequences. People said I looked like Manisha Koirala, sweet little girl on the block, give her the song and dance.
I used to feel letdown because in college, everybody would say I was a good actress but these people would make me do only song and dance. And then I was given these not-so-big roles in movies. The roles were good but I felt I deserved better. It's like a railway compartment which is really crowded and you have to make your own space, work harder for that seat.
I worked harder and gave it my all.
Slowly I made a place for myself and people gave me more substantial roles. Gradually, I think now, roles are written for me. I feel it's earned well. People have loved me and I am grateful for that.
You have done unconventional roles in films for which you have been appreciated. How do you pick such varied roles?
It's the choice that comes your way. When you don't have a godfather pushing you, it's your own journey. I always think if I have got a good role, how will I make it different and unconventional? People expect me to do something different. I love that image; it challenges me. I don't choose roles but I see how I can make them special.
After Veer-Zaara, I was flooded with Punjabi roles, the chulbulla kind. I thought I was going to get stuck in a rut. I sat at home for a year and my mom thought I was foolish because I was offered the biggest films.
One day, Rakeysh Omprakash Mehra called me up and said he wants me to play Jalebi in Delhi 6. It was neither Punjabi nor chulbula, so I wondered why he wanted me to do it.
He said I would pull it off well. That faith motivated me to wait and do things my way.
There are some directors who set an example and others who follow those examples. I have a lot of respect for such filmmakers, who see me differently and not cast me for what I have done before.
Do you think actresses like Vidya Balan have changed the regular heroine kind of roles?
She has done some fantastic work.
I would also like to add Deepika Padukone and Kangana Ranaut, who have made their own place and are equivalent to their male counterparts.
Of course, these things happen only when you have a good script and a good director believing in you.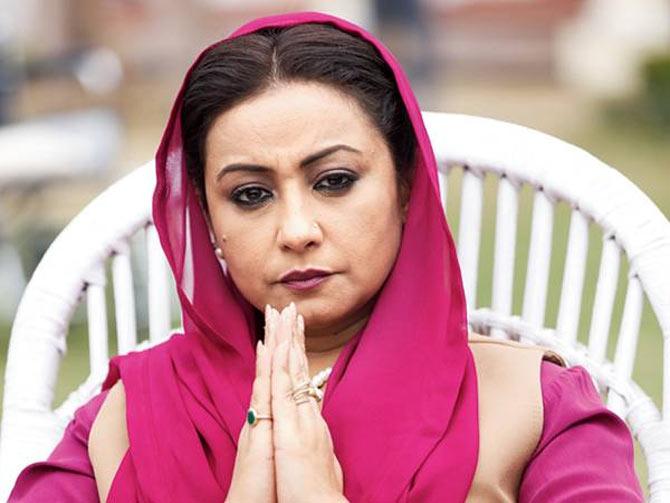 IMAGE: Divya Dutta in Irada.
Your new film Irada is an eco-thriller. Tell us about that.
I play a politician, who brings Arshad Warsi's character to shut the case. She is someone who is authoritative, ambitious, shrewd, funny and somewhere very vulnerable. It has different layers.
I was not comfortable doing a negative role but I had a lot of fun playing the character.
I have not played antagonists often, so this time I had a chance to dig my teeth deep into the character.
You have worked with Arshad before. What was it like working with a senior actor like Naseeruddin Shah?
I thought the combo (of Arshad and Naseeruddin) was so much fun in Ishqiya that I must do a film with them.
Arshad is so much like me; the magic of improvisation happens on the sets. When you have a good co-star, it's so much fun to do a film.
I have only one scene with Naseer sir but that also went in just looking at him (laughs). He is so good, you just have to observe him and see how he performs. And their sense of humour is too good.
Who are your closest friends in the industry?
Juhi Chawla, Sonali Bendre, Rajat Kapoor and many more.
What are your upcoming projects?
I have a film called Babumoshai Bandookbaaz with Nawazuddin Siddiqui.
Then there is one with Ranveer Shorey and a film with Nitin Kakkar. I am working on two other multi-starrer films too.