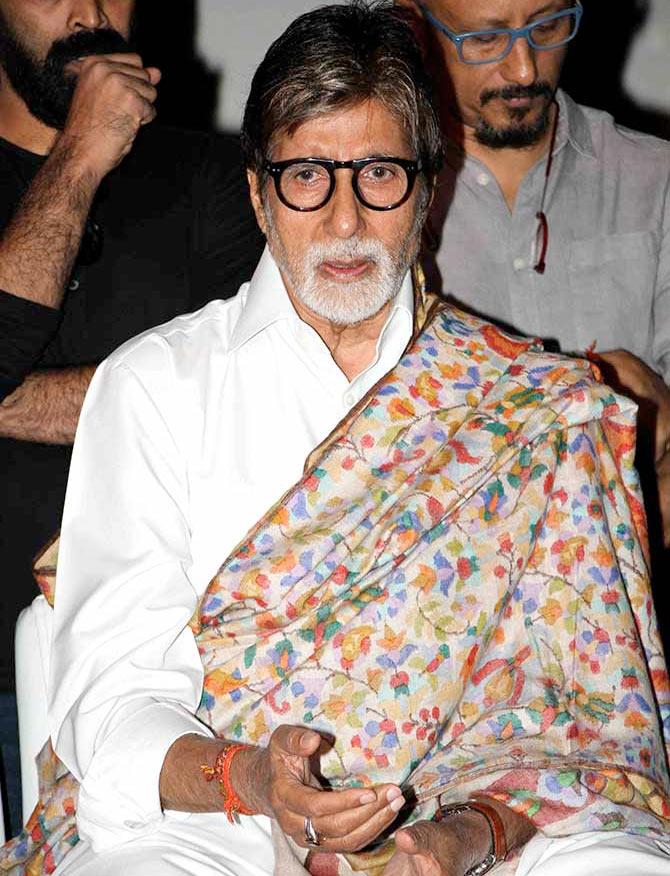 'When a girl, travelling alone with her headphones on and listening to music, reaches home safely, that will be the success for me.'
PINK producer Shoojit Sircar and his team thanks everyone for making his film a success.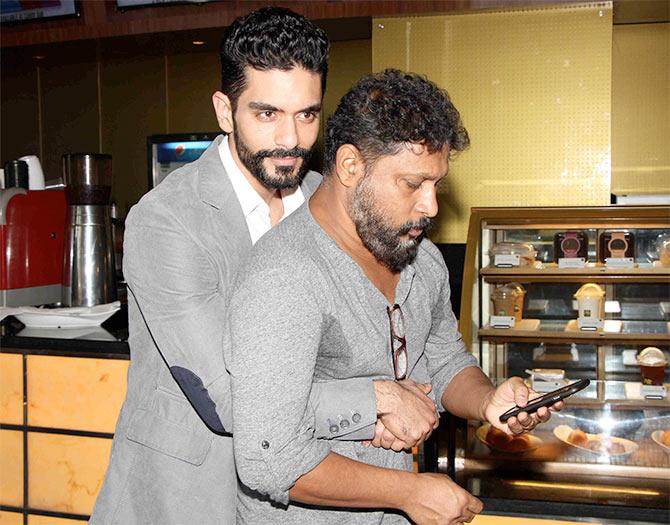 IMAGE: Actor Angad Bedi shares a light moment with Shoojit Sircar
"I did not make PINK for the box office," producer Shoojit Sircar says, addressing the Mumbai media after the film's release. "I wouldn't have made the film if it was for the box office."
So what, according to him, makes the film a success?
"When a girl, travelling alone with her headphones on and listening to music, reaches home safely, that will be the success for me," he replies.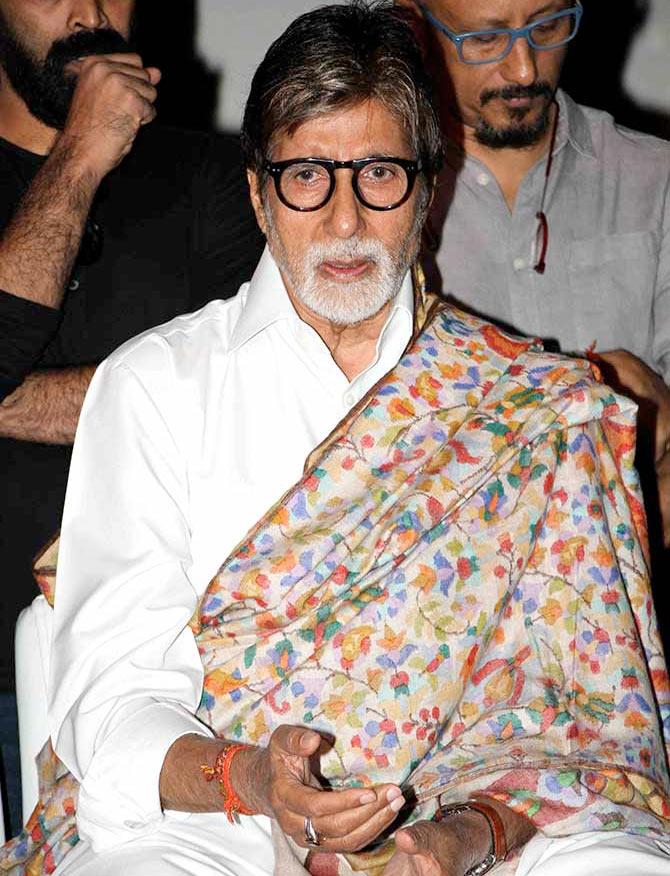 IMAGE: Amitabh Bachchan
Amitabh Bachchan, who plays a lawyer in the film, feels that the hope with which they made Pink has been fulfilled.
"When someone praises us a lot, we wonder if we have done something wrong. But when we saw people repeating the same thing, we felt the compliments are real and the film has touched them," he says.
The Big B feels the audience is clever enough and doesn't need to be told what to do. He hopes that people think over the subject after watching the film.
"We have shown a mirror to the people," he says.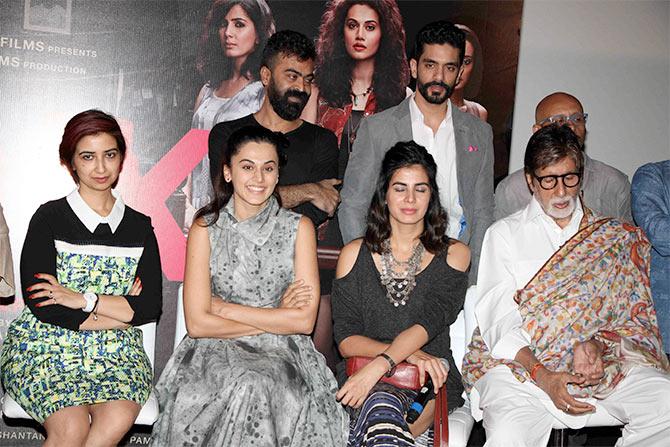 IMAGE: (Seated) Producer Rashmi Sharma, Taapsee Pannu, Kirti Kulhari and Amitabh Bachchan. (Standing) Co-producer Ronnie Lahiri, Angad Bedi and music director Shantanu Moitra
A few days before the film's release, Bachchan had written an open letter to his granddaughters, Navya Naveli Nanda and Aaradhya Bachchan, making people wonder if it was a promotional venture for PINK.
Bachchan explains how they arrived at the idea.
"While promoting PINK, people wanted to know what the film was about but we were unable to describe the content without disclosing the story, as it was a thriller. The letter was Shoojit's idea. Shoojit told me, 'Why don't we take the essence of the film and put it in the form of a letter, which you can write to your granddaughters? It would be a nice gesture and something we could convey to the audience without revealing much.' What you saw in the letter was the essence of PINK," Bachchan says.
"Yes, it worked as a promotional device but that's a wide term. The letter was emotional and addressed all daughters and granddaughters."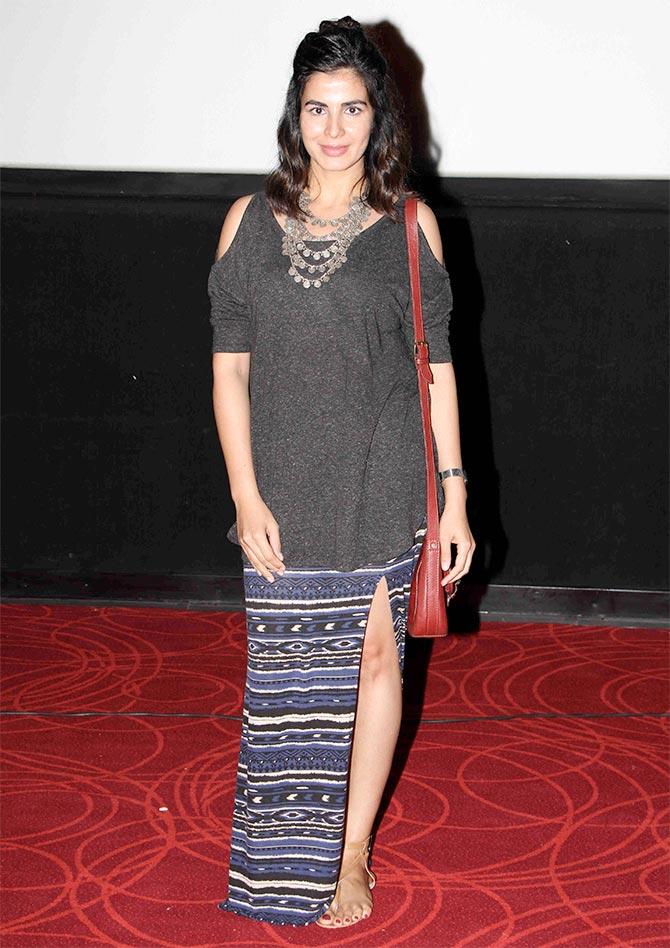 IMAGE: Kirti Kulhari.
Along with the appreciation came some criticism as well. Former Supreme Court Justice Markandey Katju posted on Facebook that Bachchan may be a good actor but he has "nothing in his head".
"He is right! I really don't have anything in my head," Bachchan replies.
Is it an actor's prerogative to offer solutions to the problems of our country?
Bachchan says, "We can be a part of what is going on and work towards it but he (Katju) is right. My head is khallas (finished)."
He adds, "We are from the same school in Allahabad. He was my senior. There was no rivalry. Unke samne toh haath jod ke khada rehna padega, Justice hai (I will have to fold my hands and stand in front of him)."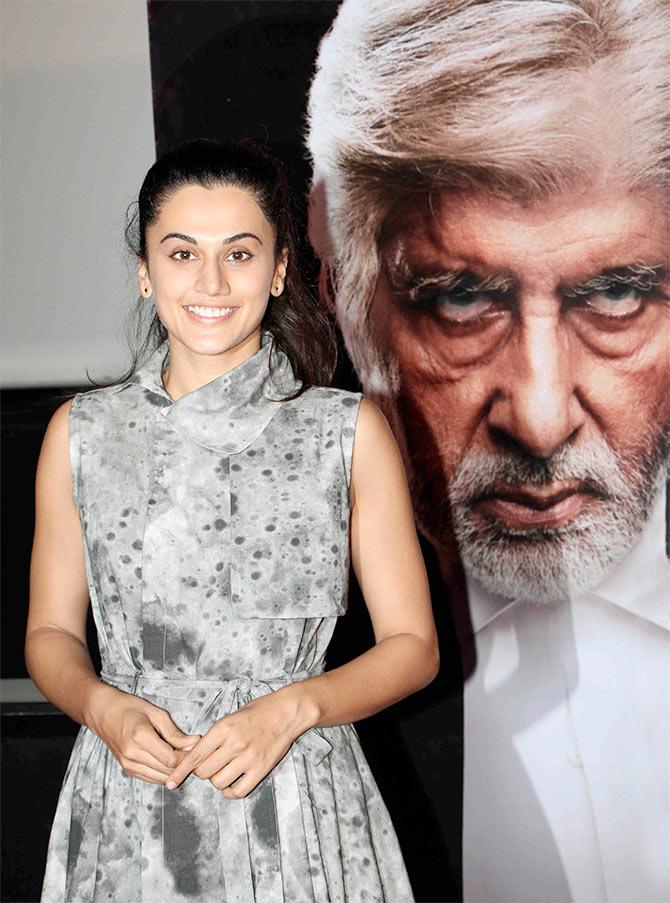 IMAGE: Taapsee Pannu
The scene where Bachchan questions Taapsee in court, and asks her "Are you a virgin?" is one of the strongest scenes in the film.
Shoojit tells us how they went about it: "We were drained out writing that scene. 'Virgin' existed in Piku as well, where Amitabh Bachchan tells a probable groom that his daughter -- played by Deepika Padukone -- isn't a virgin. Have you ever heard of a man being asked if he is a virgin?"
Bachchan intervenes here, and says, "Every time we ask this question to women, it's a question mark. Every time we ask a man, it's an exclamation mark, like it is something he has achieved. Why is that?"
Shoojit went on describing the scene: "When Ritesh (Shah, writer) and I were discussing the script, the thing that occurred to us was that we had to prove one important thing: A woman is drinking in the night with a few boys in a hotel room. This woman has gone though possibly many sexual experiences. The main point to emerge was that a man thinks that a woman has slept with so many men, if she sleeps with one more, what difference would it make? Let me tell you, even guys from good families think this way. We wanted to get to that point: 'Were you paid for your first sexual experience?' You weren't paid and not even forced. When Ritesh sent the scene to me, I told him 'tu toh paar hogaya'. He has done a brilliant job on this."
Ritesh adds to that: "When a lawyer asks a question, he does so to arrive at a conclusion. 'Are you a virgin' wasn't as important as the conclusion. The law states that if a woman, including a sex worker, says no, it means no. It isn't just a dialogue in the film."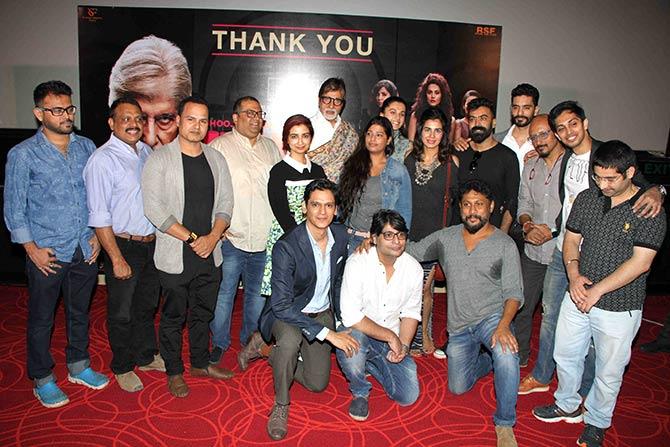 IMAGE: (Left to right) PINK editor Buddhaditta, casting director Jogi, Tu Khoj Mein Nikal lyricist Tanveer Ghazi, director Aniruddha Roy Chowdhary, producer Rashmi Sharma, Amitabh Bachchan, Taapsee Pannu, Mamta Malik, Kirti Kulhari, Ronnie Lahiri, Angad Bedi, music director Shantanu Moitra, Tushar Pandey and Raashul Tandon. (Kneeling) Vijay Verma, writer Ritesh Shah and Shoojit Sircar.
PINK was initially supposed to be a Bengali film, when director Aniruddha Roy Chowdhry pitched the idea to Shoojit. Shoojit, along with producer Ronnie Lahiri, then decided the film should be made on a national level for a wider reach.
Calling this a personal venture and not a commercial one, Chowdhary thanked Bachchan for saying the line, 'No means no.'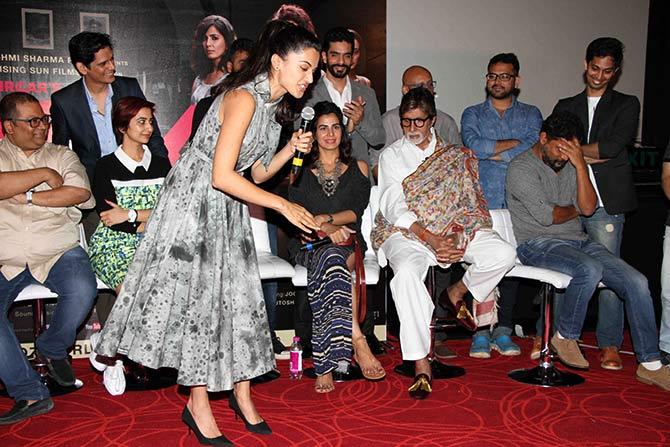 IMAGE: Taapsee Pannu touches Shoojit Sircar's feet making him emotional.
Taapsee arrived late for the press conference, as she was shooting for her next film Naam Shabana.
After apologising for being late, she said she still cannot get over the amazing reviews for PINK. "It's so good that you can't believe that something so good can actually happen," she says.
She's getting good feedback from even strangers, thanking her for doing the role, and she says "It's too much to handle for my third film!"
"There's one more thing that I wanted to do," she adds, as she walked towards Shoojit Sircar and touched his feet, making him quite emotional.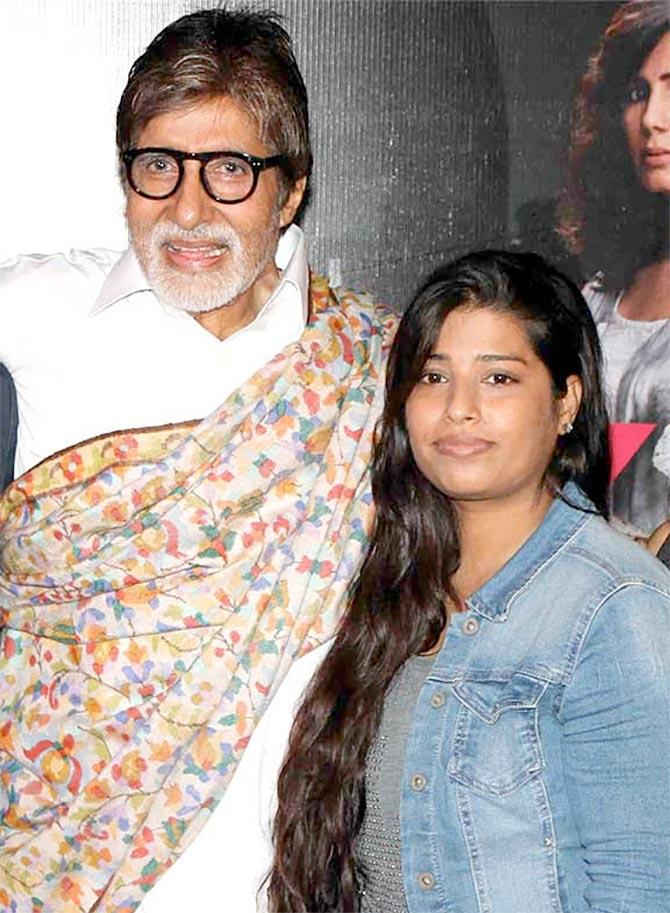 IMAGE: Amitabh Bachchan and Mamta Malik.
Mamta Malik, who plays an inspector named Sarla Premchand in PINK, has been appreciated as well. Interestingly, she is from the casting department.
She shares her experience of the confrontation scene with Bachchan: "I was very nervous and was shivering. I was going through my script and then Bachchan sir came and started rehearsing. He made me so comfortable that it didn't feel like I was working with Mr Bachchan."
"Itna jhoot bolne ki zaroorat nahin hai," Bachchan interrupted her, and made everyone laugh.
Photographs: Pradeep Bandekar